Friday, 20th August 2004
I´ve been "forced" to get up early, as my room mate had promised the band "MENTAL AMPUTATION" he would be there to watch their gig at 11.00 a.m. That`s why we hitch-hiked to the festival area after a really short night.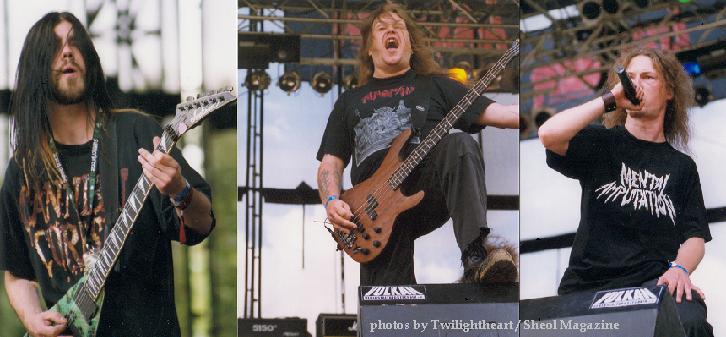 To my surprise they were a good act to get you going! Besides this I had a feeling like the band has brought lots of their own friends to their gig, as in the audience a lot of people made a lot of noise, trying to party. But with or without support, the band was cool.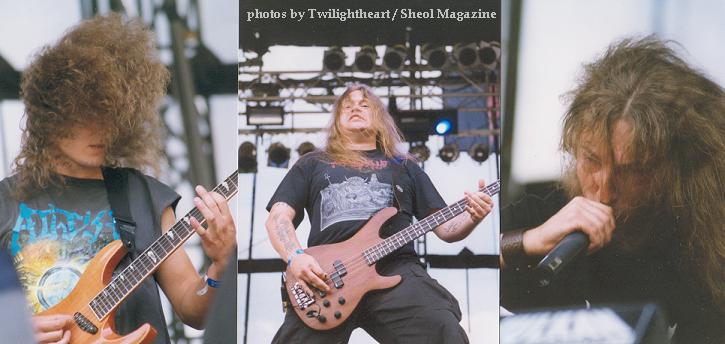 The next act was a band called "ALEV" (coming from my hometown Munich). They didn´t really fit into the Metal concept, as they play Pop/ Rock music. But they wanted to introduce their new album, so they could play on the Pain Stage at 11.30. Probably the boys and men in the crowd enjoyed this gig a lot, because the female vocalist of the band looks really sexy. And the sun was shining generously, so the mood was good anyway.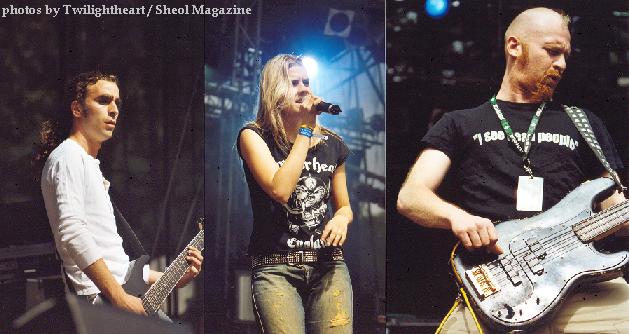 "BESEECH" seemed to be a bit lost on the gigantic Main Stage (their playing time was 12.05 until 12.35), and maybe the big stage or the early playing time was a problem for them, because they really seemed somewhat frustrated from time to time (especially the woman on the vocals, wearing very dark sun glasses). The music slightly had a Gothic touch and so had some of the band members' outfits (maybe it´s better for bands like this to let them play in the dark at nighttime). But as if the weather could feel they`re feeling uncomfortable, it started raining suddenly and dark clouds started gathering. And really… the music was getting more intense! ;-) What I like in this band is the fact that a male and a female voice are sharing the vocals… sounds good!

I missed the gig of "SleepingGodsLie" (13.10 on the Pain Stage) because of the rain, but if some fans might read this here > I anyway quickly took some photos for you: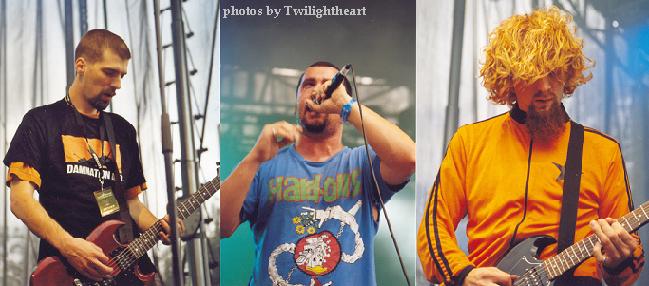 "CRIMINAL" really made an effort to convince the crowd with their passionated thrash, but maybe it all lost a bit of its impression on this big Main Stage, as the crowd didn´t seem to be very convinced of their music. But I liked parts of it, because it really sounded quite interesting sometimes. I´m gonna have a more intense look at the band, if I´ll see them live again at any festival.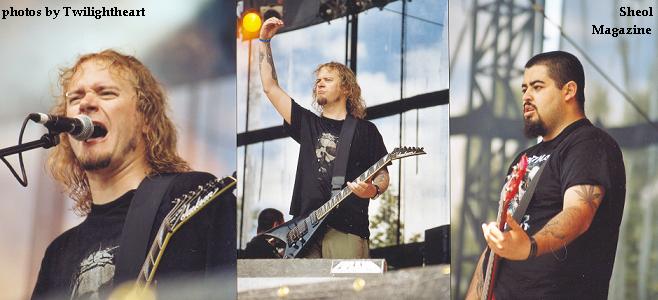 13.50 a band which I really really like entered the Pain Stage > "DARK FORTRESS" from Bavaria (as a replacement for "Menhir" who couldn`t come). So for the first time of the whole festival days it was time for true Black Metal, including corpse paint and whatever relates to BM. It was a bit of a strange feeling because of all the sunshine that meanwhile had taken over, but anyway I had a fantastic time during their gig, because the band kicked ass with songs like "Pilgrim of the nightly spheres". And "Dark Fortress" anyway succeeded in enthusing the audience. One might almost take it as an order what was written on Azathoths shirt: "Kill me"! ;-)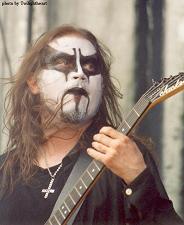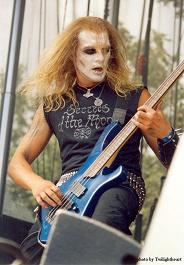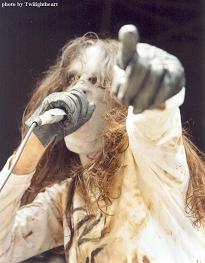 14.25 it was time for "EVERGREY"s first gig in Germany in 2004 (after the release of their new album). And they really bristled with energy on the Main Stage and thrilled the audience with their progressive passionated Metal filled with melody and feelings. But not only the music but also the very strong visual aura of the band members left a lasting impression on me (and many others, I´m sure). Especially their vocalist Tom Englund is a very charismatic person.
Here are some songs that I remember from the setlist: "Recreation day", "A touch of blessing" and "Blinded".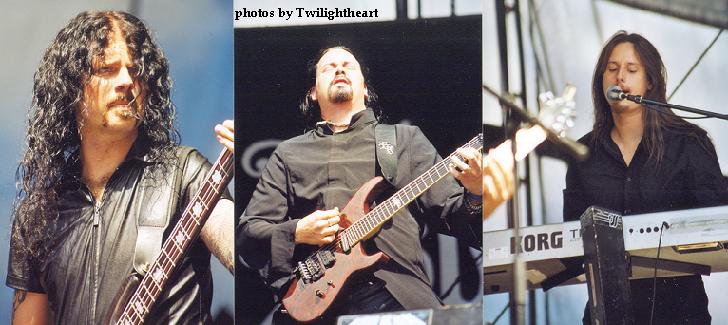 "MERCENARY" from Denmark (= a replacement for "Totenmond" who couldn´t play) attracted a considerably large gathering in front of the Pain Stage with a mix of Power- and Death- Metal and made their fans happy with tracks like "Screaming from the heavens"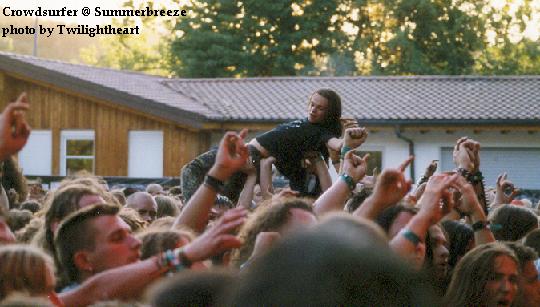 They were followed by the Norwegian band "GREEN CARNATION" (if you don´t know the band, then you know at least one of their members > Tchort of Carpathian Forest, although the musical style of Green Carnation is totally different than CF), who surprised the audienced from 15.45 until 16.30 on the Main Stage with their irrepressable performance. They really rocked the place and the fans let the hair fly and jumped through the puddles. ;-) Some songs I remember: ""Writings on the wall" and excerps from the one-piece-work "Light of day, day of darkness".
(More photos of this gig: see "photos" section!)

In between all this I had to leave the field, because one of my favourite bands "VINTERSORG" from Sweden had a signing session at 4 pm. (That´s something I really dislike: the gigs and signing sessions take place at the same time, and whereever you are, you are missing something else at the same time… you always have to study the time schedules exactly, if you don`t wanna miss any autograph sessions of your favourite bands etc. But of course I also understand that there`s no other way to handle it, as the charge for renting the festival area per hour or day surely is gigantic.)
Anyway, here´s a little impression of the Vintersorg signing session:
I didn`t see the performance of "Leaves Eyes" for the very same reason > there was a signing session of "Dark Fortress" at exactly the same time, so I had to decide for one of them, and I decided for "DARK FORTRESS", where this photo was taken: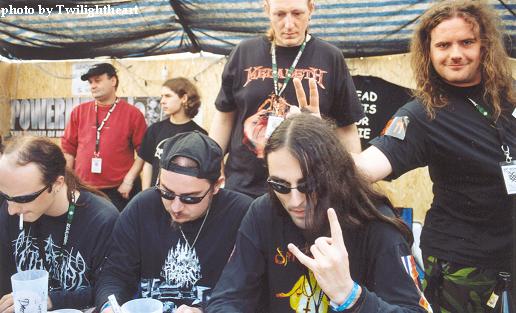 (Sorry Azathoth! Don`t kill me! There must be some fun as well! And Metalheadz are only human too!)
"XANDRIA" (at 17.20 on the Main Stage) was a band I wanted to see only from far away, as their music is not my cup of tea, sorry. But to my surprise the band wasn`t as soft-hearted as I thought, they were really energetic on stage with their rock music. The female singer Lisa has a strong voice for sure, but anyway her voice isn´t extraordinary enough to stay in mind (at least from what I heared live). But the band's fans had a good time at their gig hearing their favourites such as "Ravenheart". There`s a funny anecdote I have to tell you: right after entering the stage (in burning heat) Lisa started off with the words: "If you would know, what a shit idea it was to dress with a leather skirt".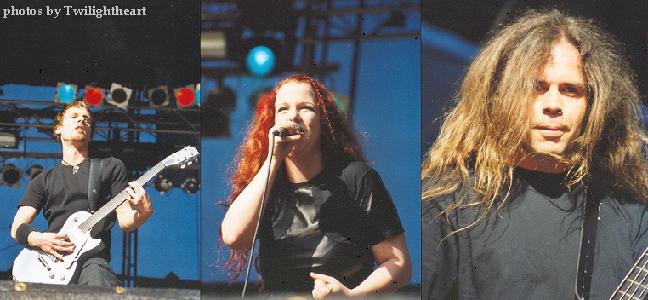 Of course "KATATONIA" as well had a signing session (don´t ask me for the exact time or place, I don`t remember). So I had a visit there, too (but as always I didn´t ask for autographs, don´t ask me why I am like that… seems like I love to waste time with nonsense). Instead I took some photos of it for you: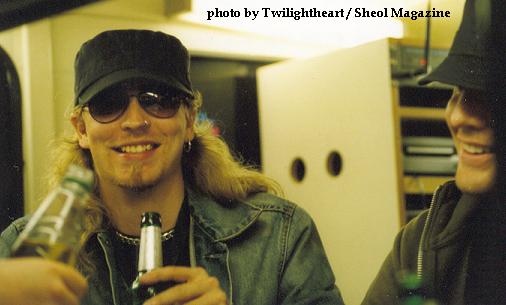 At 10 past 6 things were ready to go. The highlight of my day was waiting on the Pain Stage > "VINTERSORG" from Sweden, my real favourites. And they lived up to my expectations and really delivered the goods. To name but a few songs that stick in my mind: "Curtains", "A dialogue with the stars", "Ödemarkens son", "A sphere in a sphere", Spegelsphären"... and of course "För kung och fosterland" deserves a mention, a song which Andreas dedicated to one of his fans (he mentioned him by name too, but of course I forgot it again straight away).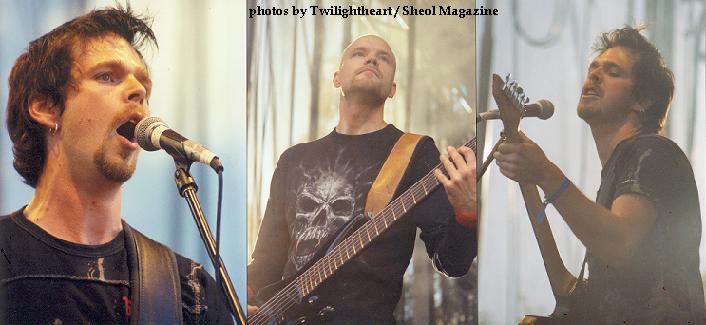 Andreas shouted words of encouragement to the crowd in regular intervals, although this wasn`t actually necessary at all, because the crowd was so wild and on such a high , that there was really no need whatsoever for any comments. Towards the end of the gig with a sarcastic grin on his face Andreas announced: "Now comes a title from our first full-lenghts album Till fjälls... and the title is .... Till fjälls", knowing exactly that the crowd would completely freak out on hearing this. Because the fans simply worship this song… and I´m afraid, Vintersorg are damned to sing this song live for ever and ever.
Way after the end of their gig the crowd was still shouting for another encore. But unfortunately … you`ve guessed … the time schedule…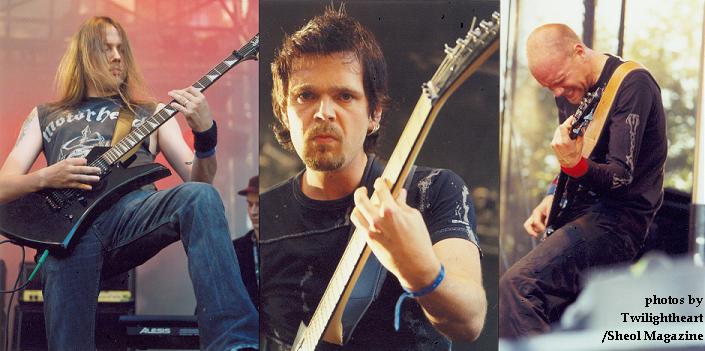 18.55! Caterwauling near the Main Stage! Time for "SODOM" and thrash from Germany! Prior to the gig you could hear drinking songs and howling from the audience, just like throughout the whole gig. And the true Sodom fan always needs to hold a half-filled beer bottle in his hand! ;-) Sodom just have a very loyal party fan crowd, and nothing can destroy their good mood and their thirst for beer! Some songs from the set were: "Blasphemer", "Outbreak of evil", "Napalm in the morning", "Remember the fallen", "Nothing to regret" and later on German drinking songs like "Die stumme Ursel" and "Aber bitte mit Sahne"… and as you can see on the photos: there´s been plenty of great joy and fun: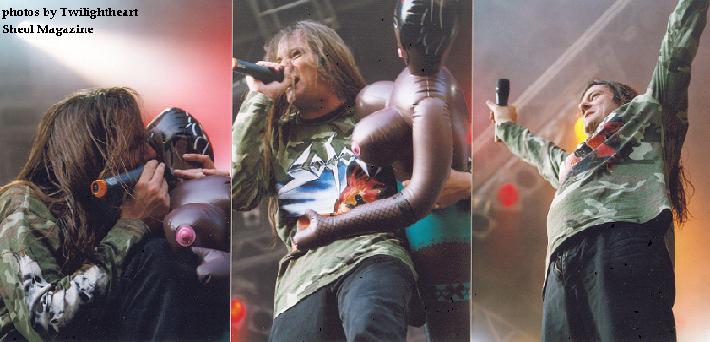 The same goes for "TANKARD" (who worked hard on the Pain Stage from 20.00 pm until 20.45) > there was endless joy and good thrash and the band's vocalist couldn´t resist making some jokes about the the female vocalist of "Die Happy". Even some bras were thrown onto the stage… heyo! Here´s some songs they contributed: "Space beer", "The morning after", "Rectifier" and "Slipping from reality".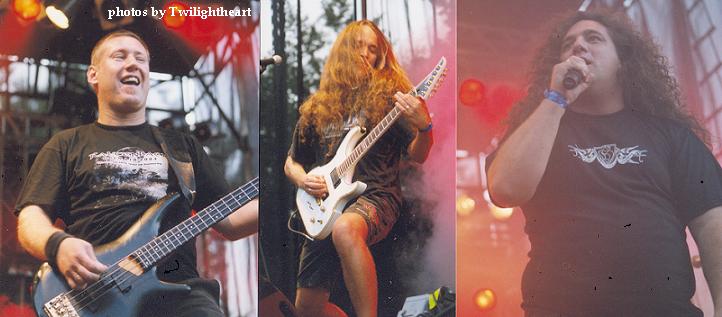 I missed "Die Happy" (with intention I have to admit, because I don`t like their music, sorry) but I very well remember seeing many men (let´s say, the 25 years old and older) walking towards the stage to have a look at the beautiful t*** …ahm… body of the band's female vocalist. ;-) Furthermore I remember the comment of her about the prices for the merchandise sales (being to expensive) and that the band is not going to take part in a rip off like that. I don´t care, I anyway wouldn`t wear a "Die Happy" shirt! Besides this the lady didn`t want us to take photos after the second song. As I arrived only after the 5 th song or so, I anyway wasn´t allowed to take photos, that`s why I can`t show you any, sorry.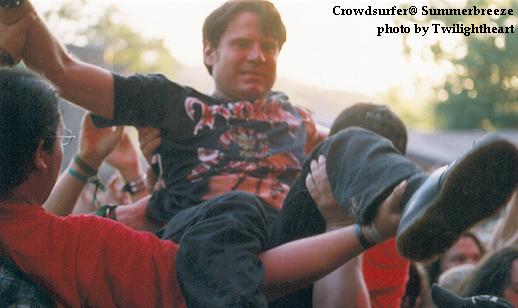 "SIRENIA" from Norway were a real surprise to me (they performed at 21.55 on the Pain Stage). I had only seen some promotion photos of them in the past, on which they look very puppy and soft. But here on stage they really turned out to be a tough Metal band with a real Metal lady being the vocalist and front woman of the band! She is very attractive and our German boys were highly enlighted by her appearance and her coolness (she headbanged and even sometimes growled like a profi)! I want to see more of this band in the future!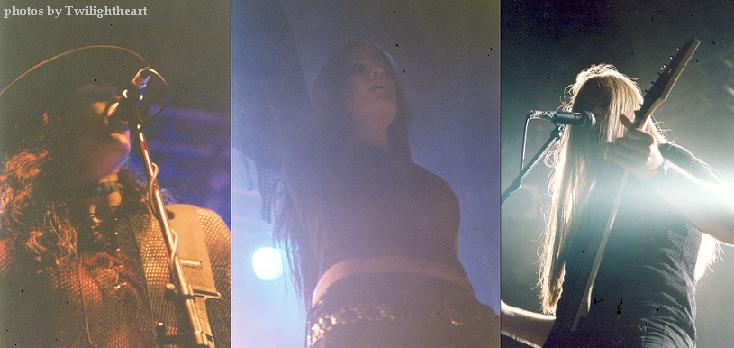 22.45 "SIX FEET UNDER" from the States (being the 1A headliner for this festival day) got the masses going. It was totally packed during their playing time of 1 hour and 20 minutes. What a great gig! It was pure madness and ecstasy! The crowd was eagerly headbanging and moshing and freaking out and whatnotever! "Six feet under" really raged on stage until everybody was wet from the sweat and powerless from all the headbanging. They played all their famous tracks like : "When skin turns blue", "War is coming", "Hacked to pieces" and of course the AC/DC cover "TNT" (I´m almost sure the new Metal generation doesn`t know the original of AC/DC anymore, but only the version of Six Feet Under). Chris Barnes and the others really provided a gig according to my taste. Excellent gig!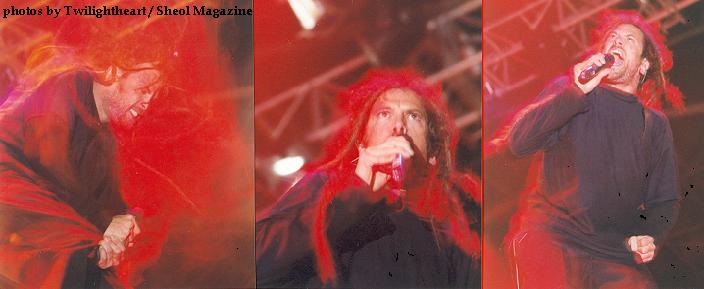 "KATATONIA" were the crowning of this day. Meanwhile every Metal fan should know them and there`s nothing more I need to say except that they kicked major ass and the band succeeded all along the way, being a bombastic ending of the festival day.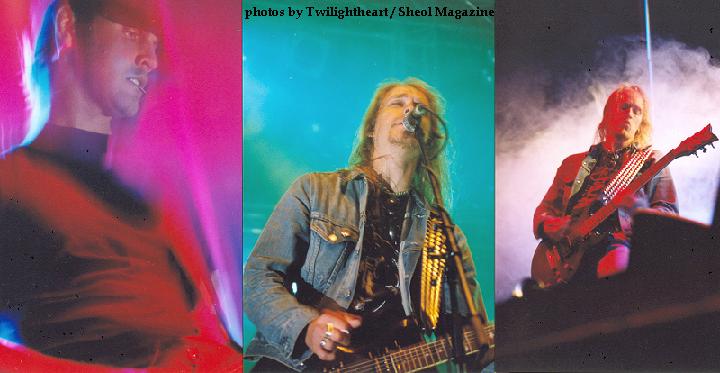 I still had to pick up my penfriend from the backstage area (waiting until he stopped partying with Primordial, who were the only band singing in the backstage area sometimes, which sounded great …. they really know how to party, not to mention the amount of beer they encouraged my penfriend drink that evening). I was endlessly tired after that festival day and thought I would sleep like a baby. But as that drunk fellow was snoring so unstoppable and loud that night I had only a few minutes of proper sleep. But … what can I do… next morning I said to myself "It´s only 1 more day to stay awake" and after taking some painkillers I was ready to go again.