"Up from the ground" Festival – Gemünden/ Main (Germany)
26th and 27th August 2005
Report: Wiebke + Twilightheart
(translation by Wiebke > please excuse any translation mistakes, grammar etc./ we are no native English speakers!
Native English speaking people who wanna work for the magazine are always welcome!)
Wiebke: After the chaotic weather situations at the festivals of the last three weekends I really hoped that there would be more sunshine this time. Nevertheless I took the luxury of a bed in a guest-house because I didn't want to sleep in a tent no more after the mud at the Summer Breeze festival.
At the campground you were able to see some creations of well-tempered fans: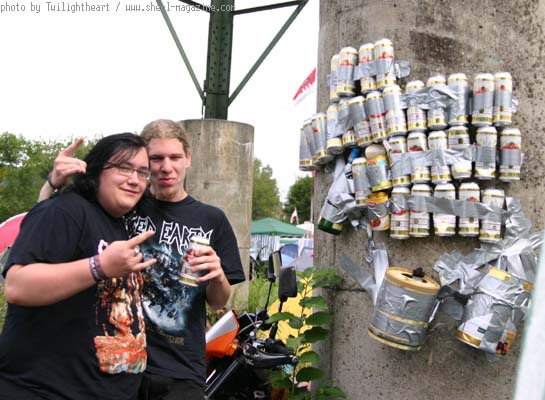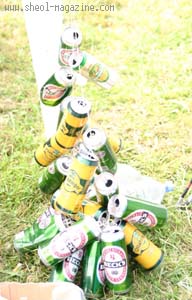 Well, the car ride took more time as expected, so I arrived at the really beautiful festival ground late and Fearer had already started their performance. Although their Death Metal was very brutal with a good sound there were only a few reactions from the audience. Maybe it was because of the missing stage action. The musicians were standing at their places like rocks and did some headbanging, but nothing more.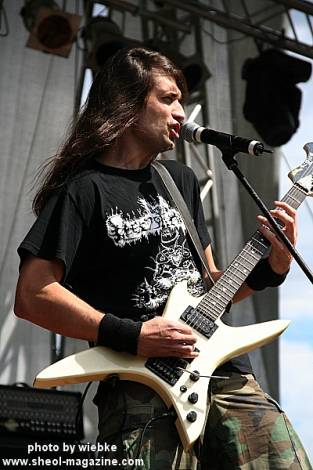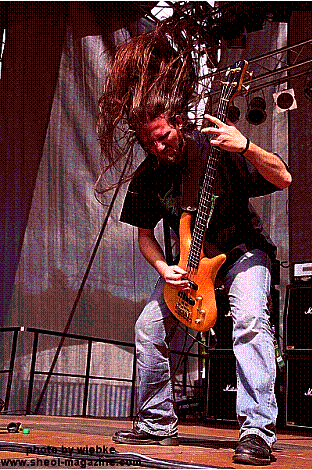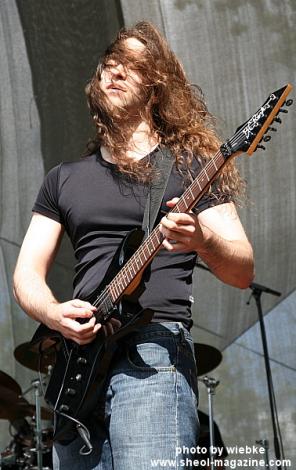 The Franconian Delirium Tremens had much more presence on stage. The musicians were´nt more lively but it seemed that they filled the space on stage better. The main attention was focused on the vocalist who used every Centimetre on stage and posed like hell. And the music is great for fans of old-school Thrash Metal.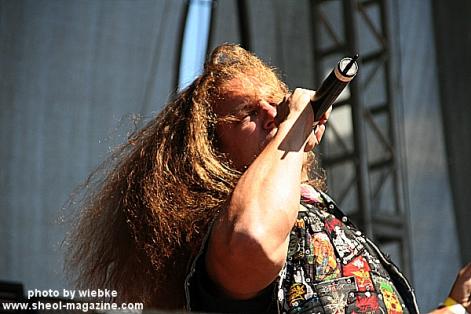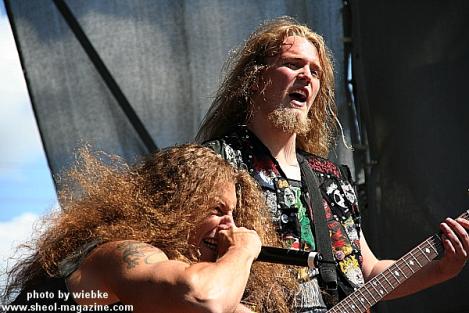 The guitar players Rowdy Rocket and Rowdy Bad Bone (brilliant pseudonyms, boys!) fought a duel with sharp guitar riffs while bass player Rowdy Roll played his instrument without any emotions, but just concentration. After some songs I realized that bandleader Rowdy Mütze Piper still had no knot in his tongue because it seemed that he wanted to make a velocity record with his vocals. In the slowlier passages everything got a more melodic touch which was – for me as a non-Thrash-Metal-listener – a nice variety.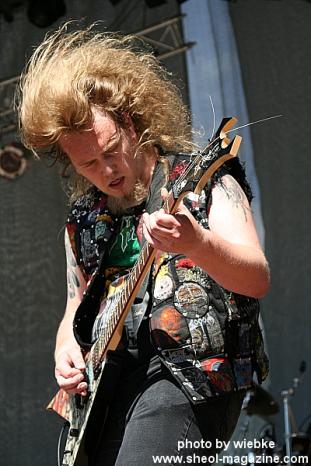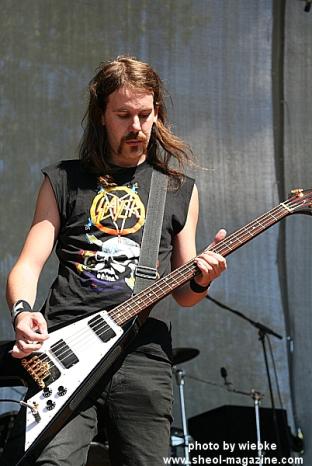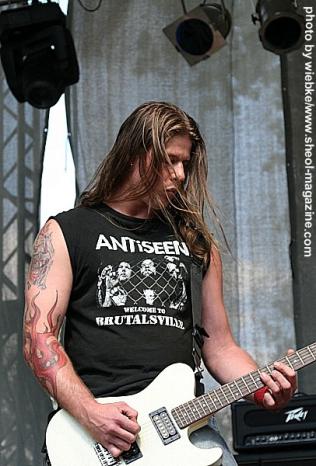 After taking lots of pictures of Delirium Tremens I sneaked into the backstage area. That area was reserved only for bands and crews but Dark Fortress gave their okay for some kind of foto-shooting half an hour before show time. Actually Twilightheart arranged this appointment and wanted to take the photos, but she was sitting somewhere in a train on her way to the festival because she had to work in the morning. So it was my turn to do it. I have no experience in taking this kind of pictures, so don't expect too much from me. But have a look by yourself.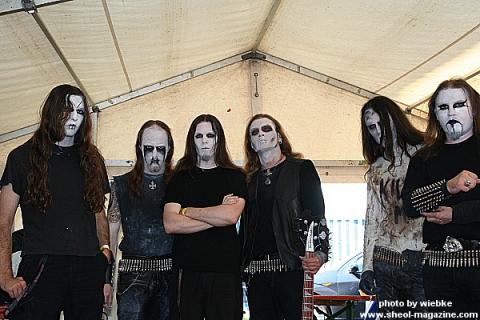 Dark Fortress interrupted their studio work and replaced Koldbrann from Norway very short-termed. And although the sun did shine without any mercy these passionated musicians were able to create a dark and threatening atmosphere at which every fan got a comfortable crawling on the back. With fixed faces they celebrated their pretentious version of Black Metal. And it gave the impression that vocalist Azathoth wanted the fans grow stiff with his views.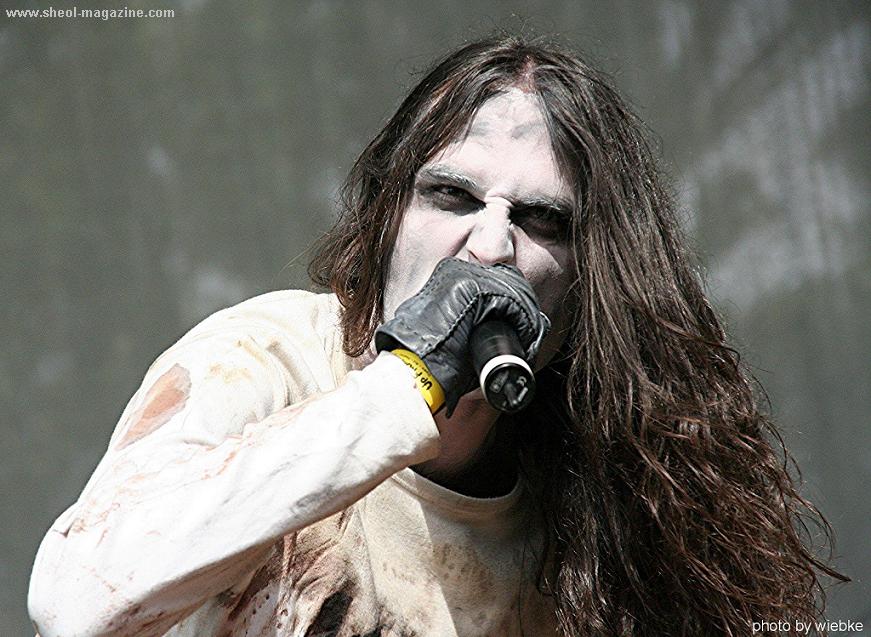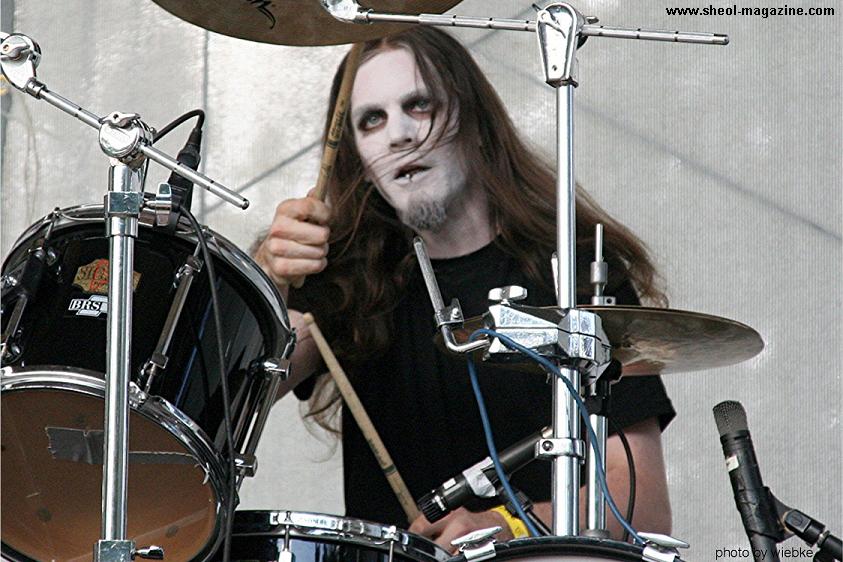 The music was very intensive so the communication between band and audience was absolutely great. My personal highlight during this performance was "Stab wounds". A brand new song was also presented which got very good resonances. Finally it was no surprise that the fans yelled for more after the last song. (Wiebke)
Twilightheart: Like Wiebke already said, I (Twi) was sitting in a train while Dark Fortress were performing because this f***** a****** of boss (or better: wrong choice of boss) didn´t give me a day off for that Friday (that was one of the final reasons why I was searching for a new job that autumn… because if you don't get a day off once a year when you have something very important to do (and no arguing! It IS important to see Dark Fortress live) then it is not worth it). But Wiebke was very friendly and arranged something like a conference via cellphone. So I was sitting in the train and listened to the music which came out of my mobile phone. Very bad sound quality indeed! But it was a little consolation for not being able to be there. So at least I am able to tell you the setlist: Iconoclasm Omega – Self Mutilation – Catawomb – Stab Wounds – Pilgrim Of The Nightly Spheres.
When I reached the festival ground it was leaving time for Dark Fortress already. So I just said "hi" to V.Santura and then my "Dark Fortress festival summer" (haha) was over (because they didn´t play any show at other festivals, which was a great loss).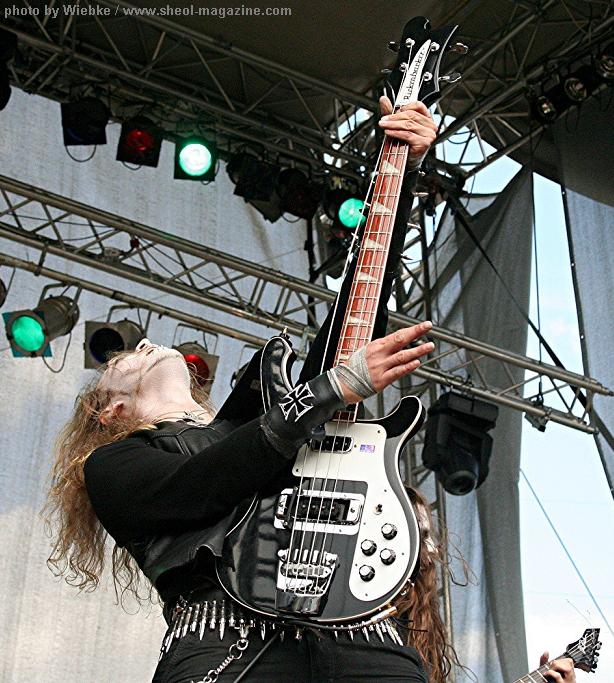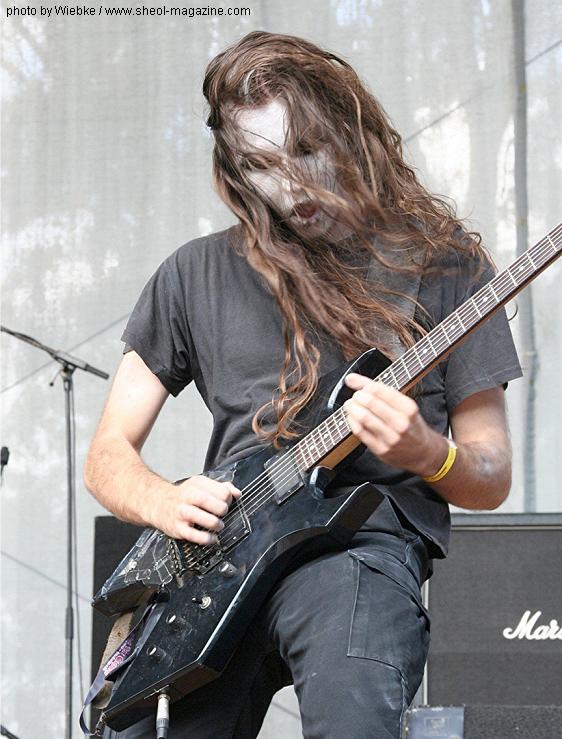 Honestly, I didn´t want to see bands like End Of Green (puke)…this would be a job for Wiebke. So I started photographing later that day, when the Pagan and Black Metal bands would have their gigs. (Twi)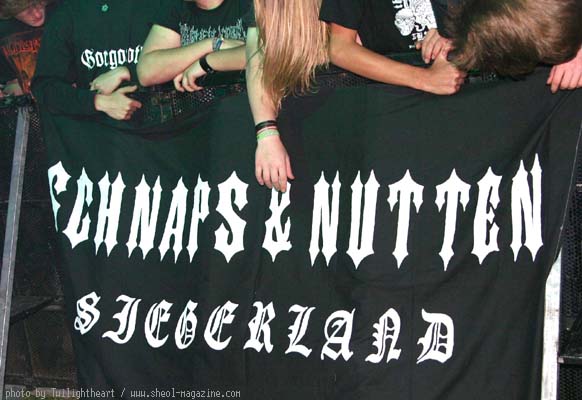 Wiebke: When My Darkest Hate from Ludwigsburg started, the music got more brutal again. High quality old school Death Metal was played. Hell yeah! But you were able to hear some melodies next to great grooves which reminded me of Illdisposed because there were parallels in the vocalparts between lead grunter Chris and Bo Summer. But this doesn´t mean that he was just an imitator! He was able to do various shouts, screams and grunts. Finally they played a new song, too but I did'nt understand the title (why do you always have to grunt the announcements, boys?!). After that one they let the people go into the sunny afternoon.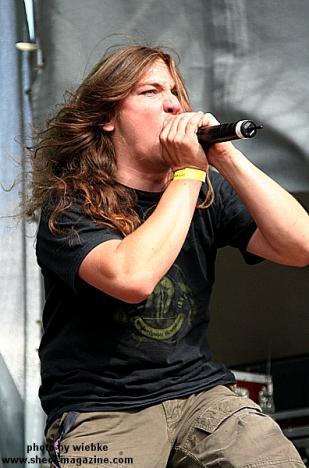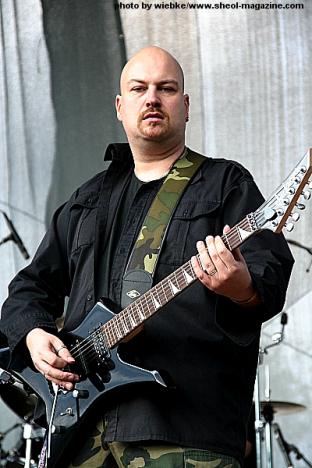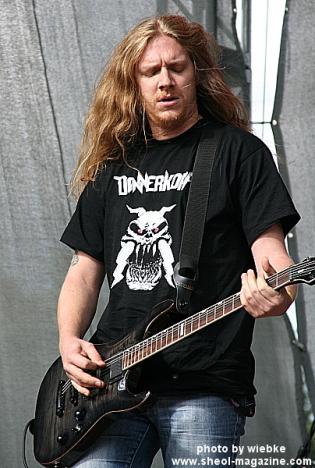 Now it was time for this weekend's first autograph session. Some fans were already waiting for Primordial in front of the tent where every one took place to get autograph cards, CD-booklets and whatever signed. The Irishmen brought a substitute guitar player because Ciaran wasn't able to join them. Here are some impressions: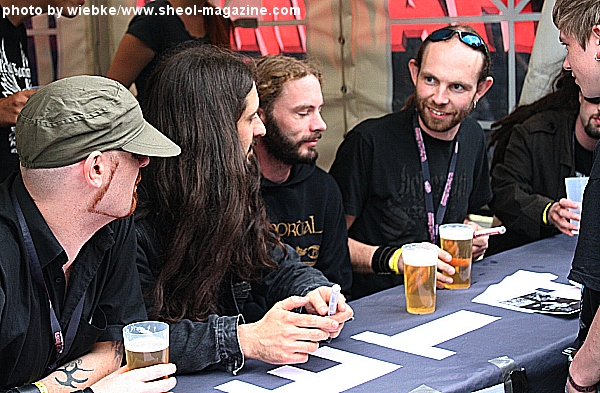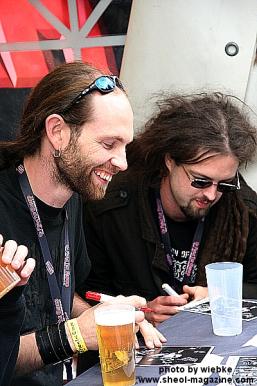 The fans had also a great time at the signing session of Misery Index: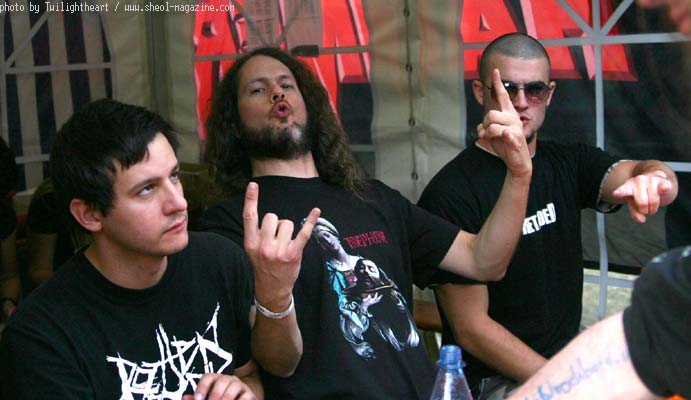 End Of Green differed a lot from the other bands because they were the softest in the billing. Nevertheless these Gothic Rockers played an energetic show if you ignore the front man. The style was somewhere between Type O Negative – maybe because of the deep baritone of lead singer Michelle Darkness – and The 69 Eyes with essences of 70ies Rock and Metal. The announcements were mumbled permanently so I didn't understand anything except something with "the saviours´ brain bleeding" next to the last song.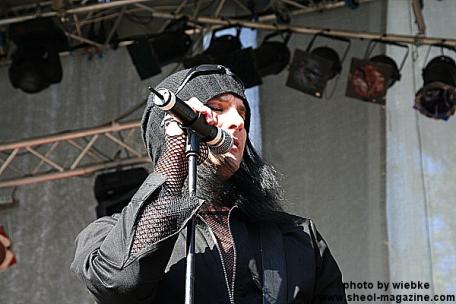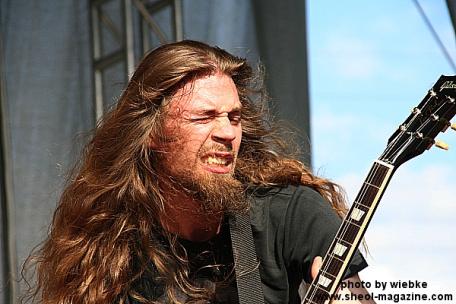 However, at the beginning the place in front of the stage was very empty. But some time later more and more people came and got motivated by lots of spoken "oh yeahs". Well, the crowd started to rock. Obviously nobody told the band their exact running time because they left stage 10 minutes earlier than they regularly had to. And THEN they were told that there was some time left. But they accept this little break-down with a smile, returned and played at last a fast rock song.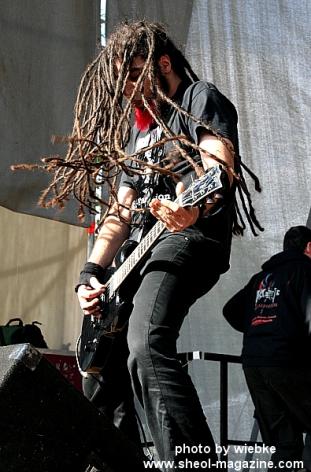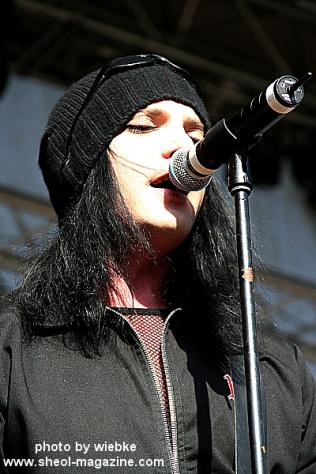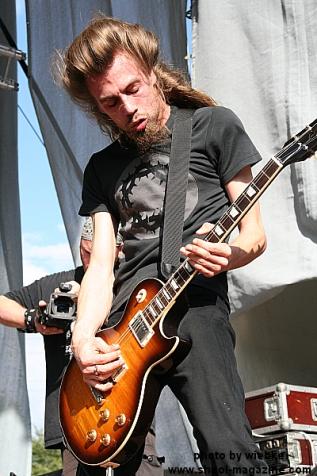 Okay, I confess. My hormones got crazy. And Twilightheart still made jokes about it hours later. And that was just because The Duskfall has a very good looking bandleader. But Kai is not only attractive he is also a great vocalist what he demonstrated in the following 40 minutes. They started off with "Source" and "Poison the water". Heaviness and nice melodies are combined very well in these two songs. And Kai made lots of announcements between the songs – very untypical for a Scandinavian band. But the fans needed no motivation, they already were in a passionate mood.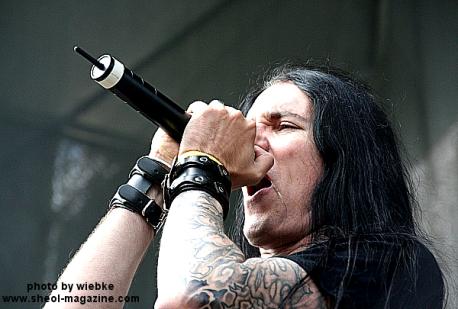 The musicians were responsible for the right drive and lead guitar player Mikael Sandorf earned much applause for his damn fast guitar solos while the front man was speckling from the right to the left and back. He also got the most attention because of his endless face pulling. It ended up in drawing a huge rotated cross in the air. But I suppose nobody felt attacked by that. ;-) At the end "Guidance" was being played.
I think I don´t have to tell you that the crowd shouted for more. But it was impossible to play a bonus song in fact of the hard timetable. That was a pity because this was modern (Göteborg) Sweden sound where you can listen to the melodies longer than two minutes without getting sick of it. (Wiebke)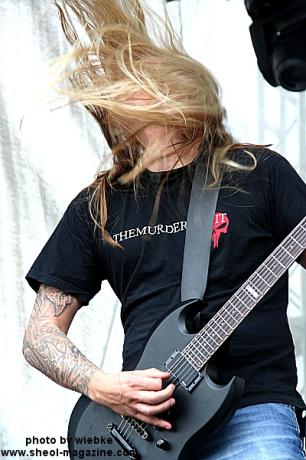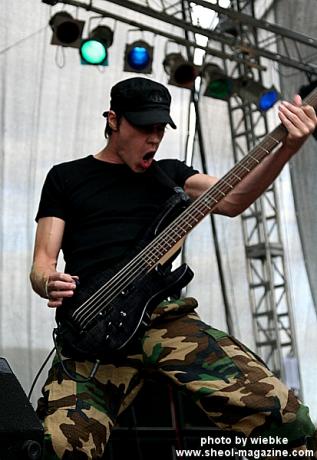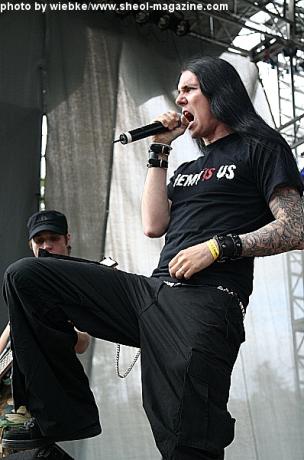 Twilightheart: At 19:15 it was time for one of my favourite live bands: Primordial! It is absolutely great to listen to the brilliant music of this band and see their great live gig. Frontman Alan Nemtheanga is an unbelieveable charismatic person and totally deep into his music, he is also one of my favourite "photo-models" because his miming and gestures are changing every second. If you took a photo of him every second, every photo would be different. Only a few people have the same energy on stage! Oh, the first thing he told us was: "We are a band that still makes music from the heart. And we don´t compromise!" And you can see it, it´s the total devotion to the music. If it is needful to fall on the knees to underline the dramatic lyrics -> Alan will do it! I was completely happy when "The Gathering Wilderness" (my favourite Primordial song!) was played as the second track from the setlist! It was so fucking great! While singing lyrics like "Do you know me? Do you?" it seemed that he wanted to cut his throat. This song is really the greatest: "…and faith is not welcome here…" Of course the track "Coffin Ships" was played as well and the fans adore this one! And after oiling his throat with fresh beer Alan shouted at the fans: "Are you with us my friends?" Well, there were also some stupid comments made by fans. As Alan said "we have one more song" a fan shouted "Shit!" But Alan countered in broken German: "That's shit, isn't it?!"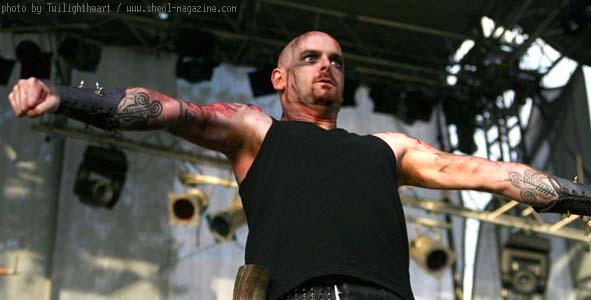 It was nice that the photographers weren't thrown out of the pit after the third song (that happened only at the "big" headliners like Hypocrisy) so I had the chance to enjoy this gig right in front of the stage. And "enjoying" is just the right word! As Caro (photographer of photopit.com) is also a huge fan of Primordial it happened that we stood in the photo pit all the time (the band allowed it explicitly) abusing it to rock like there was no next day totally forgetting to take pictures. You must (if you don't have yet) watch a live show of Primordial. They are really cool!
Setlist: The Golden Spiral – The Gathering Wilderness – Atumns Ablaze– Sons of the Morrigan – The Coffin Ships – Gods To The Godless – To Enter Pagan…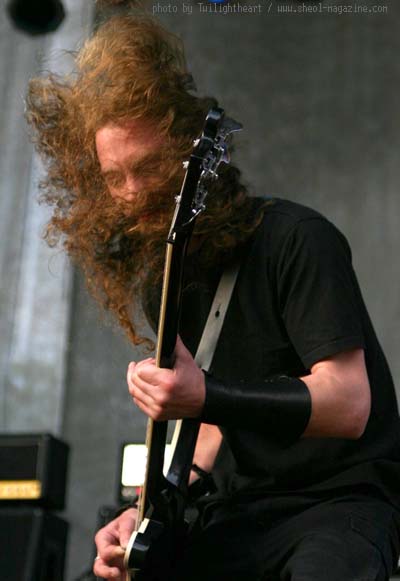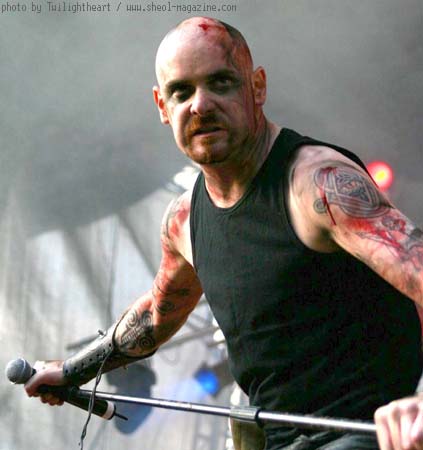 And then the probably most well-known Black Metal band from our neighbours in Austria followed: Belphegor! It was like "Montezuma's revenge". This band introduced themselves in several band forums (e.g. in the Naglfar forum) with posts like "Hi, we're Belphegor…just give our music a try!" But everybody…at least in Germany…know very well who they are. There was no special stage action (but maybe every band looked like a rock in the rough sea after a hyperactive band like Primordial) but musically they sounded rough, anti-human (anti-Christian) and without any compromise. I am sure that all the fans from Austria (there were a lot in the crowd) were proud of them. And they were right…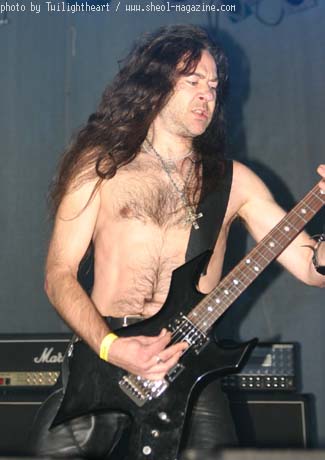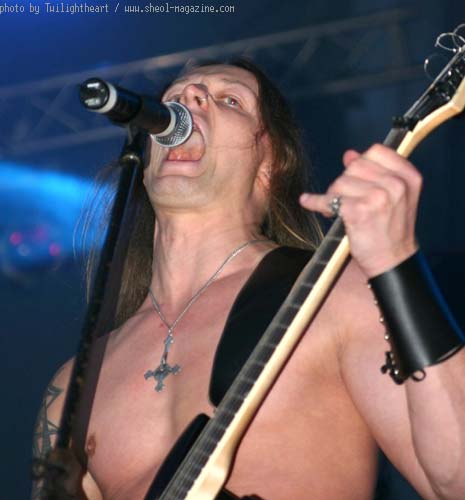 Can you remember the band Rage Against The Machine which were able to let all fans jump and rock from the first second of their concert? I think Ektomorf and Disbelief are the only bands which are able to do the same. The also have a wild and crazy fanbase…like Ektomorf had here at the UFTG. It was like hell! These guys rock! Who wants to do REAL sports in his life should go to a concert of Ektomorf und just jump the whole show.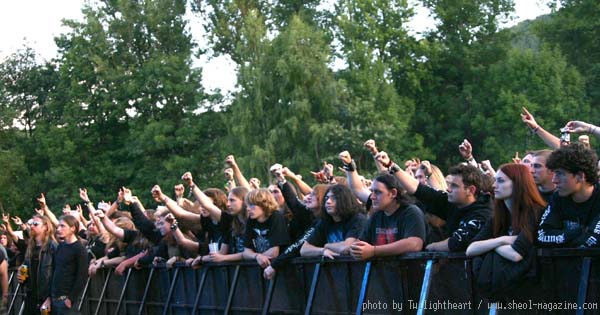 The band is also known for saying thank you a lot. So you were able to hear the singer saying after almost every track: "Thank you very very much" oder "Thank you fucking much". Or questions to the fans like: "Are you okay?" Or the final and sad sentence: "This is our last show this summer and I want to thank…" Then a long thanklist followed where almost every crew member and whoever was mentioned with his/her name. But the crowning was this (said into the fans' direction): "And I want to thank the most important persons…that's YOU…we love ya!" I needed a break after so much love and gratitude. Ektomorf loves you…that's for sure. (Twi)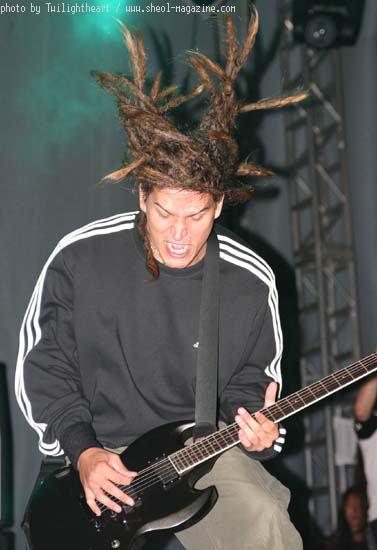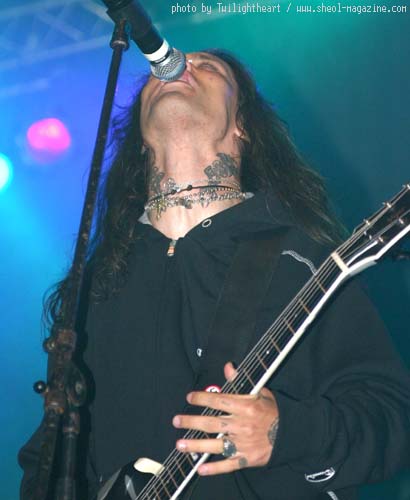 Wiebke: Well, here is my new theory: Every time Pete wears his cow-coat styled cowboy hat the gig won't become very good. Because I saw them some times before when they played much better. But it is possible that Ensiferum just had a bad day.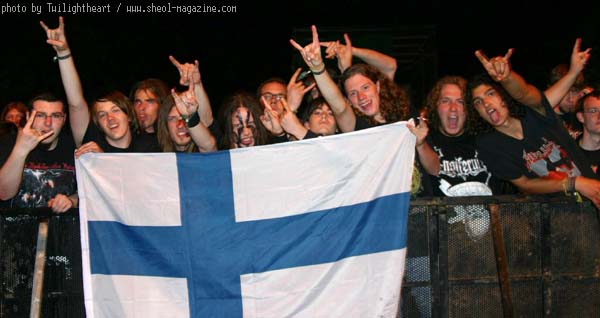 But I should start from the beginning. In my eyes the band looked unenthusiastic like they only did their job but nothing more. Nevertheless "Tale of revenge" was a burner. "Little Dreamer" and "Slayer Of Light" followed but you weren't able to hear any keyboards. The sound was extremely shitty during the whole set either. But in fact because of this the background vocals didn't sound so wrong. Some time later Pete asked: "Do you want to listen to a song called "Token Of Time"? And it was answered with a very loud "YEEESSS!" Well, this time they played it about three times faster than usual which irritated me a little. But nobody cared about that.
After that you were able to listen to "Windrider" and "Battle Song" which got positive resonances from the fans. Finally the set was okay but including some weak points. Hopefully it will be better next time.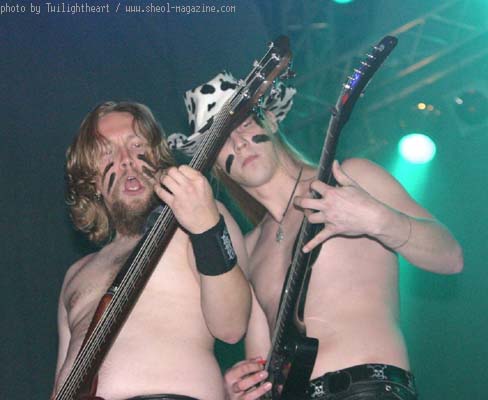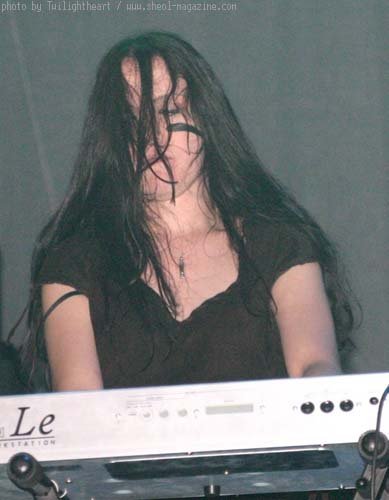 Then it was time for the headliner. That was Napalm Death's chance to mobilize the last energy reserves of their fans. And they did it easily. Barney ran from side to side like an old locomotive showing his teeth like an angry dog and took out his message to the audience. At the same time his band members had to torture their instruments to put everything into ashes. And so they did.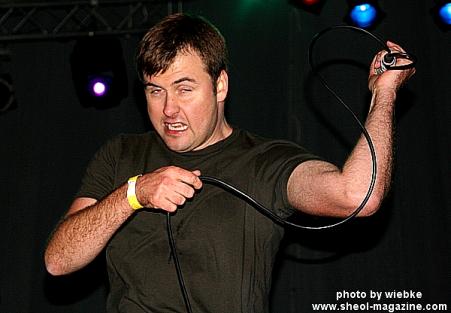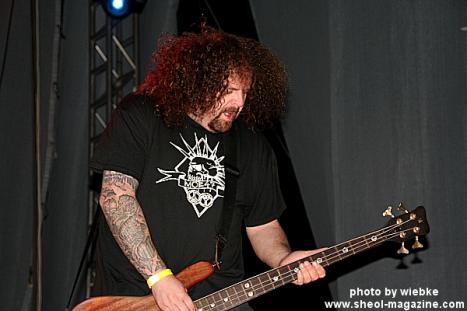 Next to a run through older material the musicians played a lot of songs from the actual album "The Code Is Red – Long Live The Code". Of course Barney's pithy speeches were not missing either. If you got 20 cents for each "Nazipunks fuck off!" you would have got enough money for several beers. ;-)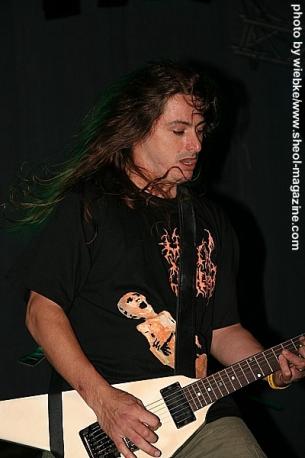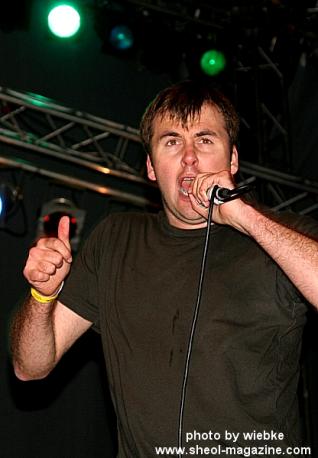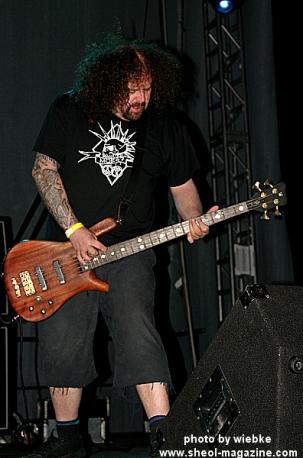 Well, these Grind attacks are a little too fast and too "arrhythmic" for me but there was a huge crowd having fun. And some musicians (on my photos Kai of The Duskfall) jumped around in the photo pit. So it was a lot of traffic consisting of photographers, security and crowdsurfers in there at some time.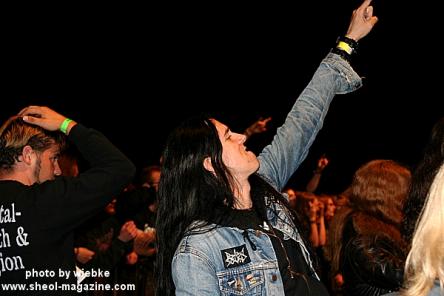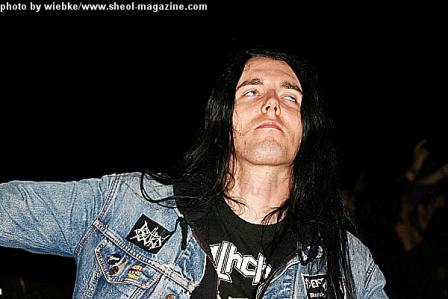 After that we went back to our guest-house. My friend and I got some tins of beer from other friends so the way was very funny. Luckily it didn't end up in the river Main… (Wiebke)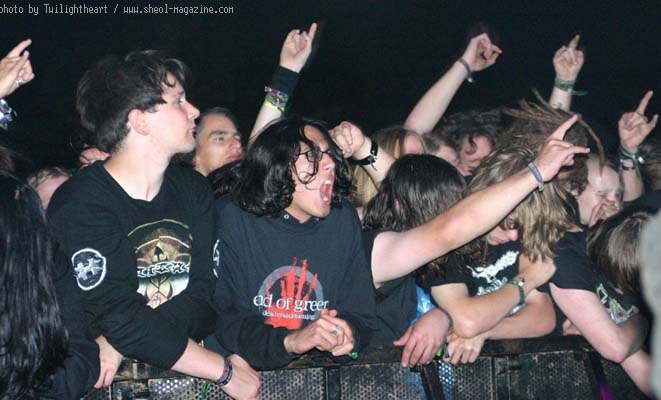 Saturday
Wiebke: Because of the hard end last night I returned to the festival ground only shortly before Path Of Golconda started. Sorry far that. ;-) The quintett from Oberhausen/Germany presented themselves very lively at this early time and satisfied the fans with their weighty interpretation of Death Metal with influences of Thrash and Black Metal. From time to time you were able to hear some melodies so it didn´t get too monotonous. But this was still not easy listening!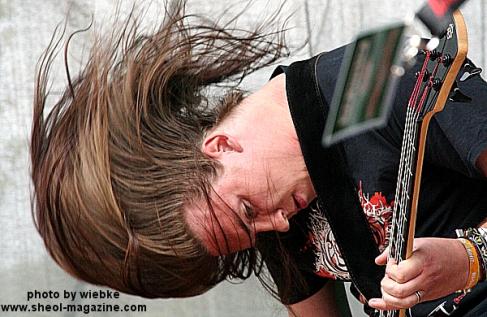 Vocalist Manuel changed between grunts, screams and croaks whenever he wanted to and even sang some clean passages. Well, his stage acting reminded me strongly of Ville Laihiala from Sentenced. And maybe I was not the only one who had these thoughts in mind.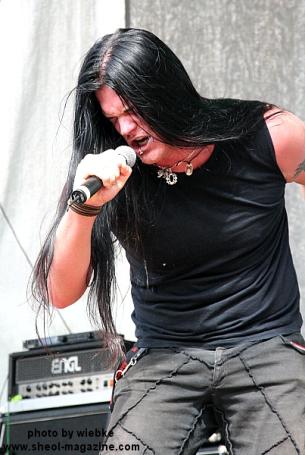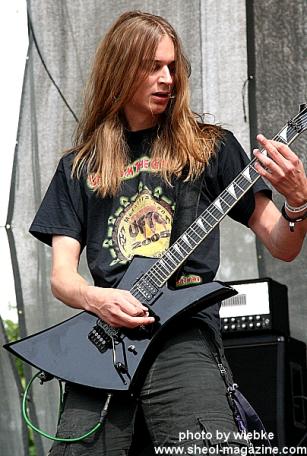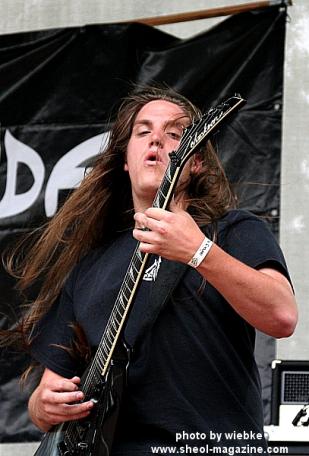 When Disinfekt started their show the music became more brutal. They played fast American styled Death Metal. And they didn't take any prisoners. "Oh hey, I know the front man from somewhere." That's right because Chris of My Darkest Hate was helping out on vocals because Disinfekt were looking for a new singer. If you are interested in doing that job contact the band.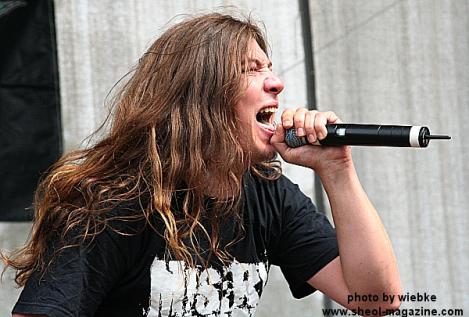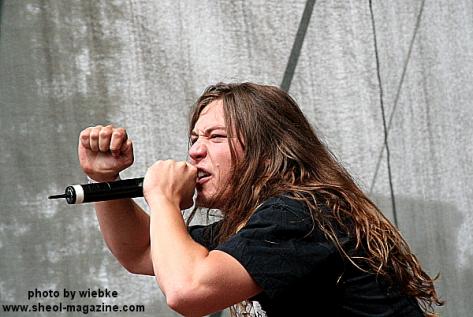 Some announcements were really funny: They called themselves "Swedish people" and told us that "Brave New World" is definitely NOT an Iron Maiden cover. It was also talked a little in French till they played "Menschenfeind", a fast track with the typical Disinfekt trademarks.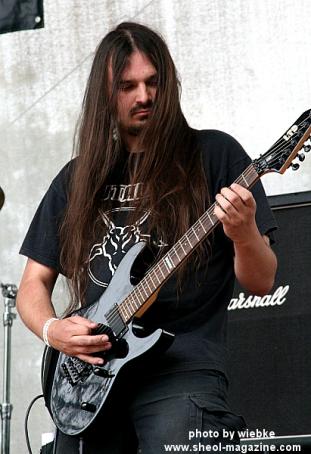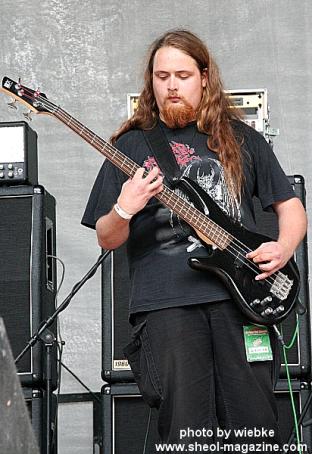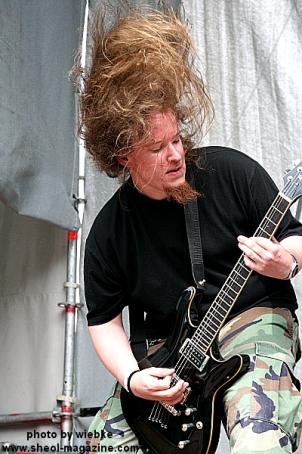 And they left very satisfied fans as you can see on the picture: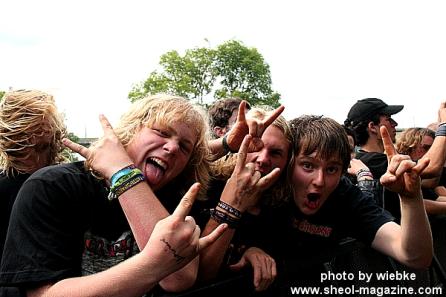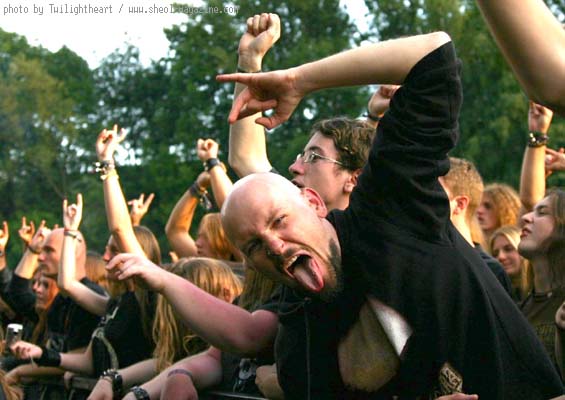 Now it was time for boys from Hamburg (okay – originally they come from Elmshorn) playing in a band named Dark Age. These sympathetic musicians around Eike Freese used their time excellently to impress the audience very positively. It was easy for them because their songs are made of great guitar riffs, brilliant melodies and good vocals. Eike is talented as well in normal singing as in growling!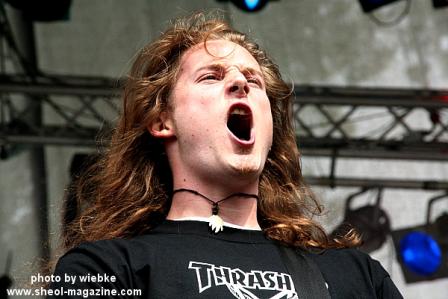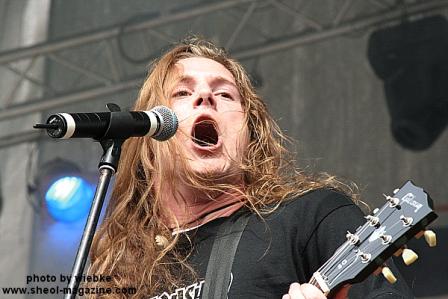 It was a pity that the sound was so bad. The drums sounded too dominant and the guitars were too low. But this was not the band's fault and the fans enjoyed it very much. So Dark Age was one of the winners of this festival because the new groovy songs got most positive resonances. "Suicide Crew" was a huge invitation to bang your head. After that they weren't allowed to leave the stage without an encore. And finally the stage manager checked that and gave his "okay" for one more song.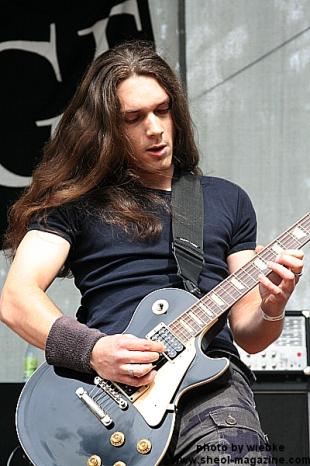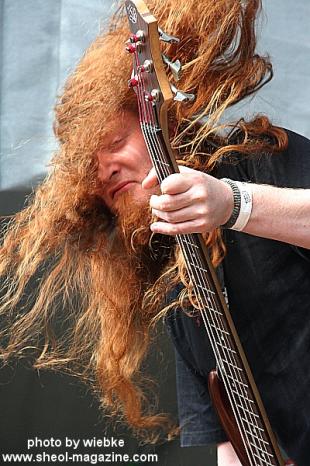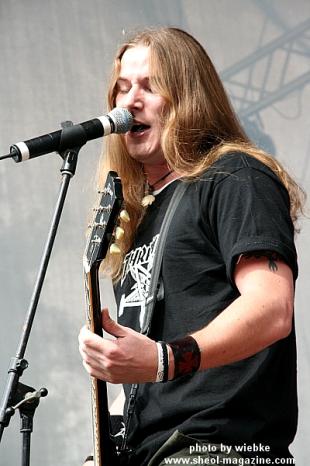 Their "commercial break" was funny, too: Eike wanted to throw a band shirt into the crowd. But he didn´t take enough power and the shirt ended up in the photo pit. He smiled, called himself a girl and jumped off the stage. He threw the shirt again and then it reached its goal. With only one try he got back on stage. Wow, very sporty! (Wiebke)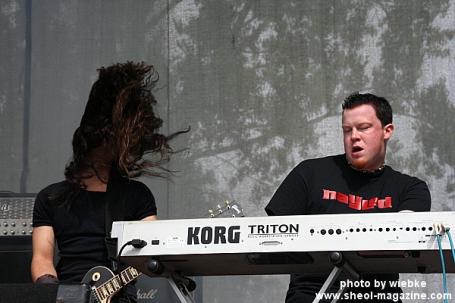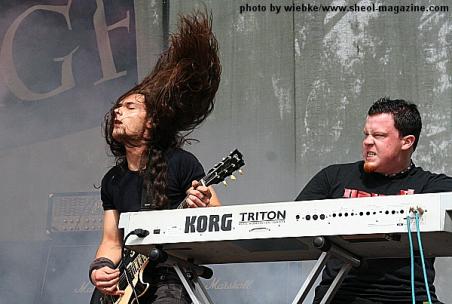 Twilightheart: And now the question of the year (the person who has the best answer wins a CD): Why do Hatesphere and Heaven Shall Burn play at every festival directly one after the other? Are they travelling together or something?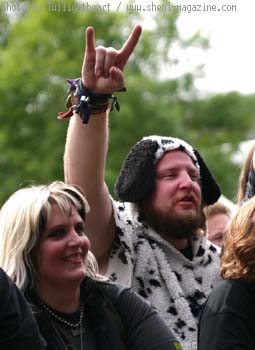 Well, Hatesphere was one of the winners on this festival. The singer drew all attention to himself because of funny on-stage-spitting or lifting his T-shirt and showing his beer-belly… combined with powerful growls. But even more because of having fun on stage and making lots of comments. He started with: "My English sucks but my German sucks even more. Is there anyone who speaks Danish in the audience?" A lot of people answered something that sounded like Danish. He also drank out of a Jägermeister bottle from time to time. Well, for Scandinavian people this is like sweet water…a little Jägermeister doesn't have a real effect. And they had the weather on their side. There was fantastic sunshine which had a good effect, too. Every now and then the singer held the microphone in front of the Bass player's mouth. But he didn't know what he should say. So he didn't sing something into the mic and just ignored his vocalist's actions.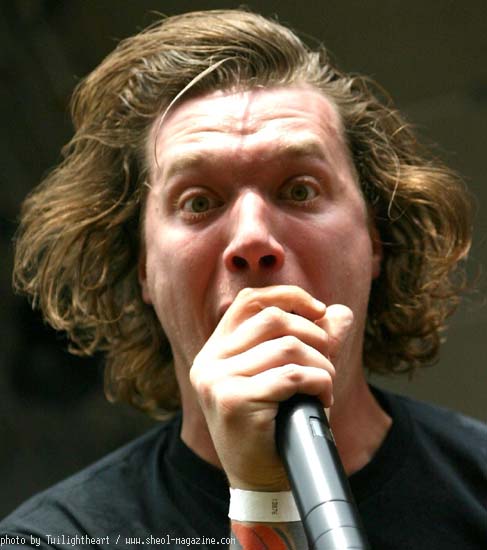 The vocalist jumped in periodical intervals into the photo pit to get in contact with the fans and enjoy the hugs of all the girls and boys. Then he rolled himself back onto stage again, just to jump off a few minutes later. But the funniest thing was when they asked a fan to come up on stage, who had been playing air guitar all the time. Now he was told to do it up on stage. He had one of this blown up air guitars and he played it seriously whilst the band rocked around him. He caused a lot of laughs because he acted like he was a real bandmember.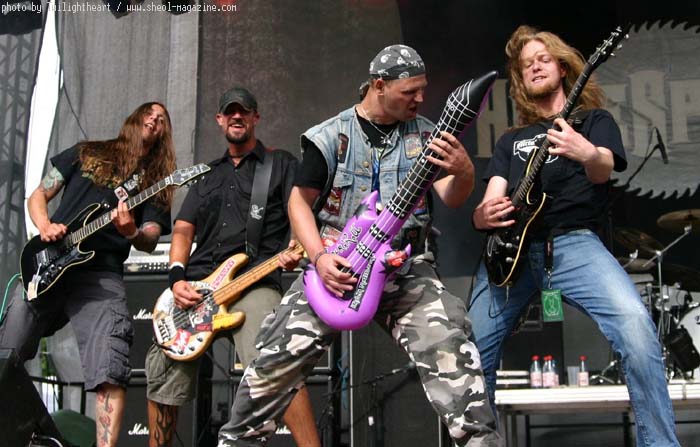 Hatesphere did also some advertising for their new record which should be released on September 26th, before the singer jumped down to the fans ONCE AGAIN to make a special girl very happy because he hugged her for a very long time.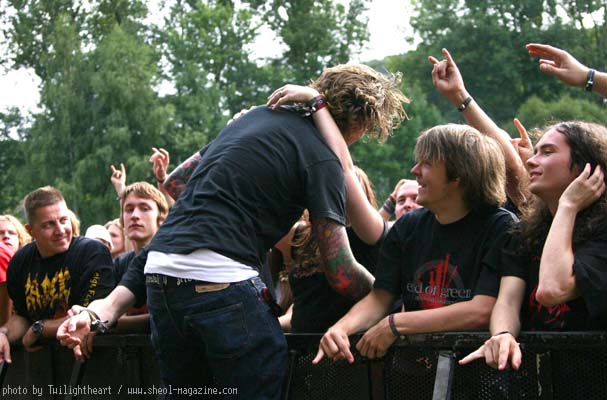 The band tried to throw some stickers into the audience. But it failed. They landed all in the photo pit. I was so nice and gave them to the fans in the first row after the gig. However, with all the jokes and little escapades Hatesphere played the funniest gig of this festival.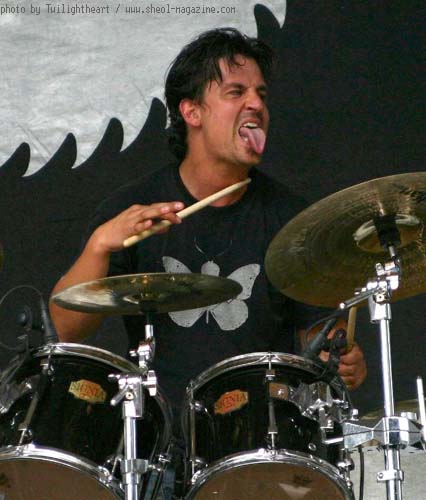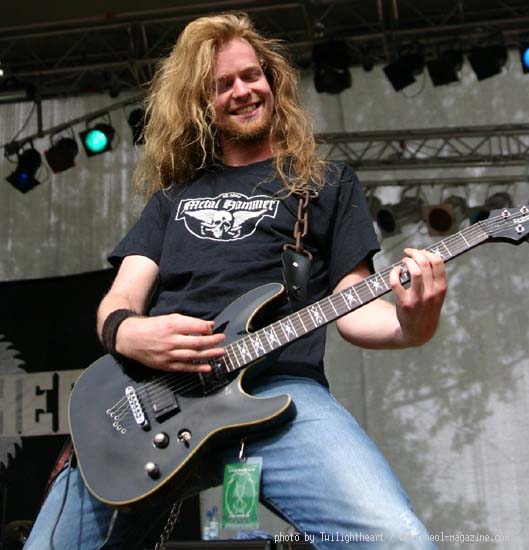 While Heaven Shall Burn were performing I realised that the vocalist (maybe the whole band?) must be Thuringian (like me) because he made his announcements with a perfect Thuringian accent. But then I had to leave because I had a "date" with Steffen (from the band "Obscura") for a little photo session. But here is also a photo of Heaven Shall Burn for you (you will find more photos in the "Festival Photos" section):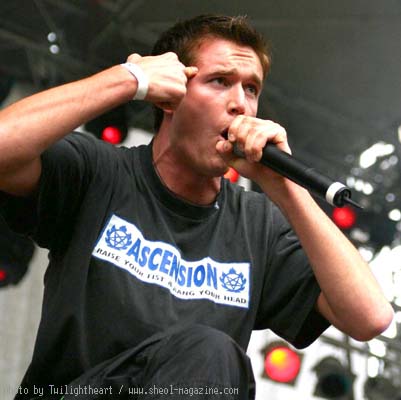 I just took some photo of Mnemic (another band from Denmark) without watching their gig. But I still knew from Party San Open Air 2004 that this band was quite good. I saw a lot of fans full of sweat after their show, so I am sure that this band was on the sunny side either.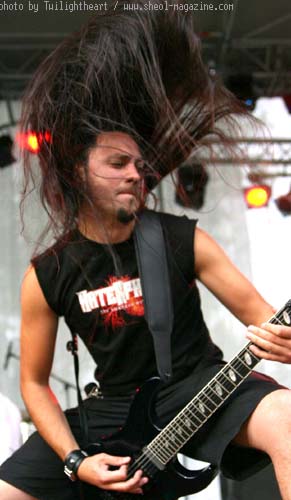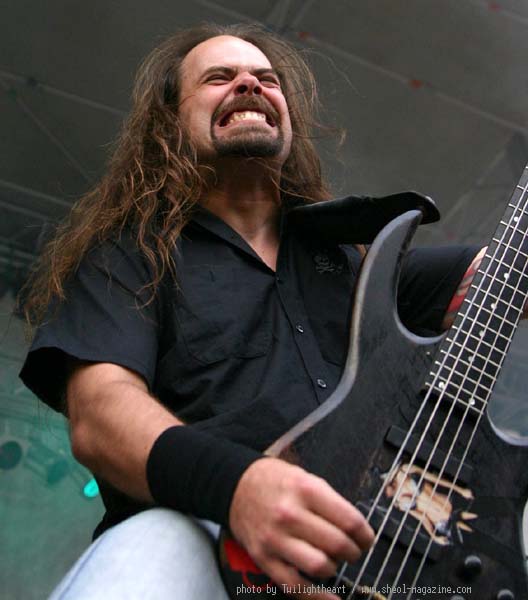 This was the first time that I would see a show of Rotting Christ. Steffen and I just stopped the photo session to see the gig. But we both got disappointed. Because of their band name (and because of everything I heard that they've been through because of their band name) I expected some kind of Black Metal which was more aggressive and more blasphemed. But they didn't live up to my expections. The band was not bad but I have seen much better bands in my life. Maybe it is just this special band name that brought so much publicity for this band from Greece. Don't understand me wrong…this band has surely its lots of fans and their music is okay but I expected something very different under this name.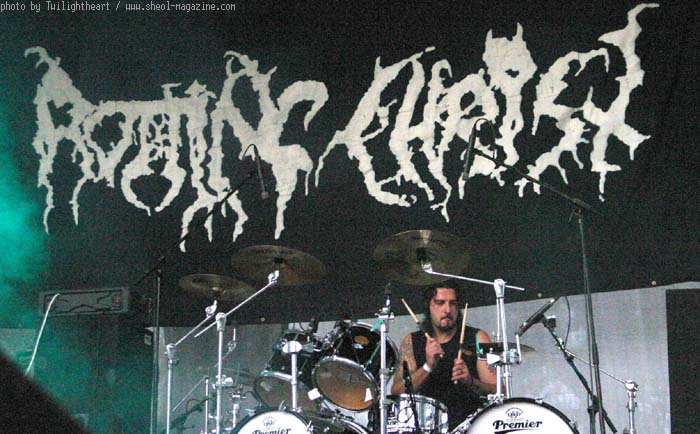 Like you all know this band consists only of three people. But if bands like Krisiun are playing concerts (they are also only three) it is looking great. But here it seemed that the stage was empty. The guitar sounded strange, too. Maybe it was not tuned right. The bass lines were simple, there was nothing special with them. And perhaps the daylight and the missing corpse paint were two aspects that let this band appear harmless. It happened nothing spectacular on stage, no gestures, just nothing. They just played the songs that were marked on the setlist. One of them was "Sign Of Evil Existence". Some of you might say just the music counts. But I have to oppose you in this point because I can buy a CD and stay at home with that. If a bands plays on a festival it should give its best…to show the fans that it is great to play in front of them…to communicate (like Hatesphere with a lot of jokes, and Black Metal bands with grim faces or something)…but showing NO reactions at all is out of place at a festival. I think I was not the only one who expected something else because the reactions in the audience were not so enthusiastic. But in some sense the band has my sympathy because the musicians didn't quit and resisted all the attacks because of the band name.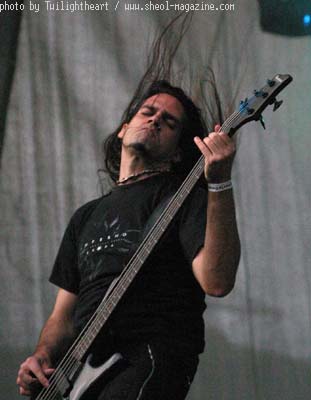 Misery Index was the first band where the photographers had to leave the photo pit after the third song. So I listened to the songs out of a distance and they were really rough. And I realized that many fans were banging their heads if there was no tomorrow. Here are some pictures: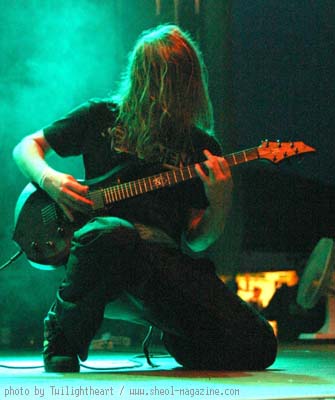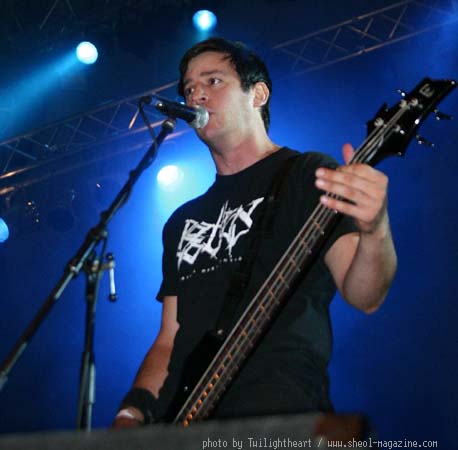 I went to the signing session of Unleashed. They were very friendly and they have a lot of contact with their fans either…you should read the posts in their forum. It is like a big family and the band members between them. And they also had a lot of fun at this signing session. Actually an interview (face to face) was planned. But the problem was a separation of bands and press backstage. The people from the press had no access to the place where the musicians stayed. But the musicians didn't know that. So I was not able to go there and say "hello" and remind them of the interview. (After the signing session it was too late because there were only the two headliners left before the festival would end. Unleashed was one of the headliners, so they needed the time for taking their stuff on stage, soundcheck, regenerating after the show…) .
But Unleashed were very friendly at the signing session and posed a little just for Sheol-Magazine. Here are some impressions: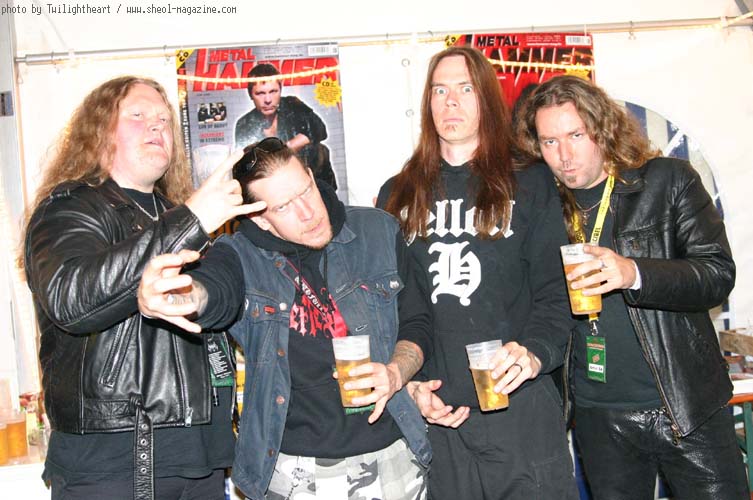 And then it was time for their show: One of the first songs of Unleashed I can remember as "To Asgard we fly". And the crowd went from 0 to 100 in 3 seconds. There was a great atmosphere! This band is one of the bands which really communicate with the fans. One of the talks was this: "I think at the signing session I promised a couple of guys to play a song for them…a song about victory…Death Metal Victory!" And so the Death Metal Victory Inferno came over the fans. And the fans had a great party! They growled the songs in a duet with Johnny as loud as possible until this fucking great gig ended with "Hell's Unleashed" in an excellent final. (Twi)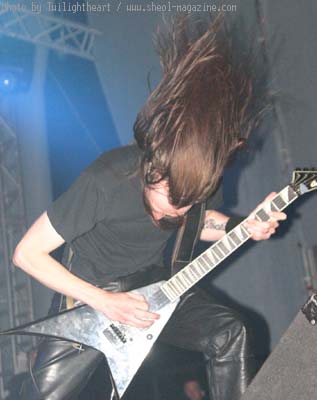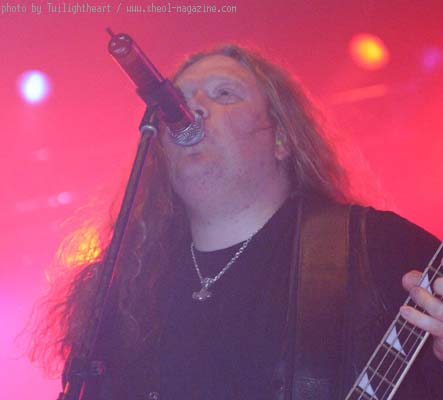 Wiebke: Even the nicest festival must come to an end but it is great if it ends with Hypocrisy. I don't know why but there were a lot of delays. The fans used the time to warm up with "Peter, Peter" – choirs while the musicians checked their instruments and something with the drums had to be fixed. And finally they started off with "Fractured Millenium". (And I stood in the pit being pissed off and saying swear words because that is one of my favourite songs of Hypocrisy but I wasn't able to headbang because of the camera… oh yeah, those professional cameras are really expensive and sensitive, so you can't just jump or act wild, as long as you have one with you.)
Friends:

It was great from the beginning and the fans did everything Peter wanted. You cannot say it in any other way. If he wanted to, everybody would have jumped around like rabbits.
It was also clear that one and a half hours was not enough time to play all the hits you would love to listen to. But the setlist was great anyway. "Fire In The Sky", "Inferior Devoties" and "Apocalypse" were played. During "Adjusting The Sun" the stage was filled with fog completely. You just had a presentiment where the musicians stood which fit to the music perfectly. "The Final Chapter" and "Roswell 47" were not missing either. And many people growled the lyrics of "Roswell 47" along with Peter. The very last song was "Eraser" which crowned this brilliant gig. But maybe fans of the older songs won't agree with me at this point.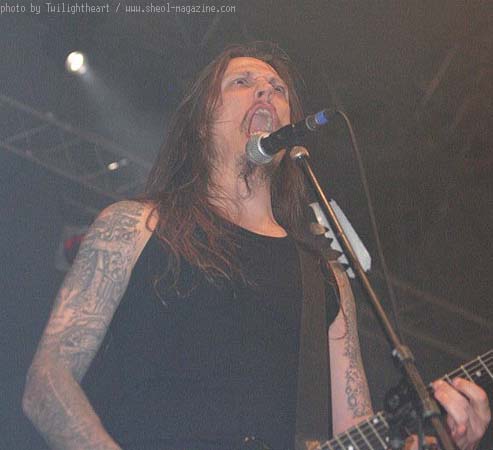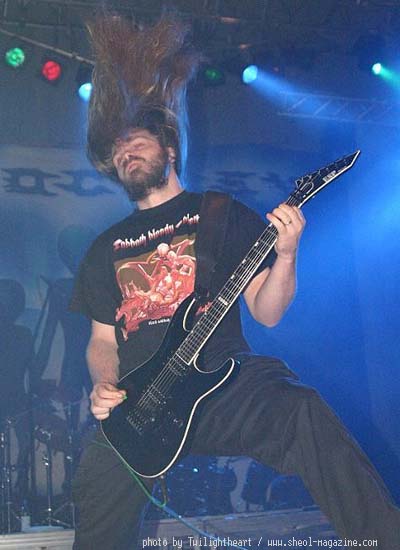 After this a nice and relaxed festival ended. I think there were no really negative points except the place were the toilets were located. In my opinion the prices for drinks and food were fair (about the products you can argue every time) and the payment system was okay either because you didn't have to wait a long time in front of the change place. The market place was small but with a good selection. And as I said the festival location was very beautiful. So the award for the most romantic festival area (with a river and beautiful nature around) goes to this festival. If there is a good line up next year and if I have the possibility I will definitely join the Up From The Ground Festival again. (Wiebke)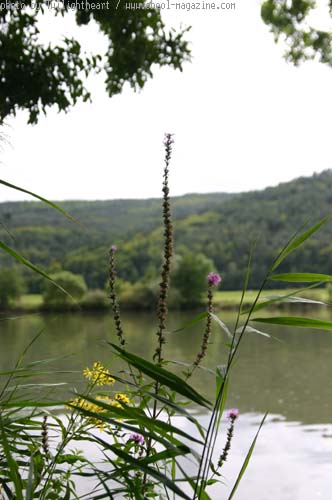 XStat.de