"Arnhem Metal Meeting" - 26th November 2005 - Arnhem / The Netherlands
(report: Dan Johansson)
It is saturday noon in Arnhem, a Dutch town close to the German border. The town itself seems fairly average, although today it's snowing more than usual in this area. Actually there was a slight traffic chaos on friday, with cancelled trains, roads being shut down, and so on. This saturday though, there is something unusual going on. In the centre of the town, outside a building which on the maps is labeled "Musis Sancrum", there is a long line of frost-bitten metalheads waiting for the Arnhem Metal Meeting 2005 to open up it's doors. I was one of them.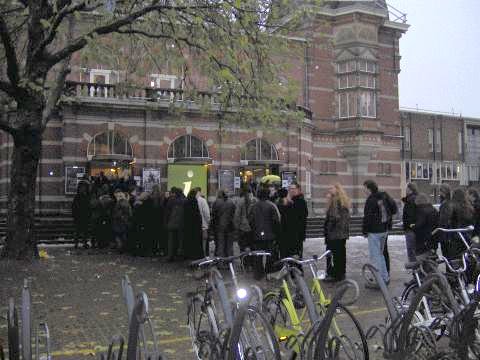 So, let me first say that I stink as a photographer (actually I have scaled down the pics because they were so bad. Initially I was thinking "thumbs only"). And my knowledge about bands which doesn't belong to my favourites is limited to say the least. So see this more of a report from an average fan - I'll try to put some of the things that I find important, in writing. Things I normally want to know before going to a festival or a gig. Bear with me.... The location in itself is quite a strange one, "Musis Sancrum" is a strangely formed brick building which houses a cafe and - from the looks of it - the tourist info center. It's located near the city center and it's walking distance from the train and bus station. You cannot miss it, there are signs all over the town pointing out important locations, this being one of them. By looking at the shape of the Musis Sancrum and it's architecture, it's not extremely far-fetched to say it almost looks like a church. From the outside. The inside is completely different.....
Upon entering the building, you notice it looks more like a congress centre or hotel than the average venues. But this is definitively not a bad thing - just because the floors are covered with proper carpets and the paint on the walls still is on the walls, doesn't necessarily mean the only gigs that can take place are operas and the likes. There's a wardrobe upstairs, where you can get rid of jackets etc. for the modest price of 1 Euro.
At this point of time, I noticed that the first band already started to play, so I had to leave that for later. The first band to play in this 10-hour metal marathon was Volbeat - a band I had never heard of before. From a distance I hear music which is quite mixed in style. Not bad. Rock, Metal, some influences of Black Sabbath (in my ears) - some from perhaps Monster Magnet or similar, and the last song sounded like metal-rockabilly. Definitively a talented troop, afterwards I regret that I came in only to catch the last 3-4 songs.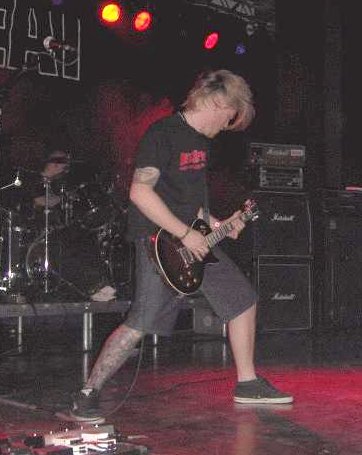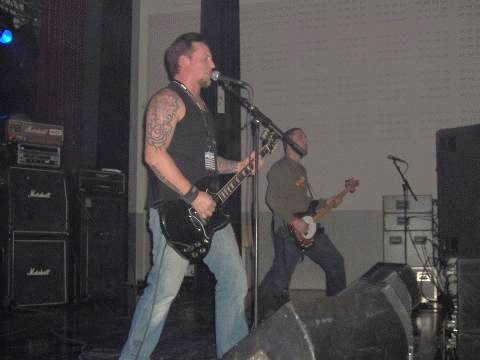 After leaving the "Van Wijnen" stage where Volbeat were playing, I headed over to "Nuon Zaal" for Callenish Circle. This was quite a surprise. Nuon Zaal - which was the largest stage - was actually set up in something looking almost like an opera. There were even balconies (closed for public, chances are high people would have fallen off them I guess). I have heard & seem Callenish Circle a couple of times before - a good band, energetic music, quite tight performance. I guess if you read this you already know how they sound. It's not my cup of tea, although a few songs impressed me. Last song had some impressive guitarwork in it, and I couldn't help but drawing parallells to In Flames - but only for that last song, whatever title it had. At this point of time (15-16) you noticed that the crowd was a little bit held back (i.e. there was no frenetic headbanging going on in the first 3 rows) and by comparing the number of people with later, I guess about half the crowd hadn't even arrived yet.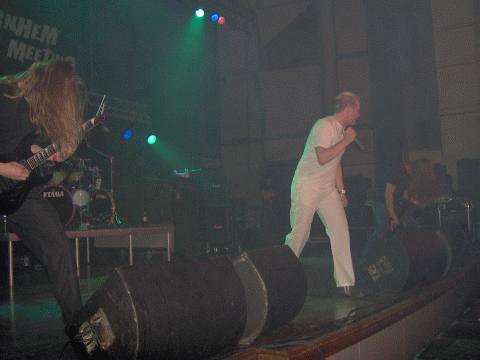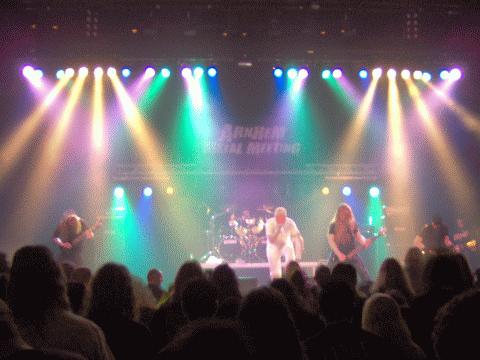 Both stages were equipped with surprisingly good sound & lightning. I am not a nitpick on mixing or sound quality so I normally ignore it, but this deserves to be mentioned: The sound was in my opinion excellent. The techs were not some half-deaf dudes wearing the "LOUDER IS BETTER" hats - those people knew what they were doing. Especially indoor gigs are unfortunately more often than not handled by people knowing how to blast your brain away effectively, but not pleasantly. Credit to the AMM crew - you knew how to make it effective AND pleasant!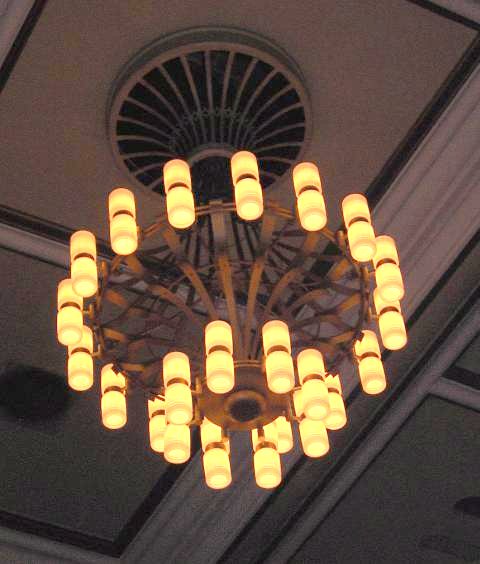 After CC, it was time for the first bad surprise - or well, it wasn't a surprise really. There were 2 bands playing next. Where to go? As I didn't know either band more than by the name, I started out with Fluisterwood. They were playing at the stage named "D&T Zaal" which yet was unvisited. This was less of a concert place than the other two - the roof level was lower and the stage was of temporary built-up nature. Following the walls, merchandise stands were located. Sound was also here surprisingly good, considering the lack of air volume and short distances, it was very well done. Fluisterwood was playing some form of fast Black Metal, I don't really know how to label. I guess Black Metal will do. The band were all dressed up in old school Black Metal outfits, singer with corpsepaint. The crowd seemed to be pleased with what they heard and saw, I know for sure that I liked it.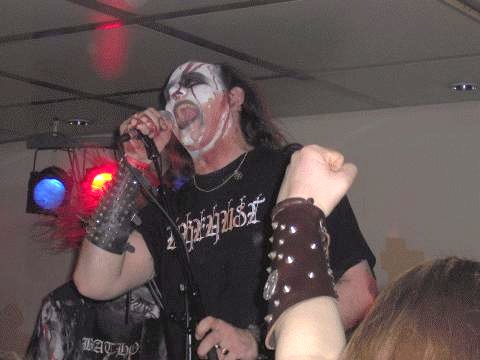 Mercenary was playing back at the first stage at the same time. As heading over there only was a matter of five minutes (of which four minutes were spent at the entrances to the rooms - WHEN will people learn that a DOOR IS NOT A GOOD PLACE TO STAND STILL IN?) I headed over there. Mercenary was doing a good gig.... I guess. I cannot really say, because the music style wasn't really what I normally like. The band felt a little bit misplaced - something like Gorgoroth would be on the Bang your Head festival (for those who doesn't know BYH: headliners are normally very, very heavy-metal-ish - with bands like UDO, Doro and so on). Anyway the crowd seemed pleased and you could also notice that the visitors still kept coming.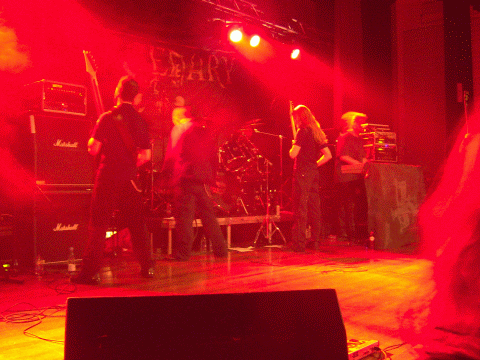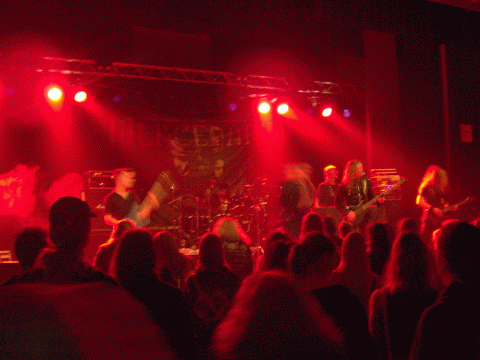 Next up was Ensiferum at the large stage. It looked like many fans had found their way in - quite a number of Ensiferum T-shirts could be spotted. As usual, naked chests and black-stripes-in-the-face-makeup was used. I'm a Finntroll fan since Midnattens Widunder, and of course I compare anything sounding even remotely northern-folk-metal with that. However it isn't the same genre, it's close but not the same. Kind of like Dark Tranquillity and In Flames, hearing a few songs from each band makes it easy to put them in the same "bin". Anyway, Ensiferum really got the crowd going. The speakertower actually started swaying during several songs, probably because people were jumping up and down. It was also clearly noticeable in the floor. Ensiferum also announced that a cover of Amorphis was to be played. It was either Into Hiding or Angels Hiding, I don't know and I didn't want to show my incompetence by asking someone. Right now I regret it because it was quite a good song.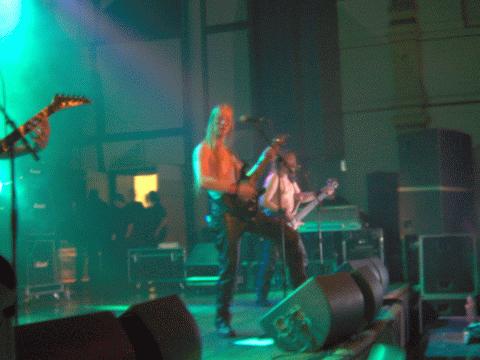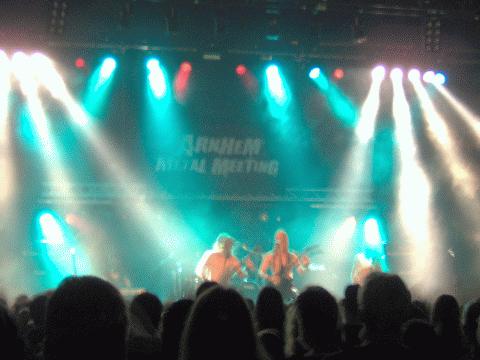 Attention was now focused on the beer stand. I had the fear that beer would come in those small "2-gulp" glasses beer normally come in in the Netherlands. I was wrong - it came in normal size (0.5 liters) and the price was OK. You exchanged money into tokens or "beer coins" at the entrance, and then you paid at the bars with the tokens directly. I guess this speeds things up - there were no capacity problems noticeable. The bars offered a variety of beverages, everything from water to wine. I guess some hard drinks were available too - I didn't check. The price for 0.5 liters of beer was 2 tokens, equalling 3.90 Euros, which I would say was a fair price. It came in disposable plastic glasses so noone had to mess around with carrying the glasses back or so. As you probably understand, the floors were full of these plastic glasses but cleaning staff was in action the whole evening, getting rid of these. They did a good job.
Next up was Enslaved at the middle stage, simultaneously with Leng Tsch'e on the smallest one. I, like pretty much everyone in the building, headed for Enslaved. I am a little bit confused why they weren't playing at the largest stage, but who knows. Anyway, the gig was good. There were - just like it should be when it's Enslaved - some slower parts wowen in. Not that the setlist consisted of different intro/outro's, but it was not full blow in the Gjallarhornet at all the time, so to say. Songs from the ISA album were the ones I recognized but exactly which one/s it were, I am sorry to say I don't know. I was told songs from Monumension and Frost were played as well. I had to split for the other concert, and I was also told that in my abscense there was some talking about one of the band members having a birthday or something like that.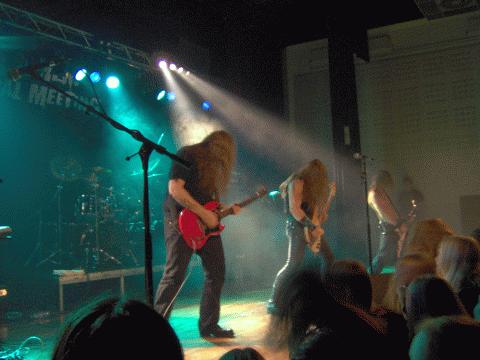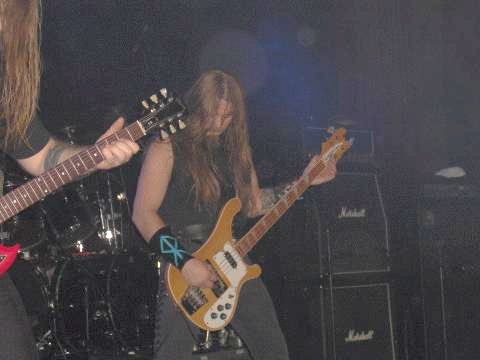 In the meantime, Leng Tsch'e were entertaining the attendors of their concert, from the smallest stage. I have repeatedly heard the name of the band and I think I`ve attended more than one festival where they have been playing, but always at those nice times like 14.30 or something. You know what I mean - at that point of time you are wondering if it's worth the walk to the scenes or if you just open the "breakfast" can. I didn't have any great hopes but when I came into the room I noticed there was something really energetic being delivered from the stage. There were not many visitors there, but the ones who decided for Leng Tsch'e instead of Enslaved enjoyed a small moshpit. I cannot really say which songs were played or if it was a good or bad performance based on earlier sets, but I was astonished by the sheer energy. I guess the music itself would be best described as some form of neo-death-grind-death.... Yes I know I put death in there twice. "Breed to Breathe" by Napalm Death comes to mind, but Leng Tsch'e definitively delivers the goods in a more intense way than Napalm Death, who nowadays mainly play their stuff and then pull down some applauses with some obviously popular and "correct" political statements.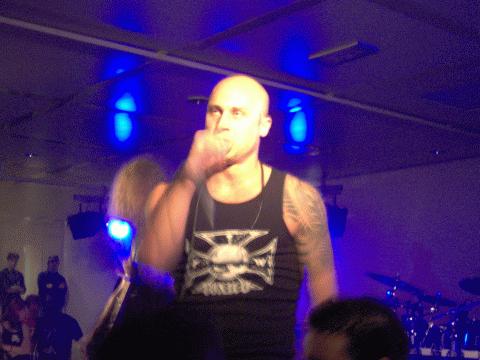 Dismember is a band I haven't had the chance to see more than one or two times before, and I'm far from their biggest fan. I know that what I heard impressed me, basically. I didn't have any big expectations - I was set for some Death Metal as usual. However, I don't know if it was the great sound or if it was the clouds of pot smoke that made this concert something of an experience out of the ordinary. The place was quite crowded and there were indeed some smoking of both kinds going on, however there was also an excellent air conditioning system in place in all three rooms. It was only at "peak times" anyone would have a problem with the air. As a non-smoker I really appreciated that. Anyway, back to the band. Again I don't know which songs were played but it was definitively a better performance than the last times I've seen the band. There is a Swedish expression, "Mangel", which basically can be translated to "flatten out something/someone". Well, Dismember was delivering some serious mangel from the stage. There were some chit-chat between the songs, exactly what I have forgotten.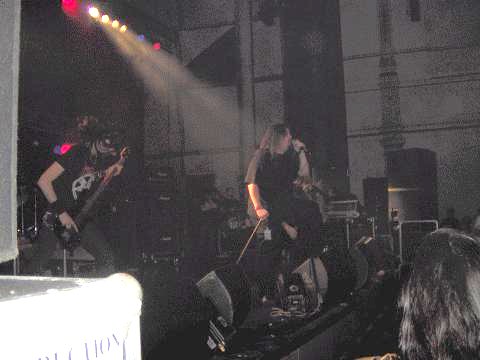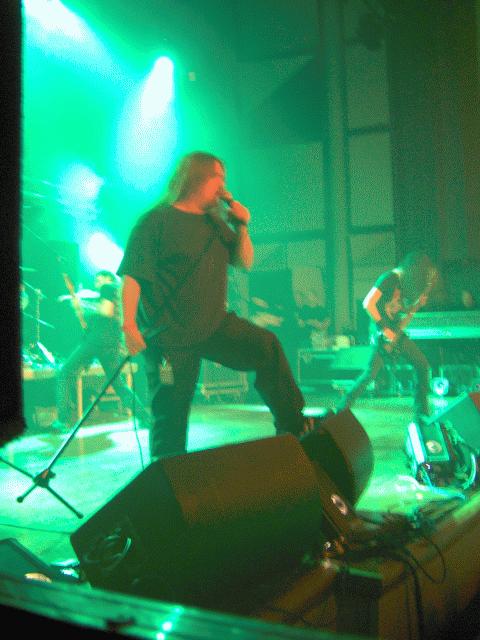 Back to the middlesized stage for Grave. I have seen - or not-seen - Grave once before at the With Full Force festival. Due to enjoyment of alcoholic beverages before the set, the band had to cancel halfway through the set. Needless to say it was quite an untight performance and generally confusing. This time however, the beer was had after the gig (if at all). And that turned out to be a very good idea. Again a Death Metal band, but comparing this to f.e. Dismember cannot be done. Again I was surprised by the performance, it might have been influenced by the good sound. I was not the only one liking this show, as was noticed between and through the songs. Do I know the setlist? No. Do I know the name of even one song they played? No.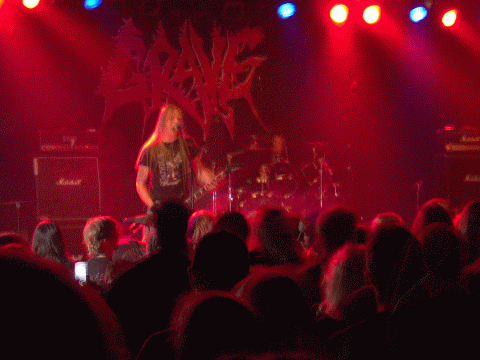 At the same time Officium Triste played the small stage. I cannot say I really was impressed. In my notes it says "not much people. quite OK music. people are sleeping in the stairs". The room where the small stage was had two different floor levels and just after the entrance, there were some three-step stairs and that is obviously where some people were sleeping. They were not sleeping in front of the stage or something!
The evening now packed four more bands, and so far things were better than expected. The athmosphere was good - there were no fighting or grumbling anywhere as far as I could see. People were friendly and relaxed. Perhaps the smell in the area between the different staged was a little bit too herbal, but who cares. The restrooms were spread on different floors (all stages were on different floors) and even though I didn't see and cleaning or maintenance, they were OK and functional. I am normally the first person to scream boycott if I visit a festival and basic organizational things aren't working, so I would consider myself quite spoiled and picky with areas such as bars, toilets, and standing in line too much, too long. Due to the nature of the stages (in different rooms on different floors) there was also no traces of this sometimes funny effect of hearing two bands at the same time. The food was cheap, quick, and was perhaps not the most nutritious but did what it should. One hotdog in bread was priced at 1 Euro. The wristbands were made of paper, but I assume they were checked only if you went out of the house and wanted to get back in again. That was something that at least I didn't have to do. Don't take my word on this - don't go there and rip your band off once you are inside. Perhaps it's checked also inside.
Candlemass was up next, on the big stage. An impressive prop with glowing crosses was set up - these things tend to be hardly seen or at least not having the intended effect on outdoor festival stages. Here, they came to their proper intention. Messiah entered and delivered a dose of Doom, just as expected. The crowd liked it - I have this hatelove thing for Candlemass so to be perfectly honest, I cannot say if it was good or bad. There was less talking than usual though - no "bang das fucking kopf" or this legendary "doom-gemuese" phrase which exact wording I don't remember. Good sound, tightly played, as expected.
Candlemass Setlist:
- Mirror mirror
- Bewitched
- Solitude
- Black Dwarf
- Copernicus
- Well of souls
- Dark are the veils
- Samarithan
- Crystal Ball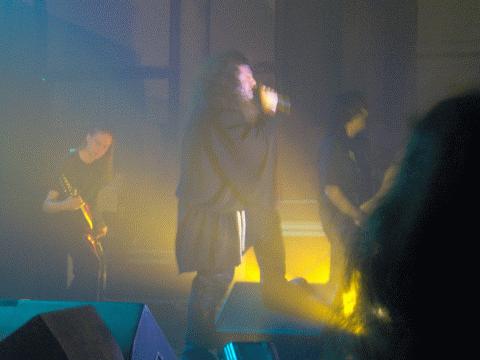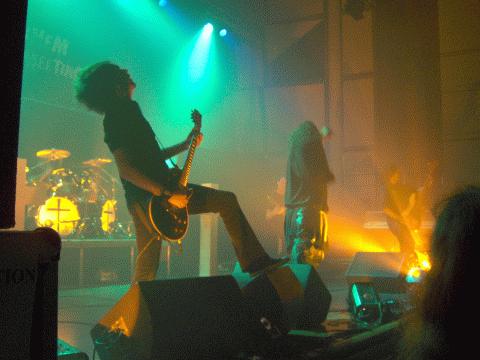 Thyrfing was entering the middle stage in front of a quite large crowd - I estimate there were even more people in the room than during the Enslaved concert. Dressed as usual, drenched in blood as usual. Their Viking/Death Metal mix was appreciated, and again - I really believe it was because of the sound - this was the best Thyrfing concert I've visited. I've only seen them on open air stages before, though. As I don't even know a song if someone would spell it down for me, I have no idea how the setlist looked. However an announcement was made that a new record is to be released next week (well, this week) and one song was played from that record. The title was probably "Far åt helvete" but the way it was announced it sounded like "Far åt helvete, Arnhem". Needless to say, "far aat helvete" means "go to hell"... I think there was nothing behind it, it looked like the band enjoyed themselves and so did the crowd.
addendum:
Thyrfing Setlist:
- Intro
- The Voyager
- Digerdöden
- Far åt helvete
- Jag spår fördärv
- Mjölner
- Ways of a Parasite
- From Wilderness Came Death
- Raven Eyes
- Kaos återkomst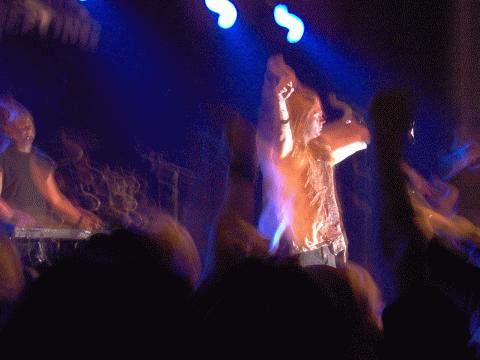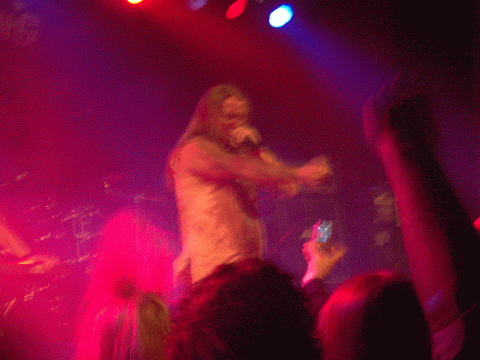 I was supposed to go see Totenmond, and I did. Someone else should really finish this sentence, cause I was just turning around in the door and going back to see the last of Thyrfing. I catched a sentence I didn't really understand though: "Fuck off metallips" ??? No clue if I misheard it or if it was directed to someone else than the 5-10 people forming a moshpit in front of the stage!
While waiting between the stage rooms, I tried to make an estimation of how many people were attending the festival. I had overheard that the limit would be something like 1200 people. I roughly estimate that there were something around 800-900 people there, and that was just fine. I believe there might have been some problems with 1200 people cramming themselves into the large stage room, through 2 normal-sized doors. As usual the right side of the stage (where the doors are) were extremely tightly packed but on the left side you were able to squeeze your way through, if you wanted to get up front. In this estimation progress, which was kind of slow due to the fact that the beer in the taps was quite good, a quite funny event took place. Near the food stand, there was a piano. As said before, this wasn't the typical metal show arena so I assume people in suits stand around here, holding tiny champagne glasses and discussing last years vacation trip, between the first and second act of Carmen or something. That piano is probably there to provide some pause time entertainment.
Anyway all of a sudden a crazy Swedish dude starts playing some blues on it. It was not like he was just hammering around at the keys, he really could play. After a while two gentlemen in black suits comes up and politely asks him to stop playing and get away from the piano. He does so and the gentlemen leaves. That is the spirit! Obviously these Men In Black were parts of the security, and I was kind of impressed that they handled this so seamless. Of course, I would personally have liked to hear the full song, but I can understand they had some fears regarding the piano. Probably the next artist might have used force instead of skill and then there would have been some problems.
Destruction was the final band for the night, finishing off a great festival. There is still some life in the old boys, the first Thrash Metal I ever heard was some song by them. I've seen Destruction quite some times since this reincarnation of old Thrash happening a couple of years ago, and I am not really the biggest fan. I enjoy attending a concert every now and then though. There were no surprises - a small moshpit, Schmier goes on with his repeated phrases about "understanding" and "unity" and some "tolerance" threwn in for good measure. To be perfectly honest I don't know what he's trying to accomplish - I haven't heard of any problems caused by different metal types clashing....
"In the news tonight: the music riots continue. After the black metallers started burning cars in the neighborhood of the thrash metallers, the violence has escalated. The power metallers have claimed to be neutral, yet there are rumors that they are in leauge with the speed metallers, whom just recently have closed their borders to the goth metal neighborhood...."
I mean, come on, stop preaching. It's not going to change anything anyway.
Back to the music and the gig: At the end, there were several attempts of crowdsurfing, some successful and some not so successful. A barrier in front of the stage was set up before the Candlemass show, at least I think so. There was no barrier and no pit during Dismember anyway. I cannot say what happened to the successful crowdsurfers, but the unsuccessful ones had an urgent meeting with Mr.Floor that they had to attend to. Some of the old trustworthy air guitars were also brought in and put to use during the last couple of songs. All in all it was a good show, and I guess if you are really into Destruction and doesn't have problems with songs like "United we Stand" it must have been a real blast.!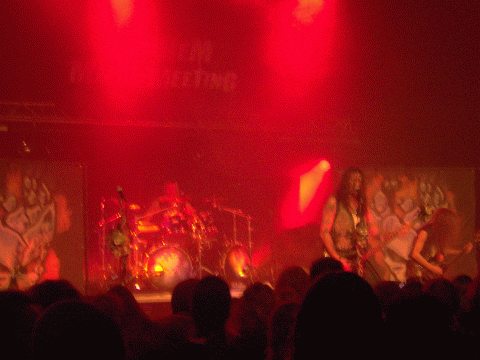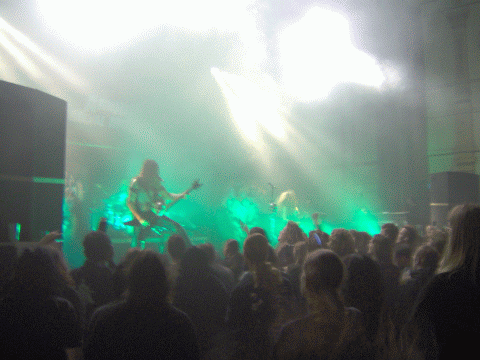 After this last gig, people starded leaving. It went surprisingly smooth - I was waiting about 10-15 minutes talking to people and then went to get my jacket, expecting a long line. None whatsoever. There was nothing but good organization, modest prices for both food & drinks, good ticket prices (32.50 preorder, 39 Euros at the door) and a good connectivity of Arnhem by public transports. Hotels in Arnhem range from 30 to 90 Euros per night and person, but I booked early. I got one for 45 Euros per night and all hotels I saw were full the first night (friday). But that was probably more related to the snow storms than the festival. A couple of hotels are linked directly from the AMM page, but 5 minutes of googling brings you some alternatives.
I'd definitively recommend this festival to anyone considering going there. If one favourite band would be playing, it's a no-brainer.
<<<back to SHEOL magazine/ main page
XStat.de