On December 27, 2007 a small Christian community gathered in a christmassy town called Ingolstadt… ah, no, actually that's not quite what happened…;-)
On December 27 anti-christian carnage was taking place in Ingolstadt.
Actually Hellsaw, a Black Metal band from Austria, were supposed to play as well, but they had to cancel at short notice, as one band member had to go to work that day. Too bad. But even though only three bands were left to play, the happening would end only at 1:30 a.m.
A local band from Bavaria, called "Lost life" were the opening support act. At the beginning they were very lukewarm as the sound in the venue was aweful, so they had to focus on their playing very much.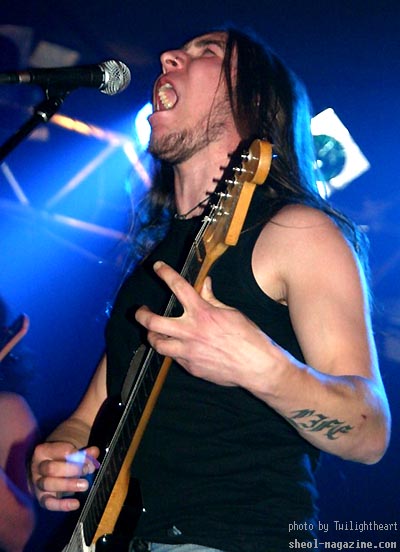 But after the first songs including "Pessimistic visions" and "Circle of blood" they began to thaw. So a few and far between visitors came infront of the stage to do some headbanging. As Hellsaw had cancelled, Lost Life had more playing time. They played Songs across their repertoire, such as the following: "My last breath", Mankind's end", "We're the ones", "Hymn of destruction", "Dust from your grave", "Path of pain" and "Death pierce me".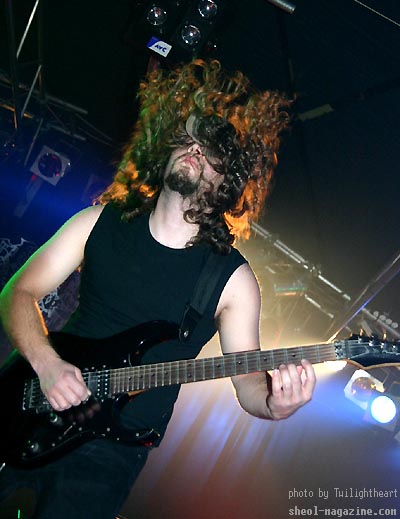 After that "Eternity", a German killer Black-Metal band, held soundcheck for a comparatively long time. The problem was the sound quality within the venue, they probably could have continued for an hour but the sound anyway would not have become better. So the band was totally pissed off and left the stage, not returning for 40 minutes. I was afraid they maybe wouldn't play at all because of the bad sound. For the more than 200 visitors this would have been the second letdown after Hellsaw had already cancelled. But, oh well, Eternity returned with corpsepaint and delivered their show. After a short Intro they started with "Misanthropic suicide" and worked flat out. All attendees were under their spell immediately. What a brute force! The fans in front of the stage were headbanging crazily, all you could see was hair. The gig was continued with "Reign of tortured souls", "Funeral mass" and "Verhöhnt" (in German this means something like "Mocked"). The fans became more and more enraged, so even some flyers were burnt on stage and one guy tried to grab into the thick of the torches.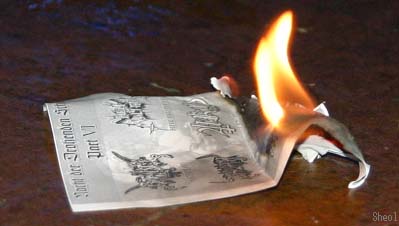 The vocal abilities of Eternity's singer will definitely knock you off of your feet. This guy delivers some bloodcurdling growls as if this were the most easy thing on earth. So his voice and his singing skills are elitist. "Horncrowned emperor" and "Revelations of darkness" were up next. The blistering guitar riffing made you forget the bad sound in the club. Most of the fans anyway were much too drunk to notice it all. Of course the singer introduced the band befitting their rank: "We are Eternity, fuck you!".
The final song was an Isengard cover called "Thornspawn chalice" and after that the torched were doused and I was very excited about the next band.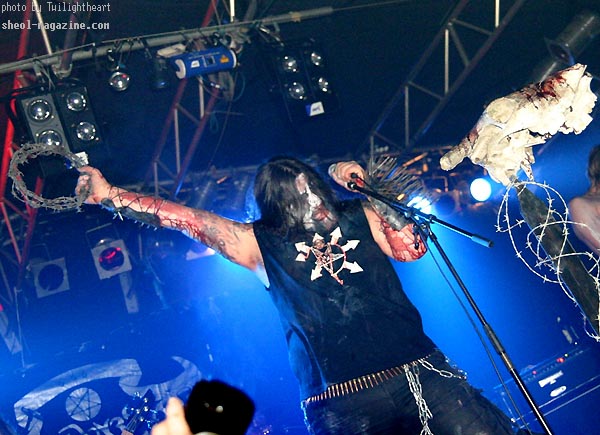 By the way, even fans from Poland visited this event, as they have no more blasphemic shows over there nowadays.
The two lads of "Inquisition" haughtily entered the stage right on. If you ever want to see technical playing brought to the highest degree of perfection, you should go to see Inquisition. You will hold their abilities in high esteem, not knowing where to start with the obeisances you wanna give. The drummer of the band left no doubts about him being highly accurate and mind-boggling. He would even keep on drumming when standing on his feet in between. Of course, throwing a drumstick into the air and catching it right in the moment when it has to hit the cymbal was something he did easily, just for entertainment.
But even more impressive was the singer/guitar player. He replaced the missing bass player (in cooperation with the drummer using constant bassdrum) by hitting the deep-pitched strings in addition to the other strings used for the leads. One difficult guitar riff was chasing the next, but even if the playing was most extreme, he never did any mistakes. I haven't seen anyone playing so precisly for a long time. Just two musicians delivering such a great gig… I was stunned! I personally also liked the very self-confident appearance and behaviour of the vocalist. He looked proud and acted superior.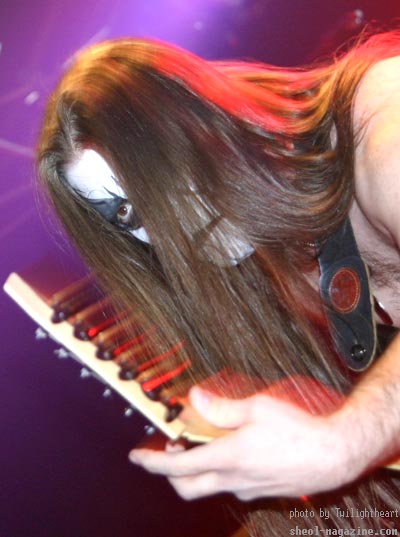 Only after the second song there was a short interruption, as something on the drums had to be exchanged. Meanwhile the vocalist tried to please us with some nice words like thanking us for having a good taste in music and because the Germans are loyal to Inquisition since many years, continuously demanding to see the band play live in Germany over and over again. But right after that they kept on with their ultra fast Black Metal. All in all they played one and a half hours and there is only one thing left to say about this unholy evening: mission accomplished successfully!
More photos of this gig you find in the "concert photos" section!