Has it really been six years of Ragnarök Festival already? After the stellar line-up at the 5th Anniversary edition last year, the festival was once again raising the stakes in April 2009 as they announced headliners such as Dornenreich, Thyrfing and most notably the reunion performance of pagan metal forefathers, Einherjer.
Word was that the festival had actually sold out this year, letting 5,000 people in through the gates. Clearly Odin was not smiling on the festival though as on Friday morning, the weather changed from sunshine and warmth to pouring with rain. However, the fans were not afraid of getting a bit wet as they braved it out to join the huge queue snaking through the car park of the Lichtenfels Stadthalle.
German fans at the Munich train station, before leaving for the Ragnarök fest: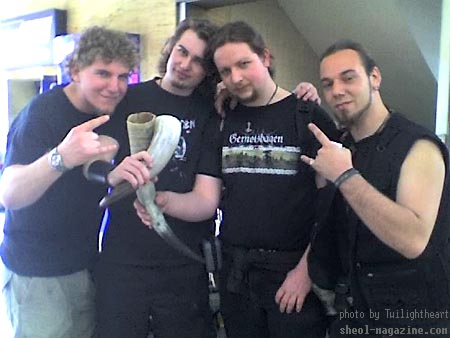 This actually worked out in favour of the first band of the festival; Finsterforst. Rather than having to play to the few stragglers that opener bands are normally met with, the hall was already filling up with people eager to get out of the rain.
Kivimetsan Druidi are fronted by their third female vocalist in as many years and certainly blonde Leeni-Maria, in medieval costume, looks the part.. but personally they still hold little appeal as these fantasy obsessed Finns deliver a rather forgettable performance which is overloaded with symphonics and uninspiring vocals. Of course there is a market for their sound but they cannot stand up most of the rest of the billing.
Adorned Brood have been around for a long time (since 1994) but have not gained all that much recognition. Their appearance at this festival gives them the chance to finally grab the attention of more fans and they may just have pulled it off with, happily, a surprisingly consistent performance spiced up with Ingeborg Anna's vocals and flute.
Alestorm look somewhat incongruous on the billing with their pirate themed, keytar-laden metal which is impossible to take too seriously. Though they surely cannot have too much of a shelf life left, they are still riding high on that gimmick and the crowd nonetheless seem entranced as the hall is packed out despite their afternoon slot. Showcasing some new songs from their upcoming album 'Black Sails At Midnight' and a German version of Wenches and Mead (Weiber und Wein), the four youngsters leave people singing their tunes for the rest of the festival.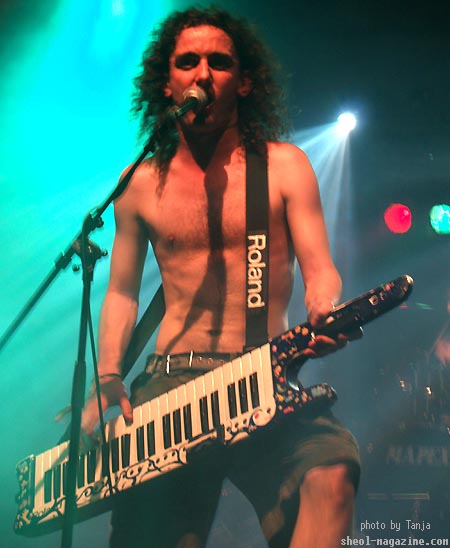 Heidevolk are a band who have fast been on the rise within the last couple of years. Now an established name, these crazy Dutch know how to please the crowd. Their line up is not quite the usual one tonight with a different vocalist and temporary replacement guitarist, but this does not hinder them. They have only a couple of albums under their belt but make the most of this material with the distinctive vocal duet which has become their trademark and solid melodies and riffing. Vulgaris Magistralis provides a well received sing-along for their enthusiastic audience.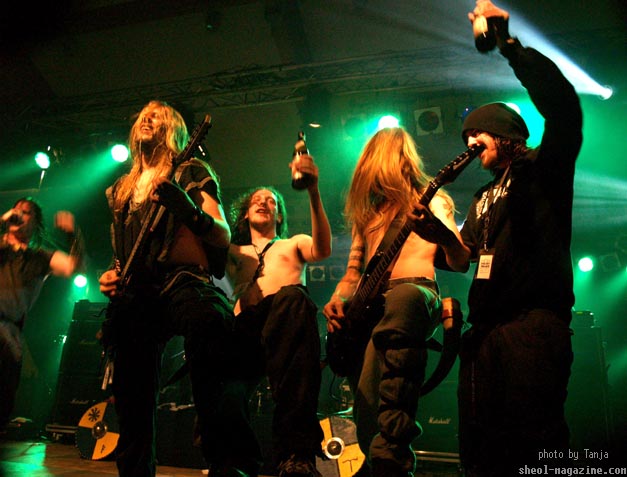 It's the third year that we see Wolfchant play at Ragnarök, though this repeat performance is accounted for – a new album being released at the end of April (Determined Damnation) calls for a release party of sorts featuring guest musician and ex-Grave Digger guitarist Uwe Lulis. The previews we are given tonight are catchy, driven and upbeat, even if they will not exactly change the face of metal. Despite the fact that they barely still contain any of their original line-up, Wolfchant are a local band through and through and will always draw in steadfast fans, but this number is expanding throughout Europe as Wolfchant demonstrate themselves to be a band who are improving over their career.
As part of the 'Black Sails Over Europe' tour, Týr naturally join Alestorm and Heidevolk on the billing, although they have been given a higher slot. Trussed up in their new stage gear, painstakingly crafted suits of armour (given to them by a fan whilst on tour in the US) the Faroese foursome are now very familiar to fans of pagan metal as their profile has risen fast in recent years and they can now command the crowds they deserved, but often did not attract, earlier in their career. Some festival-goers pass the band off as 'boring' and it's true that their progressive style with Heri's deep, serious vocals and lengthy riffs may not on the surface be as instantly accessible as some of the other acts here, but they display a high level of musicianship, searing twin guitar, rousing choruses and folk melodies. As their set draws on, it proves harder to sustain because admittedly their style has not developed hugely over the course of their career, but it is rewarding to watch nevertheless and a cover of 'Whiskey In The Jar' helps to liven things up.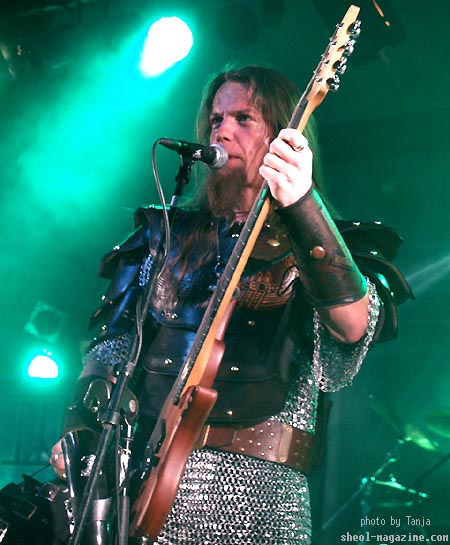 Today contains a very special performance as Austria's enigmatic Dornenreich will be playing a metal set. Given that they had evolved away from their original unique black metal sound into an increasingly acoustic outfit, with their last album being entirely so, this is an unusual and much anticipated treat. It seems that the band are making a full fledged return to metal with their upcoming album 'Flammentriebe' being black metal once again, and the band have recently completed an electric tour. For many fans here, this is the first time they will ever hear their favourite tracks played as they were originally recorded and so for some this moment has been over ten years in the making. As expected, Dornenreich do not disappoint. Much like the juxtaposition in their own music, Dornenreich are a collision of emotions onstage – Inve always appears so peaceful and serene with his haunting violin accompaniment and Eviga seems fully absorbed in his songs as he alternates between whispering and hissing, tortured screams and angry words. Together with original drummer Gilvan they entrance an audience who hang on to every last note.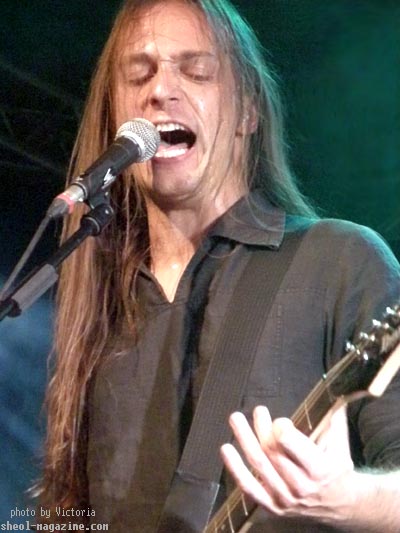 Korpiklaani are, well – as much as one can expect from Korpiklaani, no more and less. Now seasoned live performers these guys seem to live onstage and know exactly what their fans are hoping for, delivering the same songs in their usual beer-soaked, jubilant style. Judging by the thousands who are happily bouncing around the hall, they are a success.
It's not the first time that Manegårm have played at Ragnarök but they raise the bar with this performance. They are particularly intense tonight with spot-on vocals, especially when the whole band joins in for a growling chorus. Their trademark violin helps to get everyone dancing and cheering along, so hopefully it won't be the last time we see these Swedes here either and they make another triumphant return to Ragnarök some year in the future.
By contrast, Finland's Falchion doesn't make so much of an impression. They play unimaginative melodic death metal with faster lead guitar, managing to temporarily sate the audience – they are accomplished musicians - but now seem to have to rely on skilful marketing to portray them as an interesting band in their own right as they only serve to invite comparisons at this stage. However they do appear quite young so perhaps over time they will develop into a band with a more defined, personal style. Still, it is an upbeat end to the night that leads into the festivities which will follow outside of the hall.
Saturday sees less 'party metal' and more serious bands as we drag ourselves out of the sleeping hall or for those who are either made of stronger stuff (or simply didn't bother reading the weather forecast), our tents.
Unfortunately for the first act up today, Sweden's Irrbloss, most people must still be nursing their hangovers as only a couple of hundred people are there to see them which is a shame since they play well.
Luckily more have appeared by the time the second bunch of Swedes that morning, Yggdrasil, take to the stage since they put on a fantastic show. For occupying an early slot, Yggdrasil really make their mark with their atmospheric folk metal. Their new album 'Vedergållning' will be released soon and judging by this, it will definitely be worth checking out!
On to our visitors from Russia, Alkonost. They have had a busy career but logistic complications mean that catching a show on these shores is extremely rare. Alena provides female vocals and despite her operatic style manages to avoid making the band sound too clichéd, with the rest of the men bolstering it with their melodious hymn. There are some truly special Russian folk acts out there, so hopefully we will continue to see more of them in Ragnarök editions to come.
The early hour does not deter Andras from creating a dark atmosphere as they perform a consummate set led by Ecthelion who proves himself a talented vocalist, singing of warriors, betrayal and the homeland (in their case, Saxony). They play symphonic black metal, yet not black metal in the traditionalist sense. Although they have been together for more than ten years, they have had a fairly quiet discography, but perhaps they will now slowly gain exposure with their latest album, 2008's 'Iron Way'.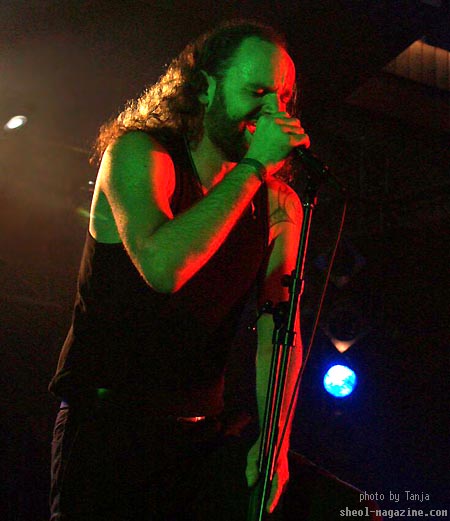 It was hard not to be captivated with Sweden's Fejd. They have finally just released their debut album 'Storm' and do not play live very often so this is a rare treat. This band is technically not a metal band, playing instead acoustic folk, yet somehow they still manage to conjure a metal sound and atmosphere with adept skill and genuine fervour. Beauty in aural form.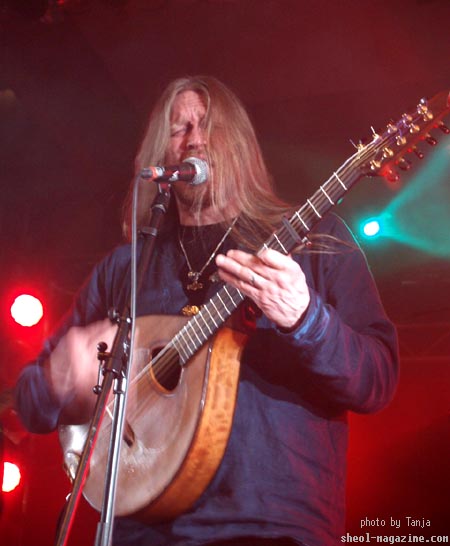 Black metal fans have surely been looking forward to Cor Scorpii's appearance. It should be noted that they are the closest many will have ever been able to come to seeing Norwegian legends Windir live, but it does the band a disservice to only regard them as an offshoot in their shadow rather than as an accomplished band in their own right. Consider them instead as more of a phoenix from Windir's ashes, who we are lucky to be seeing since they do not play outside of Norway all that often. With only their cult demo and last year's debut album 'Monument' to go off, they perform all their songs with technical skill and Ǿvstedal is an energetic, imposing frontman who implores the crowd to headbang their way through an excellent set hampered only by a slightly muddy sound making it at times difficult to discern the all-important keyboard melodies.
Metsatöll steal the show – they have been sitting quietly on the bill but their fans, whilst not abundant as some of the more mainstream acts at the festival, are devoted. Having made their mark internationally at USA'S 'Heathen Crusade' festival, they waste no time before providing Lichtenfels with an aggressive forty five minutes of heavy metal laced with traditional Estonian instruments and a deadly combination of Rabapagan's hostile vocals and folk singing, telling tales of their culture. Unapologetically raw but nonetheless melodic and captivating, fists are raised throughout the hall and they will hopefully be spreading more of their history around Europe soon.
Fjoergyn are a more avant-garde folk metal band, with folk used in the loosest sense. Their sweeping symphonic style sounds fantastic on their albums but their last Ragnarök performance, in 2007, showed them struggling to translate it to a live setting and relying heavily on backing tracks. Although time has made them much tighter and more polished, something still sadly feels a bit lacking with their performance tonight. The energy and talent is there but the complex song writing leaves the band having to restructure much of their music and vocals to bring it to the masses. Festival organiser Ivo joins them onstage to do vocal duties on Katharsis, which is perhaps the highlight of their set.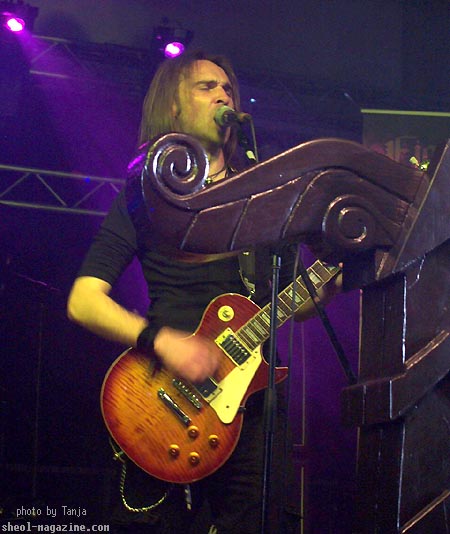 Again this year the festival welcomes a 'viking village' reconstructed complete with fighting troops, who in Eastern European garb go to battle while Dark Fortress are playing but it does not draw many away from witnessing these Bavarians take over the stage for close to an hour of furious and blistering black metal. Corpse painted singer Morean leads us on an astral journey with songs from their most recent concept album 'Eidolon' and spits the crowd back out at the other end, sweaty but invigorated.
Melechesh are a strange and inimitable breed – over all the way from Israel, they bewitch the festival with their Middle Eastern sound that is hard to define – black, death, folk, oriental?! It doesn't matter: either way it is exceptional and Ashmedi is not to messed with as his vicious vocals weave stories of Mesopotamian mythology. They make a brutal and blazing double-punch after Dark Fortress.
Thyrfing deliver a relentless assault over Ragnarök, spanning their entire discography. Frontman Jens Rydén replaced the original vocalist Thomas Vänäänen not too long ago but he seems totally at home within the band and like a berserker, leads them into the fray. Looking as though they have just emerged from a swamp the band are commanding under his intimidating and convincing lead (at times very dramatic as he angrily mimes slashing his throat and wrists mid-song), blasting out song after song of powerful black metal. Their most recent release 'Hels Vite' received rave reviews as being a fantastically dark and heavy return to form after three years of relative silence, with crunching riffs and tortured, furious vocals. All of this is brought perfectly to the stage and leaves us optimistic and excited for the hopefully long future of the band.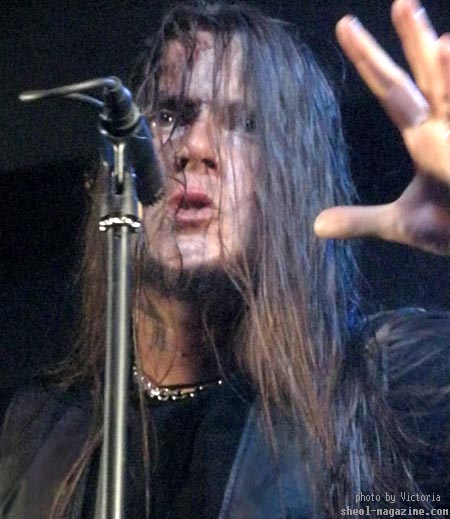 Ordinarily it would be hard to imagine what could beat such a performance, but of course tonight's headliners are yet to come. The tension in the air is palpable as the crowd wait for Einherjer to take to the stage. The sweeping, bombastic (and just ever so slightly Disney) intro Einherjersman from 'Blot' is perfectly chosen and leads into Hammershaum as the Norwegians begin an incredible showcase of their career. Since calling it a day with Einherjer, the band have continued to perform live in the shape of thrasher act Battered, so they are no strangers to the stage but they still deliver a surprisingly tight and perfect performance. No doubt they have spent a lot of time and energy preparing for this day. All too soon the hour of pagan metal is over in what felt like just fifteen minutes, leaving thousands elated and no doubt converting many newcomers into full fledged Einherjer fans.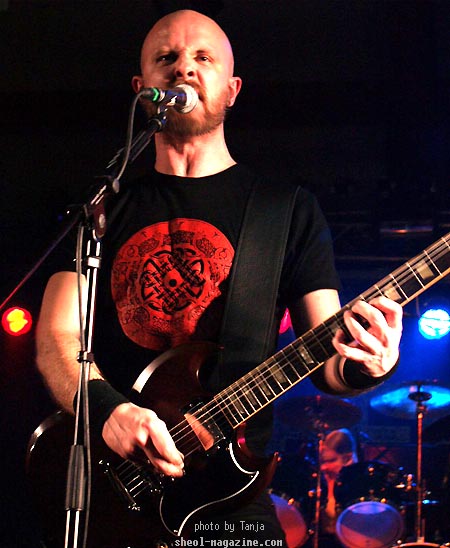 Draugnim are hyped up for a band with only one album in their decade long career. It doesn't hurt to have metal legend Henri Sorvali producing it or to be signed to famous Finnish label Spinefarm. This performance will prove whether they can live up to their press and, thankfully, they do. Frontman Chimedra is a strange figure on stage, in his druid-style robes but with what appears to be one metal hand poking out from his sleeves – but let's not dwell on that as it does not detract from their blackened pagan metal, perfectly suited for a late night slot, but it would be even better if they could play to a crowd size their sound deserves rather than one depleted from exhaustion at the end of a long, fun day. No doubt we'll be hearing a lot more about Draugnim.
The final act of the festival is Sarkom – traditional Norwegian, anti-Christian black metal. Just as there is not much original about their concept, neither is there in their sound, but frontman Unsgaard is convincing as he snarls his way through their set despite the diminishing crowd, at one point resorting to throat-cutting gestures as he is unfortunately pestered throughout their performance by one audience member who clearly is not much of a fan and fancies taking it out one-on-one. A cover of Slayer's 'Blood Red Smile' goes down well with those who have stuck it out to see this relatively underground act play and the rituals go on until well into the small hours.
Judging by the general post-Einherjer euphoria amongst the revellers, we are all already looking forward to what Ragnarök 2010 will bring.