At the end of June 2009 several writers/Metal magazines received an invitation from Gorgoroth to visit them in the studio whilst they were working on their upcoming album "Quantos Possunt ad Satanitatem Trahunt". I was quite amazed to be among the few lucky ones to be invited (aside from Sheol, I will also write about this studio visit for "Zero Tolerance", Britain's third biggest extreme music magazine).
I took Claudia (who had taken part in the interview we did with Infernus in the summer of 2007) and we were lucky to get a convenient flight to Sweden in the morning of June 20, 2009.
We had a soft landing and arrived at the Arlanda airport in Stockholm just in time to be able to catch up with Frank Watkins (Gorgoroth's new bassist) who was just about to check in for his flight back to the United States. After receiving a cheerful welcome from Infernus, we took the opportunity to have a short talk with Frank in the airport café, and it seems he was totally satisfied with his bass recordings that had been finished the day before for the new album.
Infernus tried his talents as a photographer and took some souvenir photos of Claudia and myself with Frank.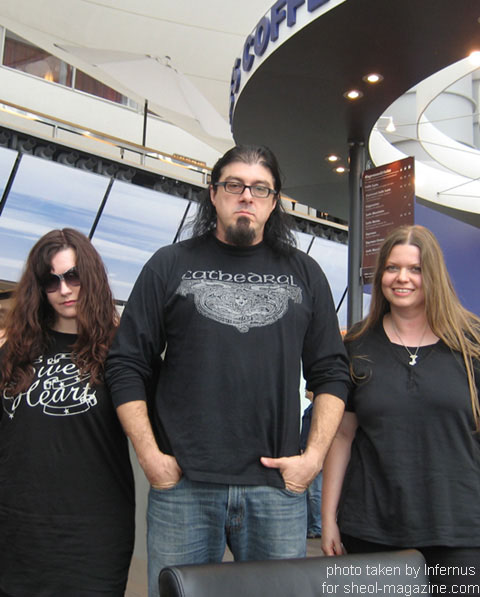 After Frank left we headed off to the parking area. Infernus behaved like a gentleman and offered to take our bags before driving us to our youth hostel (unlike Germany, there is no age limit for those staying in youth hostels in Sweden). As the drive took about half an hour, we got our first opportunity to listen to the rough mix of the new album on the car's audio systems (some parts without guitars yet, though). Claudia was over the moon when she heared the new stuff. Pest's voice and excellent singing (even using clean vocals in short sections) especially gave her the thrills. I, for my part, most liked the fact that the new album does NOT (as I had feared before I heard it) follow on previous band formations, but has its own great, fundamental Black Metal style that's immediately electrifying. As soon as the music was turned on (even though it was not finished yet) an intense satanic aura seemed to spread, and particularly the extremely heavy, massive mid-tempo tracks left an instant impression on me, because in these Pest can unleash his complete vocal range of growling, screaming and singing (in our last interview Infernus said "Pest is angry as hell" … and believe me, you will be able to hear that on the new album).
When we arrived at the youth hostel we were surprised to hear that Infernus stays exactly in the same very basic (almost sleazy) hostel. Seems that certain rumours about him being too demanding are not exactly true.
We needed some time to check in etc.; therefore we made an appointment for 4 p.m. to meet with Infernus and the new Gorgoroth drummer Tomas Asklund (who most of you might already know from his time with Dissection). We met up with them and went to McDonalds together (yeah, I know, that's totally "untrue", but as this was a national holiday in Sweden due to the Midsummer festivities, this location was the only place around to get something to eat) and a topic of conversation was easily found: Dissection. ;-)
Right after that we headed off to "Monolith" studios, which are Tomas Asklund's private studios in the cellar of a house near Stockholm and whose address you probably won't find in Google (and as I am quite sure the location is supposed to stay private, I will not reveal any details about it's location here). Other bands cannot just rent this studio for their recordings, it's Tomas' own private "playground" only. He gets to decide who's allowed to enter and who is not. Dissection's Mini-CD was recorded here too, by the way.
When we stepped into the two cellar rooms for the first time, my jaw dropped in amazement. Wherever I looked, I saw gigantic tour posters of Dissection, and in a corner of the recording room there was the huge Dissection-cross-symbol made from metal alloys (which was used on stage during the concerts).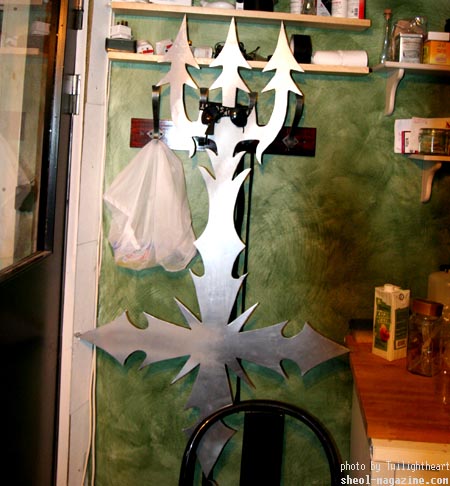 But of course there was also a mass of technical equipment. A "Dean Demonator" bass guitar was hanging on the wall and a gigantic "Sonor" drums & percussions set dominated the room. Later on during one of the breaks between the recording sessions,Tomas took the opportunity to play something on his drumset.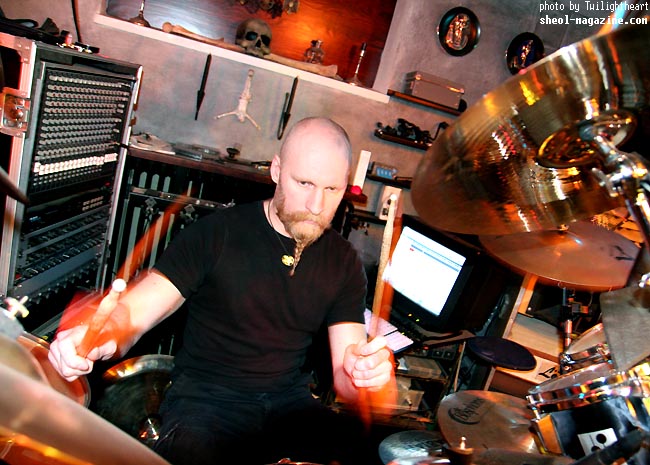 Now the computers and amplifiers were turned on to warm up for the guitar recording. Tomas uses the program "Cubase SX" which is among the better ones on the market. It is known for easy handling when smaller timing errors by the musicians must be corrected. The program is even so good that you could take a vocalist that can't sing and you just let him SPEAK the lyrics, and later on with Cubase's audio-engine you can add vibrato and pitches to make it sound like singing (and you wouldn't be able to tell the difference). But hey, don't worry! This was not an option during the recordings of Pest's vocals. ;-) I know for sure that Pest was doing vocals the "old" way.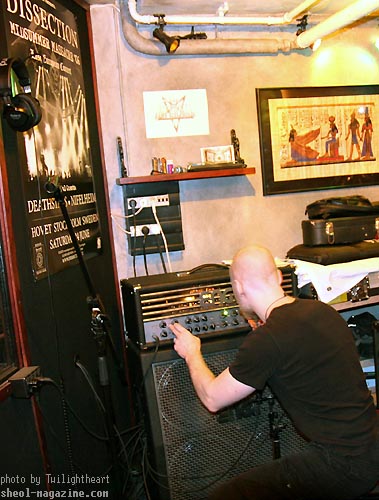 The drum recordings were done using sampling. Therefore Tomas had recorded all kinds of pitches (played by himself on his drum) in a very time-consuming session (only the bass drum was triggered).
But for today some more guitar recordings were planned. As the guitar signals would be sent directly from the pickup to the recording program (without microphone), any background noise would not affect the recording and therefore we didn't need to leave the room and could join the musicians directly in the recording room.
Infernus had the choice of a white Fender Stratocaster guitar and a black Gibson Les Paul. So, when the recording started, he switched between both of them to hear which gave the best sound for what they wanted to record. Several times he also changed the strings on the guitars (from harder to softer strings, for instance, as this changes the sound as well). This took a lot of time and Tomas started joking about hiring a guitar assistant for Infernus.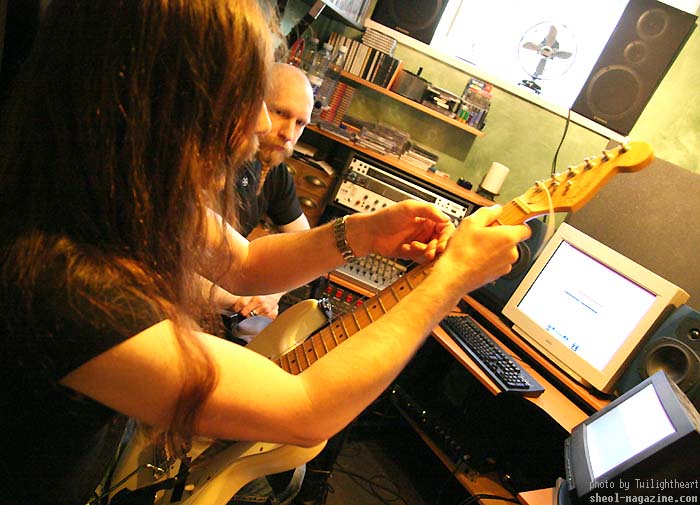 After that there were several hours of just guitar recordings. The same parts were played again and again; sometimes just the intensity of one note was different from the take before. I wasn't even able to tell why the last take was better than the first take for instance (although a difference was notable), but hey… I will definitely recognize these melodies later on when I listen to the finished album. It was impressive for me to see how much effort it takes to produce 10 minutes of music on the end product.
Infernus during the guitar recordings: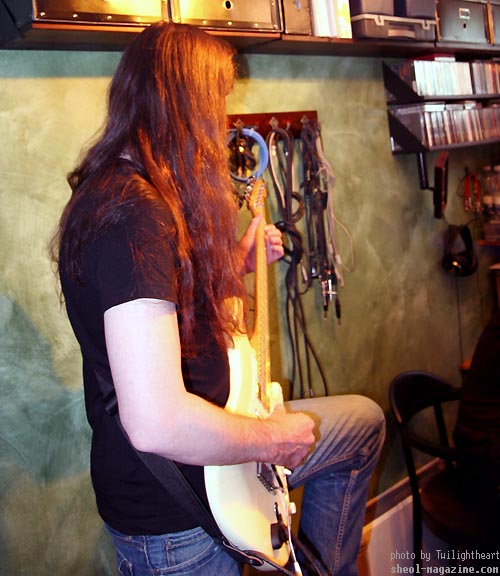 As soon as some takes had been recorded, Tomas would edit them, adding the guitar tracks (called "regions") to the vocal regions and to those of other intruments, starting a little mixdown to hear how the result might sound. When appropriate it was even decided to record some small sections in stereo (in this instance this meant the lead or rhythm guitar was recorded identically twice and then one would be mixed right and one left).
Tomas editing: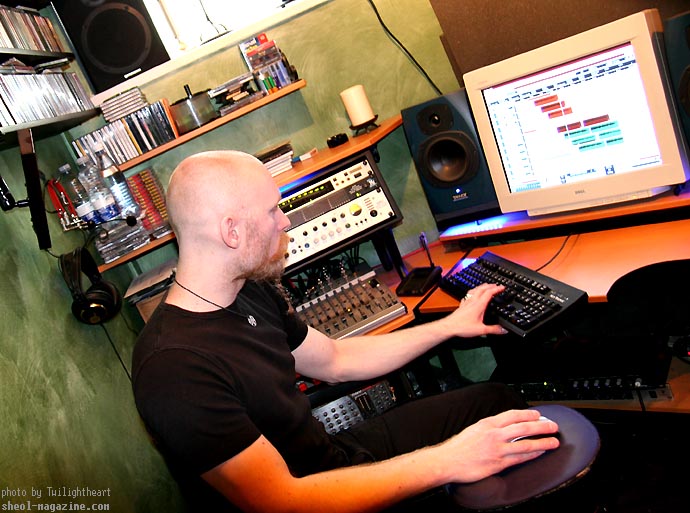 I was amazed how well they both worked as a team. There was the occasional humorous banter, but most of the times it was hard work.
Both Tomas and Infernus were kind enough to speak English so that we could understand what they were saying about the recording. So we got to know that every area (on the recording program) that's marked in pink (called the "alarm-color") will be listened to again sometime later and may be in need of improvement.
And luckily there was some coffee or other (non-alcoholic) liquids, too. Handily, the fridge was right in the recording room!
Time passed quickly and when we looked at the wristwatches it was almost 11 p.m. 7 hours had passed although it felt like only 2 hours. Claudia and I decided to leave (I had expected to be thrown out earlier, but as this didn't happen, we decided not to outstay our welcome).
Infernus and Tomas listening to the results of the recordings & discussing it: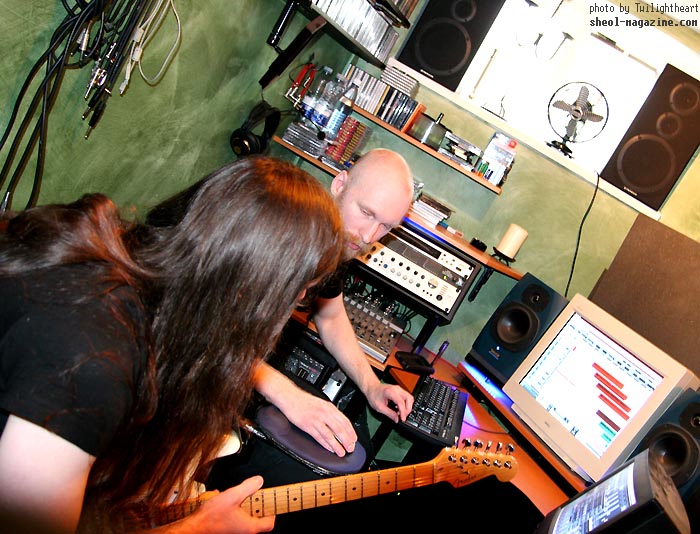 However, before we left we were able to listen to most parts of the album again. There was one song called "Rebirth" which stuck firmly in my mind, as it was so captivating. I even recognized it immediately when I heared it again sometime later. I can't wait to have the finished album in my hands.
The release of "Quantos Possunt ad Satanitatem Trahunt" will be a return to the true essence of Black Metal. You can expect a complex album with dark melodies and heavy, stirring bass and guitar lines combined with vigorous drumming. All this will be finished off with high quality production that creates a black atmosphere beyond compare.
The last photo, taken before we left > Tomas and Claudia in the recording room: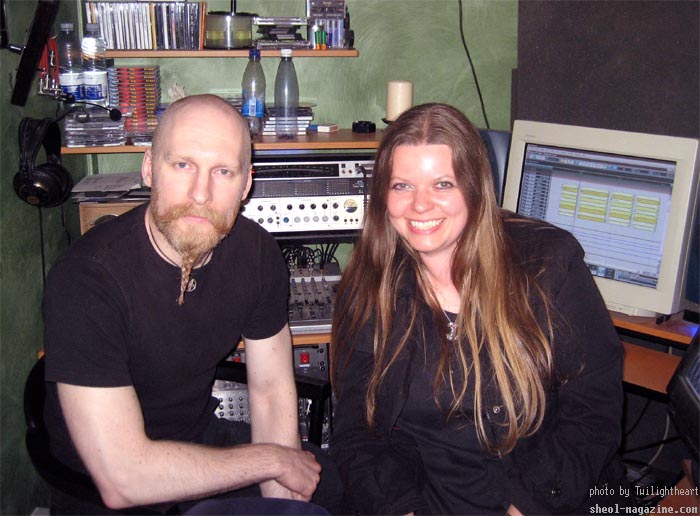 As this was Midsummer in Sweden, I couldn't sleep at all. I went to bed at midnight and it was daylight outside. I woke up at 3:30 in the morning and it was daylight again. My inner sensors refused to allow me to sleep when it was daylight outside, so I took the opportunity to take some more photos outside, as there was some nice scenery behind the youth hostel.
Later that day we had to leave (Claudia and I had to be back in our non-Metal-jobs/offices on Monday). Tomas Asklund's wife drove us to the airport, playing us some nice oldies from the 70ies. ;-) So with a batch of Dissection posters that Tomas had given us (and which will be raffled in our Metal Quiz soon), and a melancholy look back, we left this beautiful country.