Amon Amarth
Interview with Johan Hegg (vocals)/ August 12, 2005
questions by Twilightheart
For your information: this interview was recorded spontaneously at the Party San Festival in Germany (August 2005), as Amon Amarth were sitting right next to Wiebke and me (=Twi.) in the backstage tent and we thought it would be a sin NOT to ask them and use the chance for a talk. So we made an appointment and I met with Johan Hegg in the Amon Amarth tourbus (which was great, because it was air-conditioned in there while it was hot outside). But of course I had no time to prepare any questions... so this is just another spontaneous face-to-face chat ... don`t expect any interviewing-artistry! ;-)
Twi (= Twilightheart): You were a bit sceptic when I asked you for the interview. Are you not used to giving interviews for little underground magazines anymore?
J (= Johan Hegg): No no, I wasn`t sceptic. We`re never really doing a lot, but still, you know, no one really wants to do the interviews. We also have a signing session later and so. You always sit around, waiting for something to happen and then everything happens at once.
Twi: Did you arrive yesterday?
J: Yeah.
Twi: Can you stay for the whole festival?
J: No, we`re going to leave tomorrow.
Twi: So can you watch some bands today?
J: No, because you can`t walk on stage (from backstage) without being recognized. So I´m gonna take it easy and concentrate on our own show.
Twi: Have some beer…
J: Yeah, maybe one or two…
Twi: Is it the first time for you at Party San?
J: No, it´s the third time actually.
Twi: Oh! And… how do you like such little festivals?
J: It´s good. I mean it´s been growing since we were here the last time. First time we were at Party San it was really small. The stage was very small and it wasn`t even in this location. They asked us to play again, so we played again. It´s bigger and better organized now.
Twi: Is it possible that you`re more famous in Germany than in Sweden?
J: Yeah, I think so. Germany, the center of Europe, also Austria and France now.
Twi: I don`t know if you have read about it. But some of your fans seemed to be a bit surprised by your latest album in a slightly negative way, because the album is more progressive than the last one.
J: But it`s not such a big change, if you compare it to the last releases. The new album is a bit more… I wouldn`t say progressive, but it has more melodies and harmonies. And perhaps slower and darker songs.
Twi: And where does this change come from?
J: You know, we never plan ahead. We `re never saying: "Alright, this album is gonna be like this". We write the best songs we can come up with for the moment. And they become the album basically.
Twi: Are you on tour right now? Or did you come just for Party San?
J: It´s like a small tour, yeah. We`re doing this show here and then some little shows for instance in Holland and Belgium. And then on the 16th we`re gonna record a DVD in Köln.
Twi: Just one live gig on DVD?
J: Yeah. It´s gonna be a special show. And the DVD will have some bonus material as well.
Twi: I guess you`ve been touring a lot in life. What have been the nicest places you`ve been to while your touring or what are some favourite memories for you?
J: It´s really difficult to put one place on top of the other. But one of the funniest memories I have is from a festival in East Germany. It´s called "Under the black sun".
Twi: Oh, I know about this one.
J: It´s VERY underground. And we been there between all the military stuff, and there had been no lights and stuff. It was very very strange.
Twi: I´ve never been there. I just heared about it…
J: And we played in Croatia this year. And this festival was really messed up. The organisation and all. They didn´t know what they are doing. It was really crazy. But well… you know… we just do a good show everytime we play.
Twi: How were the fan reactions in Croatia? Same as here?
J: Yeah, very good. Very good fans. You know, 2 bands (Therion and Soulfly) cancelled. So we were like the only international band that actually played. And the fans really enjoyed that. And the organizer didn´t pay us all the money he promised. So it´s never really about money. It´s all about the fans.
Twi: So if someone would ask you to play free of pay somewhere. Would you do it?
J: It depends of course. We´ve been playing a for long time now. And when we play in Germany nowadays we wanna make some money out of this. It´s good if you`re doing well … if we need some money, we come here.
Twi: Are some of your instruments sponsored?
J: Yeah, we have some sponsors. For instance we have sponsored picks! Hehe…
Twi: To come back to the tour: have you ever experienced some strange fans' reactions?
J: Well… yeah… sometimes we get women`s underwear thrown on stage.
Twi: Really?
J: Yeah. Hahaha… Bra's and panties.
Twi: Does it make you happy?
J: Yeah, it´s cool. I think it´s all fun.
Otherwise, nothing is really strange, because some people are really helping us out, you know. For instance in Croatia there was a fan who got us to the festival site, because the organizer couldn`t pick us up. So we have a lot of loyal fans who help us out… you know… which I think is cool.
Twi: Change of subject! Do you think it´s correct if some people call your music "Viking Metal"?
J: In my opinion it´s not really correct, because Viking Metal is more like Black Metal- oriented. But I don´t really care. I would just call our music Death Metal. Just that.
Twi: Did you ever have some kind of professional voice training or so?
J: No, but I should have something like a singing-instructor. Because last October we were on a 17 day tour, doing 1 hour and a half show every day, and I had to go to bed pretty much right after the show every night, I had maybe a beer at the last 2 shows, I went to bed really early, because I`ve really been afraid to lose my voice or so.
Twi: But mainly alcohol destroyes your voice, no?
J: Yeah, when you`re drunk you can`t really growl! Have you noticed? Hehehe….
Twi: Are there any bad habits that the other band members have?
J: Oh damn ... I don´t know about this! They all have their own special things I guess. Ted talks a lot and he`s always joking around all the time. And that`s kind of fun. None of us has really bad habits, since it doesn`t bug me anymore. We get along really well. There`s nothing that really gets me nuts, everything that they do, because we`re all old friends, you know. We´re just used to each other. And besides, you know… those things really come out when you`re drunk, but then you`re drunk yourself and so you don`t notice it anymore.
Twi: Are you working on new material at the moment, by the way?
J: Yeah, we`re working on the new album. And hopefully we are able to record it before summer next year.
Twi: Are some songs finished already?
J: There are 2 songs finished, yeah. These 2 songs are more like "Versus the world", but you never know what the album will end up like. But I think it´s really strong material we have… really good stuff.
Twi: Do you care about when the fans tell you for instance: "Make an album like in the old days… in the old style" or "Try something new"?
J: We can`t really work like that. I mean you always wanna go forward and so. But we also make sure to be who we are as a band. But we have to be fresh…if we would have made 5 albums every sounding exactly like the ones before, no one would be interested in us anymore, you know. So it has to be something new and making new steps forward, that`s the way it is. Some people won´t like it… but hopefully MOST people will like it and some MORE people will like it. That`s the way it has to go. You can`t really please everybody, so we just try to please ourselves. And that`s what we did from the start. We make the music that we ourselves would like to listen to.
Twi: Totally different question: Did you have some time to do some sight-seeing here in Germany?
J: Nonono, we just arrived here and I was walking around here backstage and I couldn`t find my way out. Hahahahaha…
Twi: Maybe tomorrow?
J: Yeah, I have to go to a music store. It´s always like that. None of us really has the time to look around. It´s really a lot of work…
Twi: It´s unfortunate, because Germany has a lot of sights.
J: Yeah. But last year when we played in Paris we watched the Eiffel-tower. We played in New York and we went to the Empire State building, the Statue of liberty and things like that.
Twi: Okay… oh well… the next band has just entered the stage, I have to leave to take some photos. Sorry. Thank you very much for taking out your time.
J: Thank you, see you.
Johan (on the right) having fun at Party San 2005: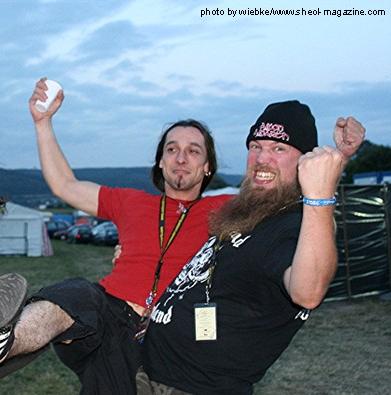 XStat.de