Gaby Koss
Interview partner: Gaby Koss
Questions & translation by: Twilightheart
Time: January 5, 2009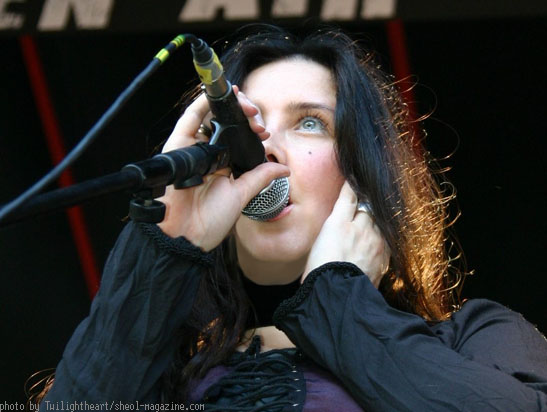 "Who is Gaby Koss actually?" some of you might ask. Well, fans of Equilibrium or Helfahrt might remember the name. Gaby is the voice behind intros and outros for some songs of those and other Metal bands. She also appeared live on stage with many of these bands. Now she is working on some new projects. We wanted to know more about it...
You are now a band member of "Death Army" and "Nota Profana". How has this happened?
Alev, the singer of Nota Profana, has left the band to be able to concentrate on her job as a designer. Carlos had sent me an e-mail about Alev leaving (she had already told me thou'). Before starting to look for a new singer he wanted to ask me at first.
"Death Army" had invited me to take part in their gig during the "Unholy Alliance" tour of Slayer in Milano. The audience appreciated our gig and we got only positive resonance from the magazines. The tour management asked us if we could imagine to go on a tour in America… oh well, maybe that's just talking, as so often in the music business, probably we will never hear from them again… ;-)
After this gig and the amount of fun we had, band leader Axel told me, he anyway sees me as a fix band member… voila! :-)
How do you handle the distance (concerning band rehearsals and gigs)?
I have the songs at home and rehearse. The evening before a gig there is a band rehearsal with me – I just fly in one or two days sooner.
How about the cooperation with Equilibrium? Will this be kept up?
I have no idea about René's plans. But I am not part of his new side project.
You were supposed to have a larger singing part in the new Equilibrium album "Sagas", but then you had problems with your voice. What was wrong?
I was ill several times in February, March and April 2008, a bronchitis and an inflammation of the vocal cords… I couldn't sing and talk anymore. But this is over now. But the singing could still be better, so I have to rehearse a lot now.
You sing all kinds of classical themes, but you also sing for Metal bands. But I heared that you don't listen to Metal music in private. Why do you anyway sing for those bands? Or is it just a normal job for you?
It is just fun, I like to spend time with these people and it is something completely different than singing a classical concert. I only sing for bands whose music I like. In private I usually don't listen to Metal, maybe in the car from time to time. But I rehearse my repertoire and sing for Metal bands and have to think about singing melodies and vocals (which I like), therefore I have a lot to do with Metal anyway. My keyboard player Marco and his sister (who plays the violin) coming from the area of Augsburg... together we compose new songs for our new band project. We just have to decide for a final band name. There is no lack of ideas…
Which artist would you like to work with? What is the ultimate dream?
It's a pity that it didn't work out with Christopher of Therion. We got along well by e-mail and in private. I was among the 5 finalists of the contest for a new singer. They decided for Lori, who is a great singer and more a deep soprano or dramatic soprano, which was what Christopher was looking for actually.
Of course my dream would be to be successful with my own music or projects, so that I would be able to chose the musicians I like. ;-)
Still today some fans write into forums that you were the best singer that Haggard ever had. Do you sometimes think of the old times or listen to the old songs?
I only listen to old Haggard songs with my voice when I listen to the songs somewhere by chance, but not intentionally. I like their new album, but the first release ("And though shalt trust..the seer") musically is my favourite.
I had a lot of fun at the gigs and tours, but I also have this now with my new projects, maybe even more, as now my singing and me as a person get more respect.
What makes a professional artist to your opinion? What should anyone be like so that you are able to work with him/her well?
Concerning big ensembles (orchestras and bands):
Practise songs/aries by themselves before, therefore no time gets wasted for rehearsals of single persons; concerning duet partners (also instrumental) I apprechiate eye contact for the soulful duo acting and interpretation.
But it is also professional to be able to do a concert without any rehearsals. It has already happened to me, for instance at my last concert. We didn't have much time for rehearsing and couldn't try out the songs together. It also happens at weddings, funerals or cantata performances, that the musicians couldn't rehearse together. When I perform as a guest for a band, it is also possible that there will be no rehearsals…!!
I liked best to work with Guillermo Salgado, who was employed as a coach at the Argentinean Opera in Buenos Aires. He is the best piano-player that I ever met. He can play with so much feeling from music, and additionally he could comply with your individual wishes/interpretations, such as fermats, piano, crescendo etc. I have worked with many pianists, but he really was an exception, who would always show consideration of the music and the musician.
Many have their own rhythm or their way of doing things or just have a bad day, and then you have to adapt yourself and have no room for your own interpretations. You just have to go on although the song or the aria or even your own feeling tells you something different. Then the song turns out differently from what is expected. It's a pity.
From which people that you have worked with have you learned most?
- From my singing teacher Dietrich Schneider and from Saverio Suarz-Ribaudo, Guillermo Salgado as a pianist and from many musicians during my studies, also from many singers and musicians on the State Opera, for instance in rehearsals and performances in a special chorus with Edita Gurberova, Cecillia Bartoli, Ann Murray, Thomas Hampson, Mirella Freni, Rothering and many more.
- In cooperations during rehearsals with stage managers, producers, make-up artists, costume designers (yes, I had my own costumes which still excist), technicians, set-designers etc.
Can you actually play an instrument?
A little bit piano, but I haven't played since years. But during my studies I had to do exams in piano.
How did you discover your passion for classical singing?
Since I can remember I have sung solos in school and I've been asked by the pupils to sing their favourite series soundtracks. I have always been a member of choruses and have danced and sung in my room for hours. I also had lessons in ballet, tapdance and jazz. Still today I can do the splits without warming up, but I was born with this talent.
Later I wanted to have singing lessons and my singing teacher, who has studies classical signing, has caused an interest in opera singing in me. I became curious. Before that I copied the singing of Kate Bush and that helped a lot in singing high-piched tones.
Did you ever compose own songs?
I often have created melody lines for band recordings by myself. Last year I also composed a few things. Unfortunately it all sounds like harmless film music, as I can't handle guitar, bass and drums.
Besides the bands we mentioned above, which other projects are you involved in?
Many classical projects – after my concerts people were enthusiastic and encouraged me to do more classical concerts this years. But this is a lot of work and I am lazy sometimes…
Unfortunately I am not active anymore in the Big Band (Swing/Jazz) since 1 year. But I am looking for a new one, as I discovered chansons by Edith Piaf and Spanish Tango compositions for myself.
Is it important to you what lyrics you sing? Maybe at the Opera you had to sing christian lyrics, and now in the Metal genre you have to sing heathen lyrics.
At the Opera you only occasionally have to sing christian lyrics, for instance in the Requiem of Verdi. Apart from that it is all mundane poetry as for instance libretti about love, pain or joy in rhyme scheme.
Even for bands you sometimes have to sing excerpts from a requiem or mass. If heathen or not… to me eveyone is free to choose his religion.
What was the most wonderful experience for you so far as an artist?
To get appreciation after a gig. It is awesome for a musician to see people being touched by your singing.
After my last classical concert in December I have looked into many happy faces, asking for more. This is a unique feeling.
Concerning bands, Mexico 2004 has been an impassionated experience which I will never forget. Fans confirm you to be good, even though you don't think so self-critically.
Are you a diva? Or more the tough woman who doesn't have a problem with backstage areas without mirrors and such?
I like to put on make-up before a show, but apart from that I don't need much luxury (I have that at home, hehe). I take it like it is. But I get older, maybe things will change.
In which countries did you already have gigs?
Germany, The Netherlands, Belgium, Rumania, Switzerland, Austria, France, Mexico etc.
And soon Venezuela with Nota Profana…
Have you ever thought about publishing a CD with all the Metal pieces sung by you (Intros and Outros from the albums of Helfahrt, Equilibrium etc.)?
I haven't thought about it. But you need the consent of the band, and one would probably not agree. I have no rights on the songs.
Does your family support you fully? Or do they have problems with your job in the music business?
My father is a musician, too. He is member of several bands since many years. Lately he complimented me for the first time… if he could play as good as I sing, he would be somewhere else now. I was stunned to hear this from him, as he normally never compliments or shows feelings. It looks like he liked my last concerts.
I could even imagine to have you among the upper ten thousend of music business, if you would do music similar to Enya for instance. With your voice this should sound great.
This would be a great thing to happen of course. But I have no idea about which direction to go with compositions. It is difficult. I have no composer/writer. Maybe I should start looking for one?
Where can we experience you live in the near future?
On February 7, 2008 with Ars Irae, on February 21 with Death Army in Italy, in March in Venezuela, maybe, in April in Augsburg, in May in Pfaffenhofen, Germany. Also I got some requests for Rumania for 2009.
www.gabykoss.com
Gaby in August 2006 in the Helion studios recording an application tape
for "Nightwish" (some of you might not know that she was among the
finalists as a singer to replace Tarja!)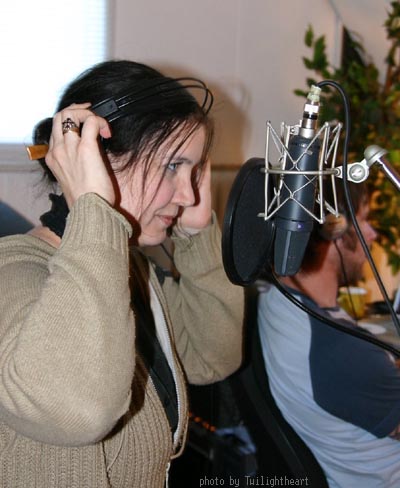 XStat.de