Gorgoroth
Interview partner: Infernus (guitars)
Questions by: Claudia + Twilightheart
Time: August 11, 2007
Place: Party San festival area
A few days before the Party San festival we surprisingly got our OK for an interview with Gorgoroth. So we met with Infernus at the Party San festival area a few hours before Gorgoroth's gig to talk with him about the latest action in music around the band.
Claudia > On your website you're asking for old photos as you're planning a project. What kind of project will that be?
Infernus > It's a re-release of an old 7 inch which we released in 666 copies in back in '96. It's a live recording which we are going to release now in all formats. It contains two songs we did at a venue in our hometown Bergen, and the CD-version will be released through Regain Records, a limited red vinyl 7" is planned for some other company as well as another limited picture disc version that will be released through my own brand new label Forces of Satan Records.
Claudia > And you need the photos for the cover?
Infernus > We needed old photos for redoing the cover for that release, yes.
Twilightheart > So you have founded your own label. When your contract with Regain runs out, will you do the next Gorgoroth albums yourself via your label then?
Infernus > We have never speculated on such a thing. We are a very small label and we are now dealing with bands which are at a size we could work with. Gorgoroth would be a too big band for my label to deal with.
Claudia > Who will be your drummer for the show tonight? Is it Dirge Rep?
Infernus > No, we have a Slovenian guy who has been working with us for some months now. This will be the third gig he's doing.
Claudia > Will he also play the upcoming tour?
Infernus > It seems like he will continue to play with us, as the situation is now.
Claudia > Do you want to have him (or any other new drummer) as a firm drummer for Gorgoroth or do you want to have only yourself, Gaahl and King as the remaining inner circle of the band?
Infernus > It works very fine as it is today. Therefore we will continue to have this way of working in the future.
Twilightheart > King seems to be on and off in the band lately. Will he stay a permanent member now?
Infernus > Yes, it seems like he will.
Twilightheart > So everything is fine again now!?
Infernus > Yes, everyone is happy.
Twilightheart > You are the only band member that was there since the beginning. Would you say you are the heart of the band, and with your departure the band will be put down to rest?
Infernus > This is just rhetorics and speculation. We are now a three piece band and that's all I have to say about that.
Twilightheart > You played the Brutal Assault festival yesterday. Was it brutal?
Infernus > No, it was not brutal and it was not any professional and it was not any good. Not from the band side nor from the organisations side. We had some major external problems with the monitoring and we did not bring a proper crew for the event. And the way we reacted upon the problems was not good enough either. We acted in an unprofessional way upon an unprofessional setting. So it was a very bad show yesterday. It can't be worse tonight. It's mathematically impossible.
Twilightheart > Were there limitations concerning stage decoration?
Infernus > Some minor limitations, but nothing worth going into details for.
Twilightheart > Will you bring the sheepheads today or anything?
Infernus > There will be no such particular stage decorations at this concert tonight.
Twilightheart > Claudia and me just talked about that before: we both like the song "Sign of an open eye" from the latest album a lot because of the moderate tempo and heavy mood which is rather untypical for Gorgoroth. Can we expect to hear it live tonight?
Infernus > No, unfortunately you cannot. We have just two new songs in the set and this is not one of them.
Twilightheart > Very unfortunate. Do you personally not like this one so much?
Infernus > I do like it. But we decided that we have to make a priority list. And we didn't pick that.
Twilightheart > So it has nothing to do with that it is too difficult to play this song live?
Infernus > No.
Claudia > And you will play two new songs? From any upcoming album?
Infernus > No, they are from the last album "Ad Majorem Sathanas Gloriam".
Twilightheart > So the whole upcoming tour is still to promote the LAST album?
Infernus > Yeah. We have never been able to plan out things properly and to go on support tours immediately as soon as an album has been released. That's how it has been for all the years.
Twilightheart > So now you will do this very long tour in September/October. Have you ever been on such a long tour before? Aren't you afraid, that after that you might totally despise all the touring?
Infernus > No, these are two tours – one in September and one in November and they are quite short both of them. Like ten ore twelve and 23 gigs planned. So it's not really much a stressful thing for us and we have also day-offs at the tours. So we make sure that we get rests when we are on the tour.
Claudia > On this upcoming Germany tour you will play with Enthroned and Tyrant. Did Gorgoroth choose the support bands?
Infernus > No.
Claudia > How did the package get together?
Infernus > We have a Dutch guy called Henk, from Vain Productions, helping us out with the organisation of concerts and tours. He recommended it. And we didn't know much about the alternatives that were provided. So we let him decide what was the best for us and the tour.
Claudia > Do you like those 2 bands?
Infernus > I don't know them.
Claudia > Will you have a special stage show on the upcoming tour? Or any special new stage clothes a la Dark Funeral or so?
Infernus > We haven't been talking too much about these things, so I don't think we will push things in another direction than we have been doing before. I don't know what Dark Funeral is up to either, so I can't measure us against Dark Funeral.
Twilightheart > Why did you cancel the Hellflame festival?
Infernus > We cancelled the Hellflame festival because of the local organisation turned out not to be as professional as we hoped them to be.
Claudia > Is it the same reason why you cancelled the first Munich show in September?
Infernus > Yes, more or less, they broke the contractual agreements we had with them. Concerning the Osnabrück show we had some major problems with the dialogue going on, also the promotor asked us after the initial agreements were done, to come there not bringing our crew etc in order that he could save some cash, and he kept on bitching about all kind of practical things, so I just decided to cancel it.
Claudia > I was very disappointed when I heard that the Munich show won't take place.
Infernus > I'm probably just as disappointed when we have to cancel, but we do not play live at every cost. If we are not allowed to be able to perform to a certain agree according to our standards and wishes, it would compromise the quality of what we are supposed to deliver.
Twilightheart > Your video "Carving a giant" was shown on MTV in your country. Did you get any reactions about how the video was received by the watchers?
Infernus > No, I never had any contact with them personally. So, no, I don't know anything about this.
Twilightheart > Was it shown just once, or is it running constantly now?
Infernus > I think it was twice or so, but I can't remember. I never watch television, so I don't know.
Twilightheart > Did you re-shoot all scenes for the video, or did you get the Polish video footage back?
Infernus > No, that's confiscated and we will as it seems never get it back. This was a production we did in a location in Bergen in April 2007.
Claudia > Will the clip be released one day on a DVD maybe?
Infernus > I don't know. We havent decided for anything like that at the time being.
Twilightheart > As we said before: MTV showed your video. Is there any border or limit where you would say "Stop, we don't want our music to play in this channel", any mainstream channel or anything?
Infernus > No. Insofar we are not under any artistical limitations, no. We want to be an overground band as the opposite to the underground per definition. We want our music and our message to be available for whoever. Therefore of course MTV is a proper tool for us and our agenda.
Twilightheart > Was the VBS.TV special with Gaahl his own decision or was it a band decision that he should do something like this?
Infernus > It was his own decision, I think. I'm not sure which you mean, he did different documentaries and I haven't seen all of them.
Twilightheart > So you never set any limitations to any band member concerning participating in TV specials and such things?
Infernus > No, why should we? It's the opposite, I would rather recommend people to it.
Claudia > Could you tell us something about plans for an upcoming album?
Infernus > No, it's very early to say. We are writing the material now. We have nothing but just pieces of work which are not put together yet. So it's way too much work ahead of us now. And there will be no studio recordings for this thing until at least a year or so. It's very early to say.
Claudia > Will you write some songs?
Infernus> Yes.
Twilightheart > I read somewhere that King writes most of the stuff.
Infernus > Yes, he's been most active songwriter during the last years. It goes in cycles. I have had an unproductive period. Now I am not having an unproductive period anymore.
Claudia > Will you work with Frost again maybe for the next album?
Infernus > Who knows. We can't say anything about the future, but it works fine as we do it now. It seems to be a model for how we should continue working.
Claudia > Which Gorgoroth album do you like most and why?
Infernus > It's a difficult question. I don't listen to old Gorgoroth releases, I consider it as a part of our past. I focus upon future projects, writing music etc. I never listen to the Gorgoroth albums unless we're going to rehearse for another setlist next day or something like that.
Claudia > You will tour South America in September and you've been there before in 2004. Is there any difference between the behaviour of the fans there and the fans in Europe?
Infernus > Yes and no. We are well-received in South America as we are in Europe and Germany. It's good to play there, and it's good to play here. Some certain differences, but nothing worth talking about really.
Claudia > I think that fans in South America are more enthusiastic.
Infernus > Yes, very enthusiastic.
Claudia > In Germany sometimes the fans are just standing in front of the stage, only looking, but not moving.
Infernus > I don't measure the extent of how much people enjoy our concerts according to how much they literally move or not. As long as we manage to do what we should properly - that is of course invoking Satan on stage and elsewhere - we are happy.
Infernus after the gig at Party San festival 2007: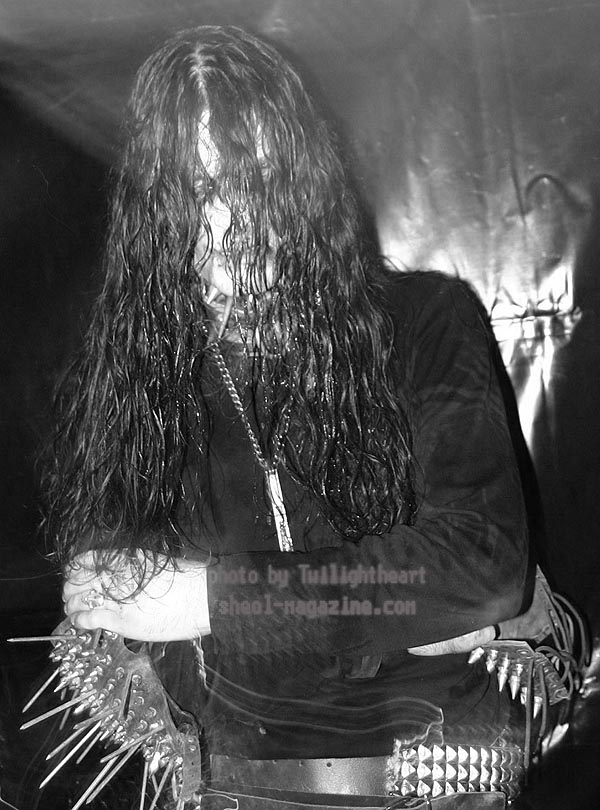 XStat.de