Party San Festival 2004
Bad Berka / Thuringia, Germany, August 12th – 14th, 2004

Looks like first you have to be forced to move to the other side of the country, before you can travel back to be part of Thuringia`s most well-known festival, the Party San Open Air. So I travelled throughout the country from South-Bavaria to the festival town called "Bad Berka" and met up with a penpal from Arizona/ United States and with my Swedish friend Dan and his girlfriend.
Besides this, as you might have noticed reading our interviews-section, the Party San festival seems to be the favourite festival of some artists (Naglfar, Dark Fortress…), so I anyway wanted to check it out once.
I was surprised by the atmosphere of the environment there, after I arrived. I felt like I was at home. Also, I like the fact that there is only ONE stage. I really don't like those festivals where you have to run around between 4 stages… therefore you miss 70 % of what you have paid for. So I like the Party San much better, concerning the stage solution. Here are some first impressions (fans / I just like that tattoo of that one guy!).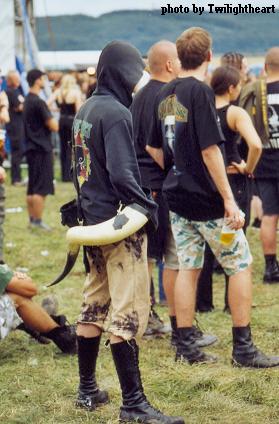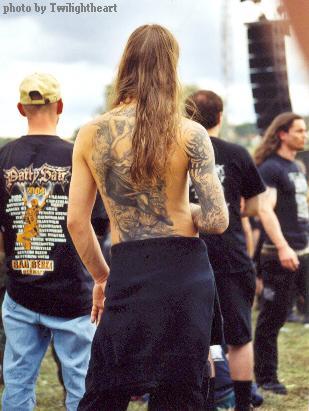 By staying in the first row almost all the time in all weather, I tried to take some photos for you and to write down as much as possible about the bands, as far as I was able to between all the moshers. So enjoy the photos of this report… I'm really not sure if I'll stand that a second time in 2005.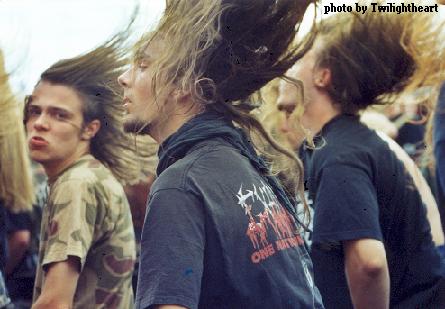 Okay, here we go:
Thursday, August 12th, 2004
The band "SUFFERING SOULS" from my home area ("Kyffhäuser") opened the festival at 9 pm on the tent stage with their absolutely cool, slightly thrashy Death Metal and got the crowd hot. In a way it was funny, because they spoke my own dialect, which I hadn't heard for a long time.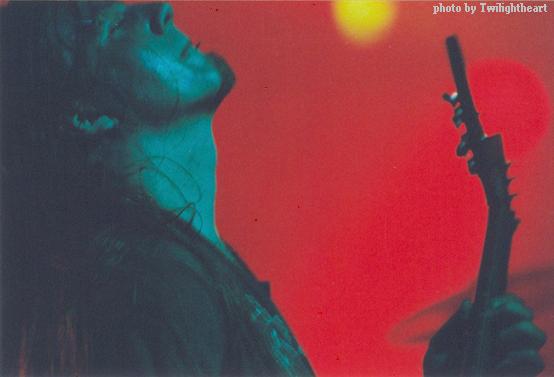 At 10 pm, "GOLEM" continued with some melodic Death Metal from Germany as well, but unfortunately the sound quality during their gig was extremely bad, I don't know why. But as a band they were quite okay. The tent was jam-packed at that time, because outside it had started to storm and rain, so everyone wanted to get inside of course.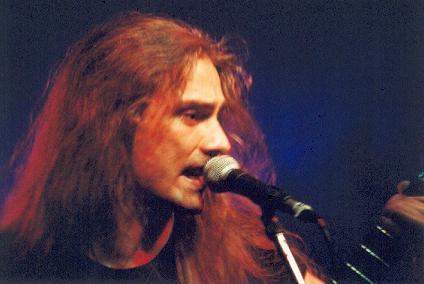 After that it became even louder among the visitors in the tent. The people shouted out for "DISFEAR", a Swedish band that I've never heard of before. True underground, I guess! ;-) They had their playing time from 23.00 until 23.45 and they really rocked the place with some progressive Thrash / Grind.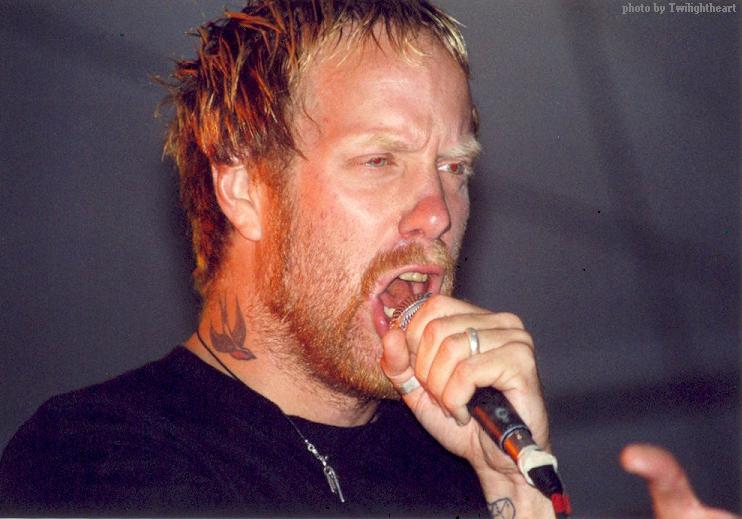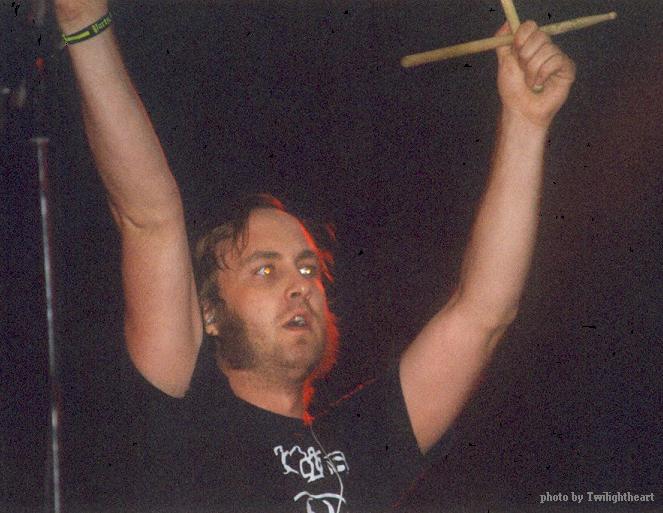 And much too soon it was about time for the last band of this first evening, which was the highlight of the festival day: the band "PURGATORY" from Germany enlightened us with a really wild show and made the fans headbang with their straight Death Metal. "Purgatory" introduced their album "Luciferianism" during this performance; it was actually some kind of release party for them. The sound quality was much better now during their gig. And there was a special occurrence, because suddenly a woman jumped on stage without warning and sang some lines with them with her really deep-pitched voice. Funny.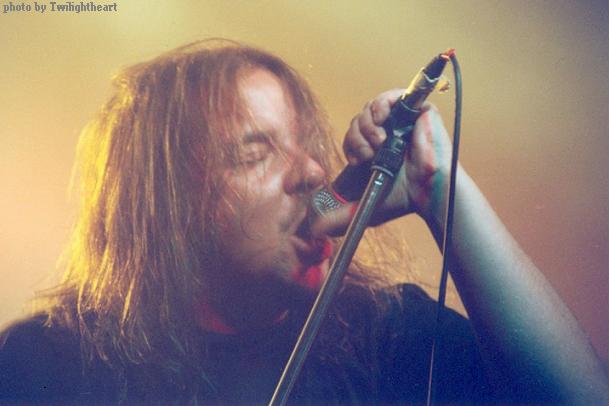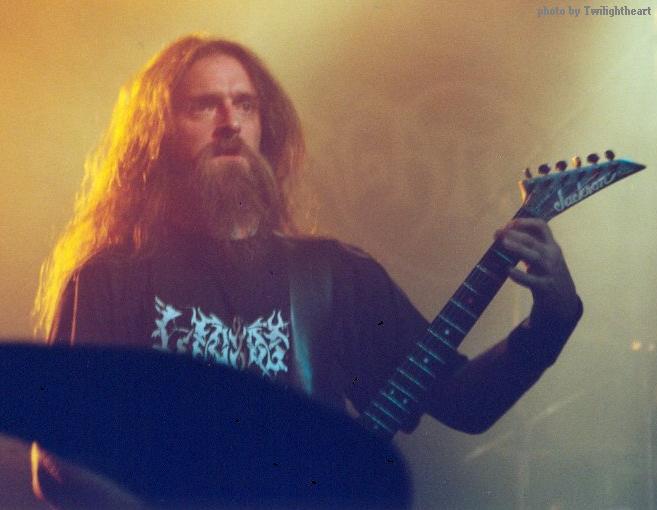 So the first festival day found its end. We sat together with some beers (outside meanwhile it was storming heavily, as if it was the end of all days… it was raining cats and dogs and I was astonished about how the beer tent was standing this). After that my American fellow and I made our way back to our little hotel room. We couldn't sleep right away because of the heat … but we had to force ourselves to do so, because the next day of the festival was close of course.
Friday, August 13th, 2004
Friday, the 13th! But hey, I´m not superstitious! Anyway I couldn´t expect any disappointments on that day with this billing! All I can say is: Dismember, Unleashed, Carpathian Forest, Cryptic Wintermoon…the whole excellent program, so to speak!
At 14.45 "SINNERS BLEED" were the openers for this Friday. They did a good job with their Thrash / Death. Really interesting for being the first band. But hey, the first bands always have the most difficult job, as they have to take care of getting everyone in the crowd really awake. That`s the challenge, I guess. So the vocalist of this band gave his best and woke us all up with his deep-pitched voice!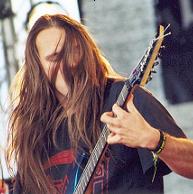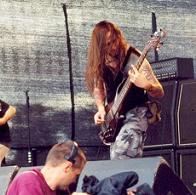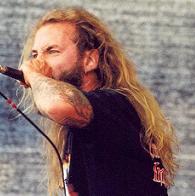 A lot of people had gathered in front of the stage after this, which is quite unusual for this time of the day. The reason was the follow-up band "NEGATOR", who ruled the stage from 15.45 until 16.30 with their Thrash. There was a power outage right in the middle of their gig (oh… Friday the 13th ???), but the drummer used the opportunity to play a cool drum solo, until the electricity was back. This band is one of the few that still has lots of songs with German lyrics, such as "Der Legionär", and in the first rows were plenty of fans who sang (or screamed ) along to the lyrics of Negator`s songs.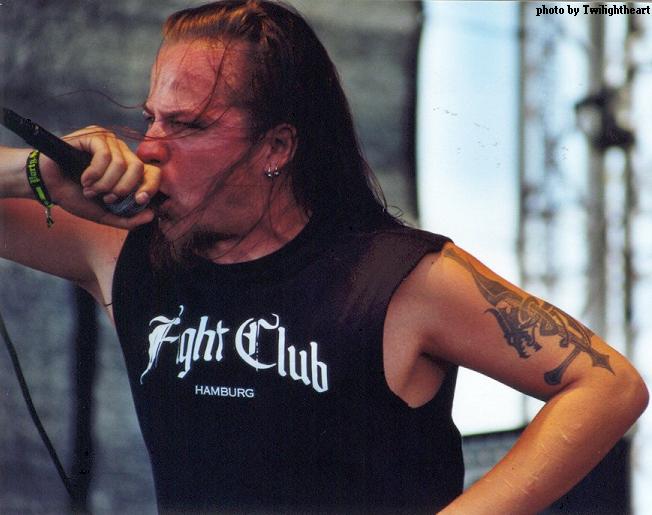 Then it was time for a band whose live qualities I appreciate very much: "CRYPTIC WINTERMOON", who were in a good mood that day... so were the visitors and thus the heads were banged as much as possible. I especially like it when all the bands' musicians do headbanging in the same tact, including the woman on the keyboard with the very long hair (which makes me jealous each time I see it)… it just looks gorgeous. Okay, the sound quality was rather bad (I couldn´t hear the keyboard at all), but that didn´t reduce my satisfaction. Cryptic Wintermoon just can`t disappoint me!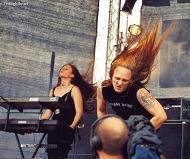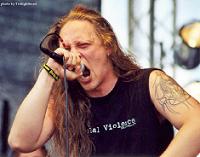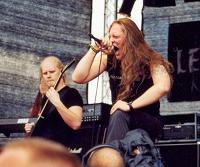 17.45 it was "FLESHCRAWL"s turn. The singer of the band right from the beginning clarified what this is all about by screaming across the whole festival area: "Death Meeeeeetaaaaaaaaal !!" And the rest is history…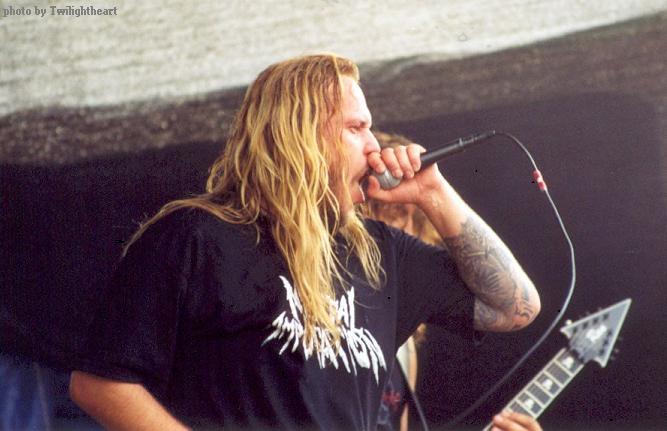 A little sensation was waiting now > "HAEMORRHAGE", a Spanish Thrash / Grindcore band, who entered the stage at 18.45. I call it a sensation (at least visual) because it was really bloody during their gig! Take a look at the photos for yourself: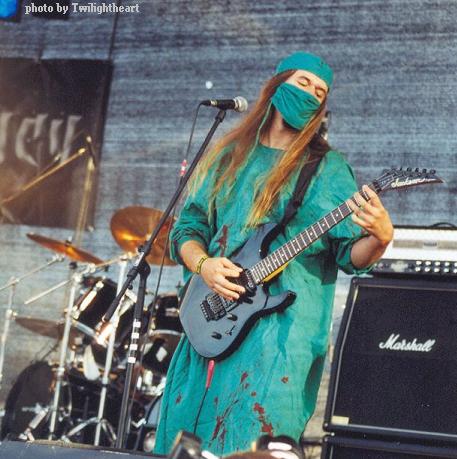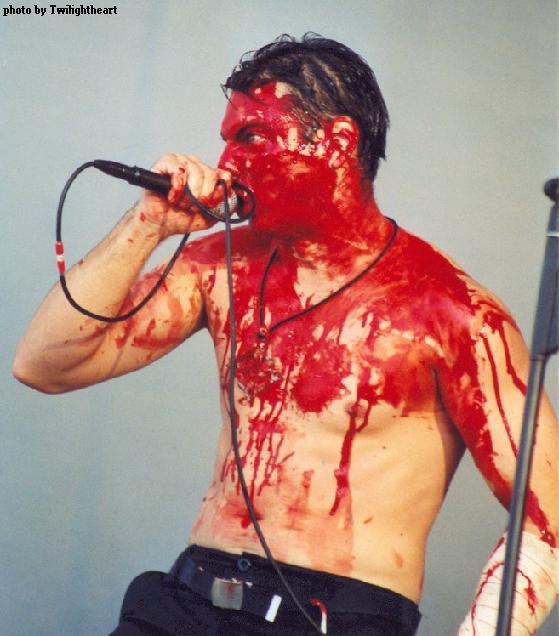 The guitarist came in a surgeon outfit onto stage (if I had the choice... no, I don´t wanna get treated by him) and the singer came all bloody from tip to toe. I´m afraid no one took notice of their music as their appearance was too spectacular! The vocalist got all the attention with his gestures (like for instance acting like he`s slashing his arms).
19.45 our Austrian neighbours made us happy with their import "PUNGENT STENCH". Okay, they couldn´t cause so much visual attention as some bands before, but therefore they scintillated with solid honest work. They rocked until all hair was being headbanged. Oh wait… there was ONE gag… right when the Austrians entered the stage. They introduced themselves with: "We are Pungent Stench from Sweden!" ;-)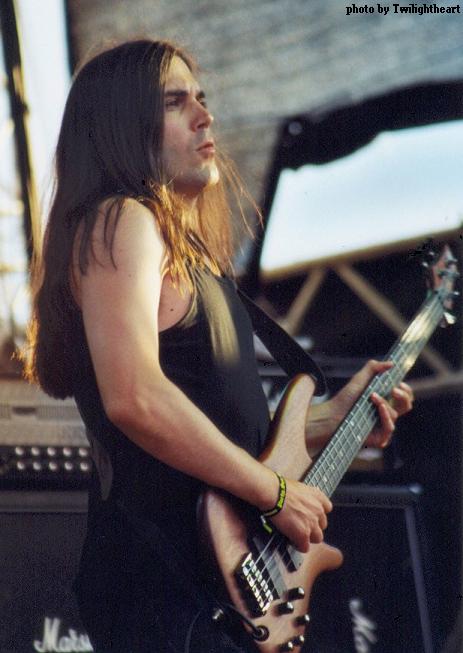 My dearest ones of "CARPATHIAN FOREST" were having an autograph session then and if they wanted it or not, they got all the attention again. No, not because the 2 "lesbians" (who are heterosexual in real life, by the way) were already sitting there with them (at the beginning I thought they are the girlfriends of some band members, but of course they were not), but because the women automatically & voluntary started to undress near Carpathian Forest! ;-) See for yourself: (And NO, I don´t know the girl on the photo!)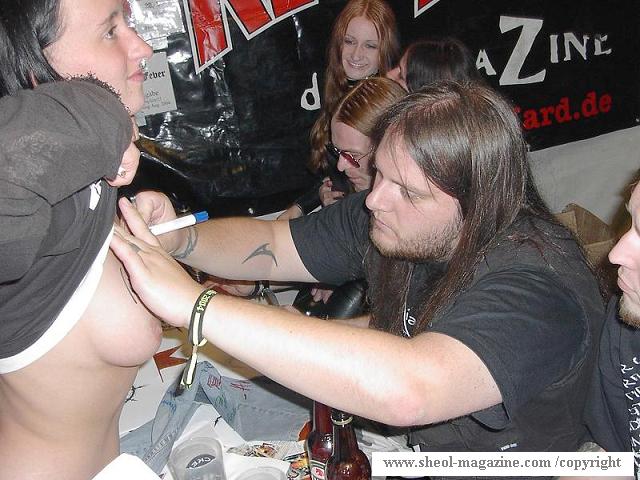 "ZYKLON" from Norway showed us at 21.45 that not only the Swedes but also the Norwegians are very well able to provide us with brutal noise. Really, Zyklon were really great and the band was celebrated like hell. I especially remember the qualities of the vocalist, who sings and plays bass at the same time… and I remember that a lot of members of other bands came from the backstage area into the photo pit to see Zyklon play. Really cool band!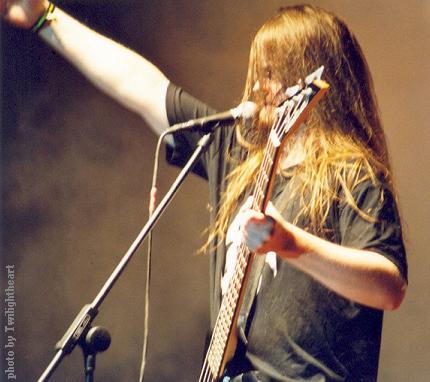 Okay, is there really anything I need to say about "DISMEMBER"? Beginning at 21.45 they "destroyed" the stage in the usual manner. There was no mercy, be sure of that! Swedish Death Metal of the most brutal … I mean, there`s nothing to add. It was just a bit embarassing that vocalist Matti towards the end of the gig almost fell from the stage because he seemed to be quite drunk. But… oh well… it didn`t reduce the quality of the music.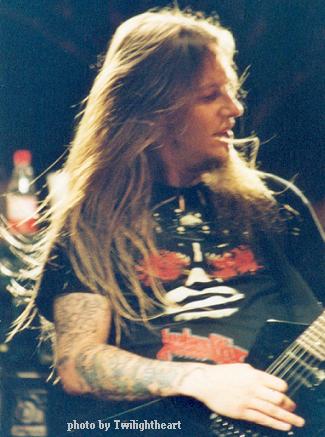 So! Then at 22.45 it was finally time for the first corpse paint of the evening and for the true kings of sarcastic Black Metal: "CARPATHIAN FOREST". Norwegian Black Metal… a whole load of satanism would be unleashed upon us. Everything was really grim, like the audience expected it: leather outfit with spikes, an evil stage decoration with bones and inverted crosses… nothing was missing. The devilish message was growled into the microphone as if there was no tomorrow. And it was the 2 "lesbians"' turn. They acted like playing around with each other (while actually you could see that they were disgusted by each other and rather would have made a MAN happy)… so this part was quite boring to see for me as a woman. But of course for the male guests this might have been a delicious entertainment. Here are some photos (more in the "festival photos").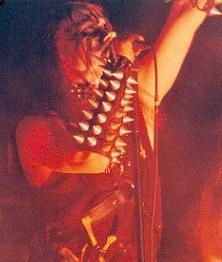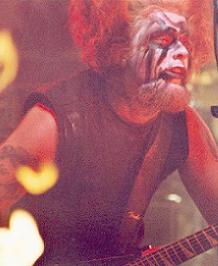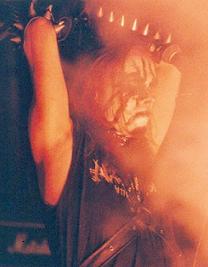 The crowning of this night were the Swedes of "UNLEASHED". They gave themselves the honours and unleashed hell. Even though right during the first song the guitar sound was gone for a while due to technical problems. I really loved it when they played the song "Evil dead" (a "Death" cover) to honour Chuck Schuldiner and Quorthon of Bathory… in memory. Thanx, dudes! Moreover there were the following songs on their setlist: Dead forever, To Asgaard we fly, Berserk, Legal rapes, The immortals, Evil dead, Execute them all, Hell´s unleashed, Winterland, In the name of God, Into glory ride, Victims of war, Before the creation of time, Never ending hate and Made in hell.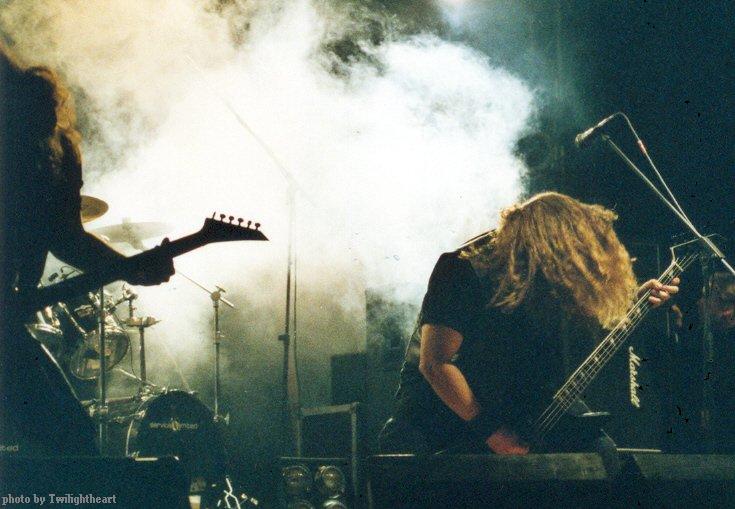 That`s how the Friday 13th found its glorious end. This time my fellow and I fell asleep immediately in our hotel beds…