Quorthon - Obituary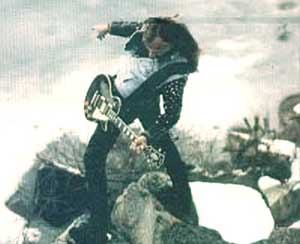 Who was he, this man, the news of who`s death caused all the people in the Metal scene to gasp and say "That can´t be true!" ? Who was this outstanding human being , who gave Metal completely new impulses, and at the same time could amaze several generations with his music? Let`s start right from the beginning. Quorthon started to be interested in music at the age of 9. Together with a friend of his he worshipped albums of Ozzy Qsbourne and whatever else was "in" at that time. When he was 15, he managed to get a temporary job in a little record company, where he was resposible for everything from making coffee to putting the records back on the shelves. But this didn`t bother him, because it was something to do with music and that was all that mattered! And his reward for this job were the hours, when he was allowed to watch and listen to how different bands recorded an album or a single. At that age this was the ultimate experience for him, and each time it was really exhilarating for him. It occured to me, and I´m sure you wonder, how he got the nickname "Quorthon" (which of course has nothing to do with his real name). First of all he called himself "Black Spade" and then later "Ace shot" (because he was a huge fan of the former TV star "Mr. Space Ace" Frehley) and then the name Quorthon (actually "Quarthon"… only changed because it sounded better), which he found on a list of demons` names, and it just took his fancy. So, how did Bathory get together? Okay, it started with Quorthon and 2 of his mates, who as teenagers met each other twice a week , to play cover songs just for fun. All three of them really had no real idea of forming a band or seriously becoming musicians. And friends who dropped in to listen , also said to them: "You´ll never get a recording contract", because for the listener this was nothing but a collection of brutal noises. But as you know, everything turned out completely differently.



Quorthon`s intention became more and more serious over the years and one fine day he was looking for honest musicians (who`s style and abilities he would get along with) by notes on musicians` wanted-boards in music stores in Stockholm. And this way Quorthon ended up with Jonas and Freddan, and these three "officially" founded the band on the 16th of March in 1983. Now there`s just missing the information about why they chose the name "Bathory" for their band. Well… one day the guys were visiting the well-known horror wax works exhibition in the London Dungeon, and they were in the medieval chamber. There was a room and in the middle of it stood a big old wooden bath tub, filled with human blood. And from the ceiling were hanging naked slashed open bodies of women with their heads hanging down (of course all made of wax), and their blood was dripping into the tub. And all this was on the orders of the then "Countess of Bathory", the "Blood Countess". By taking a bath in her victims` blood she was hoping for a strenghtening and beautifying effect. The 3 guys from Bathory were so overwhelmed by this (for that time) really shocking spectacle (and also from the numerous "naked facts"), that they unanimously decided to call their band "Bathory". The first professional studio-recording took place in January 1984 (when Quorthon was 19 years old) for the compilation album "Scandinavian Metal Attack", a collection of various Scandinavian Metal bands , and for this compilation Bathory provided the songs "Sacrifice" and "The return of the Darkness and Evil". Of course during that time other great Black Metal pieces were written, such as "Satan my master" or "Witchcraft", but those found their way onto a CD only many years later, namely the Bathory "Jubileum Vol.3" album as "previously unreleased tracks". With time there have been some changes in the Bathory line-up, but those who have to be mentioned beside Quorthon are: Kothaar (Bass 1989 – 1991) and Wornth. Jonas "Vans" Akerlund played drums only on the first two albums. Here´s a discography of all Bathory albums, being released throughout the years:
| | | | |
| --- | --- | --- | --- |
| Bathory | Full-length, 1984 | | |
| The Return | Full-length, 1985 | | |
| Under The Sign Of The Black Mark | Full-length, 1986 | | |
| Blood Fire Death | Full-length, 1988 | | |
| Hammerheart | Full-length, 1990 | | |
| Twilight of the gods promo | Single, 1991 | | |
| Twilight Of The Gods | Full-length, 1991 | | |
| Jubileum 1 | Best of/Compilation, 1992 | | |
| Jubileum 2 | Best of/Compilation, 1993 | | |
| Requiem | Full-length, 1994 | | |
| Octagon | Full-length, 1995 | | |
| Blood on Ice promo | Single, 1996 | | |
| Blood On Ice | Full-length, 1996 | | |
| Jubileum 3 | Best of/Compilation, 1998 | | |
| Katalog | Best of/Compilation, 2001 | | |
| Destroyer Of Worlds | Full-length, 2001 | | |
| Nordland I | Full-length, 2002 | | |
| Nordland II | Full-length, 2003 | | |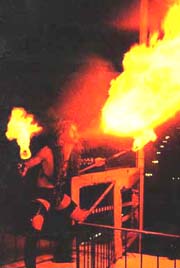 Quorthon also released 2 solo albums ("Quorthon – Album" and "Purity of Essence"), which didn`t seem to be accepted by the majority of the fans (as the style is completely different from the Bathory albums), but which I personally love very much (the tracks are very powerful and intense, and some are just nice rock songs). About the Bathory albums I have to add that the recording for some of the earlier albums took place in the "Heavenshore" studios, an old garage, where a lot of old car wheels and spare parts were stored, which meant, that the boys had only very little space for their recordings. And because the garage wasn`t soundproof, it meant that from time to time you could suddenly hear the noise of the garden neighbour's lawnmower (or an airplane flying over) on the tapes, so the boys had to start the recording again right from the beginning. Sometimes Quorthon just took his guitar and escaped to the toilet with it, just not to be disturbed by any noises. But despite all those terrible circumstances and difficulties, Quorthon always remembered those times with joy and did never want to miss it. And he even believed that from the originality of this place comes the authenticity of those old records. I think he`s right… About the discography I have to add that "Blood on Ice" is a re-recording of some very old material, which was almost rotting on the shelves and was only chosen for being re-recorded and released because an enourmous number of fans had asked for this over many years.

But you might ask yourself, how the change from those brutal BM albums to the epic nordic topics took place. Well, this is an easy to follow process of development. Quorthon just realized, that the whole story of Satan was nothing but a lie, caused by another lie called church. The projection of the Anti-Christ (just as the Christ figure) has been invented by the church to keep human beings under control and to force them into the churches (to strengthen the power of the church). And how should he believe in Satan, if he didn´t believe in that christian god!? No existence of one without the other. And because of this insight Quorthon tried to search other topics for his lyrics. In this way very naturally the change to the nordic themes took place (vikings, battles etc.), as Quorthon had always been a huge fan of history. But funnily enough for the very first lyrics he didn`t need a history book, but just ordinary comics, which Quorthon was reading weekly during his storm and stress years, such as "Chock" and "Conan" (this mighty amount of muscles and sword fights in "Conan" provided enough inspiration back at that time). But those who suppose Quorthon only loved things like comics is wrong. There had been a time in his life when he was really keen on knowing all about the life and work of Richard Wagner. This was even reason enough for him to start learning the German language, he just wanted to read the original Wagner lyrics. In Quorthon`s opinion a translation just was not the same. During that time he even read the same books that Wagner had read during his lifetime, to make it an inspiration for his further work. So finally for his lyrics Quorthon used the Scandinavian as well as the German mythology. Things like Mjölner (Tor`s hammer), Sleipner (Oden`s horse), Hugin & Munin (his ravens) are a fixed part of all that. And inspired by Wagner he used themes such as the legend of Siegfried, Twilight of the Gods ("Götterdämmerung"), or the sword "Notung". But to a different subject! Quorthon and the press! I ask myself why the relationship between Quorthon and the media has been so bad for many years since the beginning of his career. Was it pure jealousy from the journalists about someone coming up with outstanding and new ideas and celebrating a lot of success because of that? Or was it revenge, because Quorthon would just keep some things totally private? However, during all those years a lot of weird rumours were made up about him. Besides harmless nonsense such as he never gives any interviews, there have been shameless lies as well, for example he lives in a bat cave in the north of Sweden, drinking blod and eating babies. I can only guess, how far Quorthon was hurt by such impudencies, but as a matter of fact, he thought about it a lot. Because he tried many times to wipe away those rumours in numerous interviews. The success was not very overwhelming. Years ago there was even a rumour going around, that he had died (how macabre looking back to that today), and the first question, which was put afterwards to Quorthon by a journalist during the next interview was: "Aren`t you dead!?". Therefor Quorthon always had a much better relationship to his fans. Even back then, when there were still no computers or internet , he regularly answered all the letters from his fans by postal mail. And since the existence of internet and e-mail, Quorthon personally answered every single e-mail from fans with a lot of passion. But anyway Quorthon cared a lot for his fans ever since the beginning (he always called us "his hordes") and communicated with them in fan forums or met some fans personally, if they travelled far to see him. That`s why it is very understandable that his whole fan community fell into deep sadness, when on the 8th of June 2004 suddenly the information went 'round that he had been found dead on the 7th of June. You cannot imagine (or maybe some very few of you can), HOW MUCH I have wished, this all was nothing but a stupid rumour again! But my last desperate mail to Quorthon`s mail adress remained unanswered…
Apart from the fact that he was a really great person, most important of all he of course cannot be replaced as an artist by anyone else ever. First of all he was the forerunner of Black Metal (together with other bands such as Venom of course) and later for Nordic and Viking Metal. And he never allowed himself to be distracted from his ideas, he was steadfast and always stayed true to himself. Just as some of his lyrics say:
"Nobody died for my sins
No faith tied to my name
The path I choose to walk is mine
When the clouds turn red and the horizon as in flames
My blood my heart my soul my hands my feet
My hair and eyes my head my lips and teeth
My arms my legs my cock my choice and life
My loungs my mind till the day I die"
Absolutely each and every mourning and giving thanks for this extraordinary man is completely justified, because he was and will remain an icon of the Metal scene and he will surely become a legend. And hopefully he will keep a place in our hearts … certainly he will have a special place in mine, forever….
by Twilightheart
Sources: www.bathory.se and my Interview with Quorthon in January 2004 (see interview section)
Against all bad voices you stood strong,
against all critics you stood tight.
Those doubting you, you proved them wrong,
for your beliefs you`d always fight.

Generations you enchanted with your ideas,
outstanding music and lyrics so true…
analysing history, nature, dreams and fears,
like no one else could ever do.

Your songs… amazing, wakening, cutting like knifes,
you sang them for us… forever to be proud.
The music you gave… such a precious gift in our lifes!
Unimaginable to ever live without!

So suddenly the news came through from out there
at the end of a fucked up day.
Is there no one to wake me from this nightmare?
Would it help to damn all Gods? Would it help to pray?

Thinking back of words of thy,
feeling like never again I could rest.
In the twilight I stand and cry
… we`ve lost the very best.


For Quorthon from Twi
Here`s the last photo of himself that Quorthon mailed me personally
after he has read the interview through again and gave his OK
for publishing it in January 2004 (see interviews section) :