Summerbreeze Festival 2004
Abtsgmünd, 19th – 21st August 2004 // report by Twilightheart
Once again as in previous years I set off for the Summerbreeze festival in Abtsgmünd/ Germany. I have a kind of love-hate relationship with this festival. I hate it because there is never enough water in the showers for everyone to have a wash. (And if you decide to take a hotel room, then it´s so far away that you don`t know how to get to and from it , and in any case there are no busses…)
But I love it, because they always chose such great bands to play there (every single year there are always at least a couple of my favourite bands in the line-up).
Nevertheless this year I booked a room above the local butcher's (about 20 km away from the festival site), but it was a horrifying experience, although there was plenty of water, the shower was directly in the room beside the beds, which made it somewhat complicated to share the room with a penfriend from the States (by the end of our stay we had discovered that living together in such close quarters might not be the easiest thing in the world)! ;-)
Oh well… however… I found my way among the 11 000 visitors to the festival venue and here´s what I can tell you:
Thursday, 19th August 2004
On Thursday "LORDS OF DECADENCE" from Austria, who had won a competition and therefor were allowed to perform, were the opening act. They had a bit of a shaky start to their 20 minutes set (but which opening act doesn`t have this problem?), but they managed it quite solidly and they roused a bit of interest inspite of their white shirts which of course for Metal are somewhat unconventional.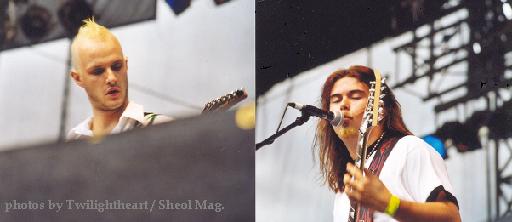 And there were also already some few attentive fans in front of the stage (including the 2 fans with the Viking helmets , who drew attention to themselves during the whole festival)… even though it was noticable with most of them that their mood was not particularly cheerful at this point.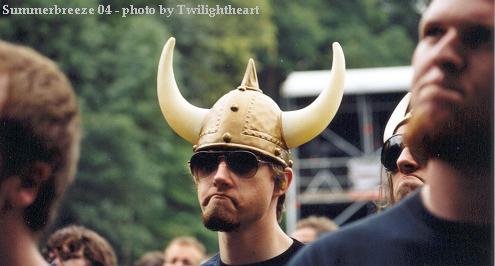 So, then "FRAGMENTS OF UNBECOMING" followed on for another 30 minutes, and while they were playing the area around the "Pain Stage" began to fill up. It felt as if the crowd were waking up. Thanx to a cup of coffee (so that I could count myself under the people who are no longer asleep) I allowed myself to miss "Rawhead Rexx". A few other members of the audience probably did the same thing, because it was already raining for the first time this day. The word "coffee" reminds me that I want to mention something positive about the Summerbreeze festival. There is a stand where you can buy everything that has anything to do with drinking coffee (which continuously saved my life) …you can mix hot chocolate with coffee in any combination or strength. A big Thank You from me to the festival organizers! Please, whatever you do, don`t get rid off this drink stand! ;-)
Of course the handing out of alcohol had its effect as well, as these photos of a drunken fan go to show:

At 14:35 "GOREROTTED" from the UK entered the stage. I anyway wanted to see their gig, as they are the favourite band of one fellow of mine. And those guys really didn`t allow anyone to spoil the mood. Despite the early time of the day the dudes were talking about "fucking" and other "gentle" things (and the Mister wearing the kilt even confessed to some female photographers that he is wearing no underwear … proving it by just lifting the kilt ;-) …. ).
Gorerotted even tried to "unleash" some good jokes on stage (some of them even in bad German). But about their gig… you can really call it "kicking ass"… it was really wild, as it has to be! Here are some photos: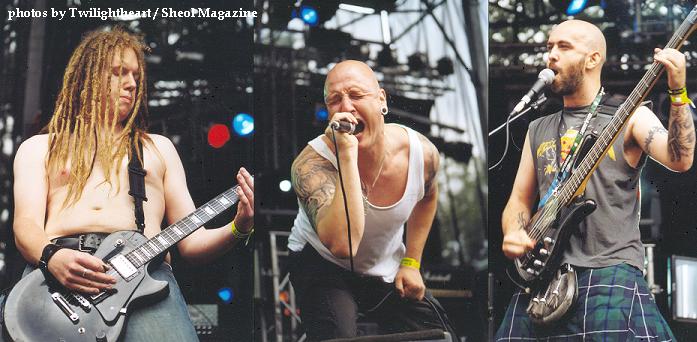 Back on the Main Stage "MÖRK GRYNING" from Sweden played for 35 minutes, starting at 15:10. I had great hopes in them after all I heared about the band. And I have to say, I wasn´t dissapointed. The fans in front of the stage really had some good headbanging and moshing during their performance. I think I have to buy a CD of the guys sooner or later.

After this I had a break and had a look to the autograph session of "GODDESS OF DESIRE" from the Netherlands, who draw a lot of attention to themselves by their crazy outfit (which they wore all the time, on and off stage, on all festival days). Here´s a little impression of that for you: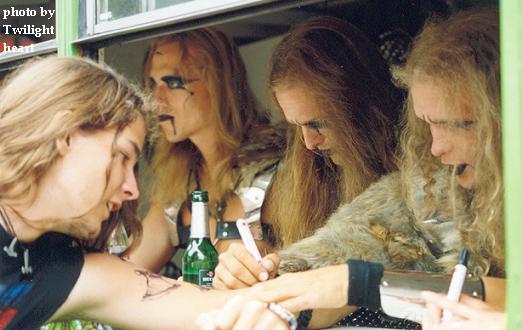 Then it was time for "VOMITORY" from Sweden. They were a real brute force on the Pain Stage for 40 minutes. The word "Pain" really gets a meaning, when Vomitory play. You can say they "destroyed" the venue with their music… Death from Scandinavia…. what else is there to add? During their gig the first headbangers "took good care" of probably having a terrible pain in the neck the coming morning.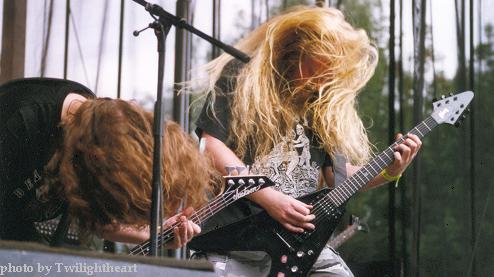 At 16:35 finally the first headliners appeared on the MainStage: the Finnish band "SONATA ARCTICA", who should ring a bell in every readers´s head. (If you don`t know the band yet > go and get one of their albums! That`s no suggestion… that`s an order! ;-) … ) Of course it was immediately overcrowded in front of the Main Stage.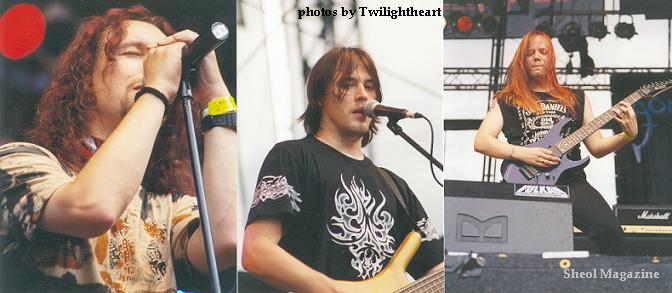 They performed all their hits like "Kingdom for a heart", "Wolf and raven" etc., and even a track from the new album was introduced: "Don´t say a word", which really is a hammerblow! What a great song!! I loved it right after hearing it there for the first time! Jani on the lead guitar was like a wild animal on stage… watching him you can really feel the passion inside of him, he just LOVES to play his guitar and is a 1A musician. Normally I´m not a fan of melodic or "power" metal, but Sonata Arctica are an exception, because the band offers so many musical qualities and is extraordinary talented.
Towards the end of their gig the band took care for some fun by singing chants like "Vodka, we need some Vodka…" together with the audience. Here are some photos for you (more photos of their gig you find in the "photos" section of this magazine).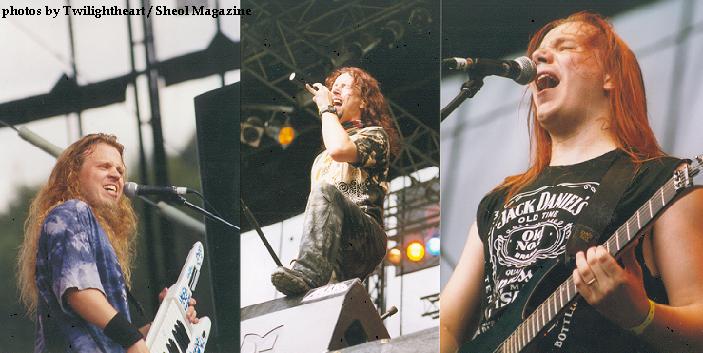 Unfortunately I missed the band "FLESHCRAWL", but I still could hear a rough "Flesh bloody flesh" being screamed into the microphone, thundering across the whole festival site! ;-)
Right in time at 18:10 I was on my way to the Main Stage, where the German elemental force "CREMATORY" was about to kick the crowd's asses. Of course they`ve been honoured as if they were the Kings (and Queen) of the country. There was heavy banging and moshing to songs such as "Tears of time", "Fly", "Greed", "Open your eyes" or the Sisters of Mercy cover version "Temple of love". The fans kept on shouting for the song "Lake of tears" until Felix ironically said: "If you want something, you have to shout louder." Of course the crowd was able to shout even louder, so Felix then asked: "And why do you wanna hear exactly THIS?"… and as you`ve guessed: the rest is history.
Of course "Crematory" (just like many of the other bands) patiently signed autograph cards during their signing session. And as you might know, there`s not only tickets and cards being signed, but all possible things that you can imagine, like for instance drinking glasses, flags, T-Shirts, or in lack of anything else to sign: arms or hands (lasting only until the next shower of course).

Around 19.15 on the Pain Stage a nice variation from the usual hard stuff was offered: "SALTATIO MORTIS", who are similar to medieval bands like "Fabula Aetatis" oder "Corvus Corax" and play the same old instruments like sackpipe, flute, fiddle etc. I couldn`t listen to such music 24 hours a day, but once a week or month I`m really able to enjoy such music. And "Saltatio Mortis" really are a skilled band and make some very nice medieval music, getting you in the right mood for some walks in ancient castles. ;-)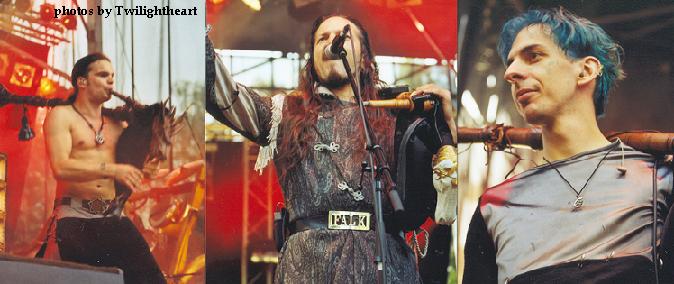 I´m really not informed well about this medieval music scene, but from what I heared of them here at Summerbreeze I can very well imagine that this band is an appreciated guest (or even local heroes) at all kinds of medieval events and shows.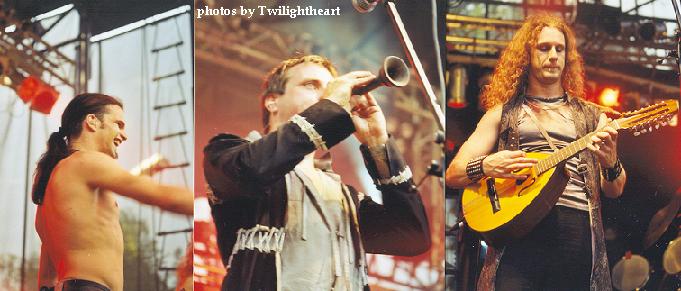 But here we are with the good ol' Swedish Death Metal again! Since 20.05 "HYPOCRISY" were in absolute control of the crowd on the Main Stage. Of course the norsmen around Peter Tätgren were the ultimate headliners of this festival day. The wild crowd you could see in front of the stage during Hypocrisy`s gig really is beyond compare. One crowdsurfer was following another and the Security men really had a tough job to do during this hour (because every of these divers and surfers expects to be caught softly by the Security men instead of being thrown over the barriers). Hypocrisy satisfied their fans with all their hammerblows like "God is a lie", "Adjusting the sun", " Slaves to the parasites", "Fire in the sky", "Inferior Devoties", "Fusion programmed minds" and of course " Roswell 47" as an encore! As the logical consequence of this there was pure armaggeddon in front of the stage.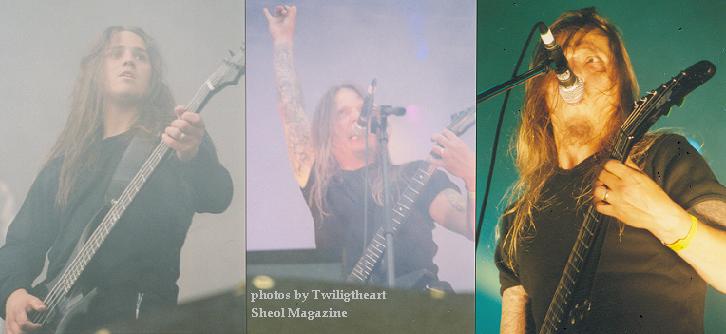 Of course after that show it was really difficult for "LAKE OF TEARS" from Sweden to attract the audience, even though they really gave their best to heat the mood up with songs like "Headstones", "The greyman" and "Hold on tight". And the singer's hat (see photo!) caused some amazement between the visitors, as you might imagine.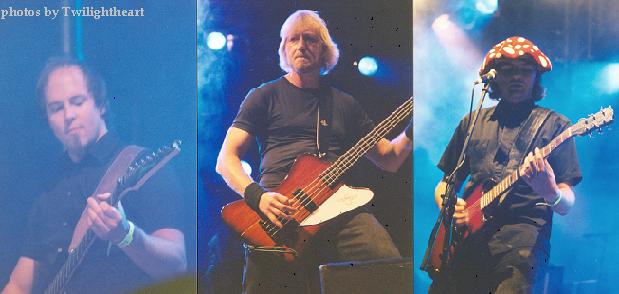 OK, I think I don`t need to say much about "SENTENCED" from Finland. Vocalist Ville is loved by many female Metal fans, and thus starting at 22 o'clock it was easy for the band to make the crowd freak out after Ville introduced himself to the visitors by shouting into the microphone: "We don`t play bullshit tonight". Here´s some tracks of their enormous 75-minutes-long set: "Nepenthe", "The suicider", "Sun won`t shine", "Bleed in my arms", "Cross my heart", "Excuse me while I kill myself", "Brief is the light", "Neverlasting" / "Aika Multaa Muistot", "No one there" and 2 songs from the new album: "Ever frost" and "May today become the day" plus the Maiden cover "The trooper" for encore.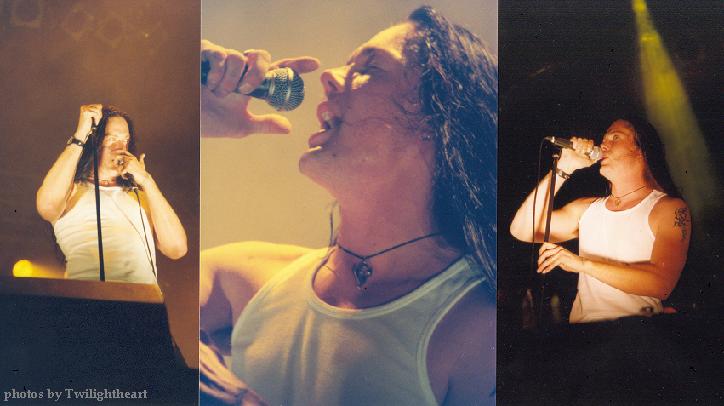 Because of the heavy rain I missed "Goddess of desire"… that`s why there won´t be any photos of them here, of course. Sorry.